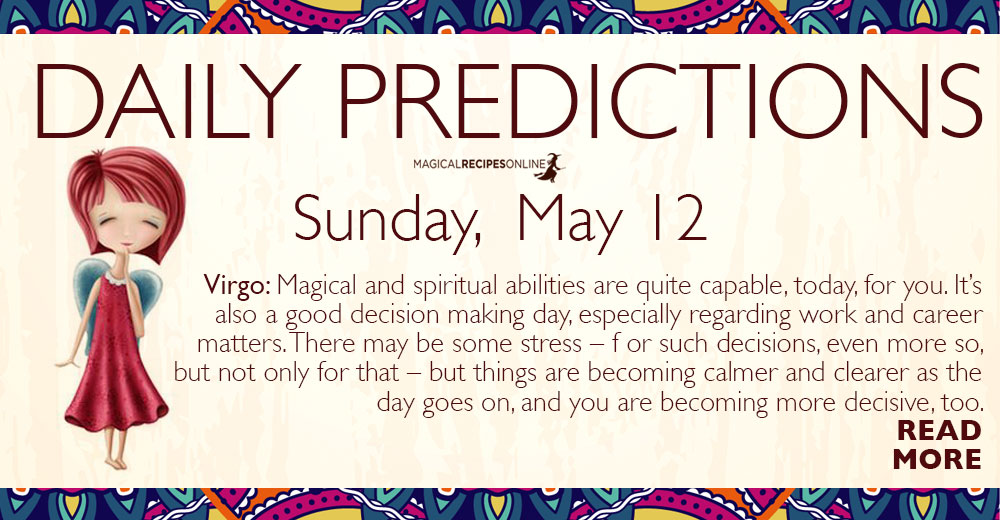 General Daily Predictions: Today, the Moon from Leo squares the Sun in Taurus. It also forms a hexagon with Mars in Gemini and a triangle with both the Retrograde Jupiter in Sagittarius and Venus in Aries. Then, from Virgo, it forms a triangle with Uranus in Taurus.
So, this will be a mostly good day. It has some difficult points, but they are getting better as the day proceeds.
Gemini, Sagittarius and Aries will be the luckiest zodiacs of the day.
Daily Predictions for Aries:
Money is a little stressful, but as you set things in order and you are doing your best, it gets better. It's also a good day for all social matters and all forms of creative work.
Daily Predictions for Taurus:
This day can start somewhat unpleasantly and stressfully, but it becomes much better, as it proceeds. Creativity, optimism and enthusiasm are also getting stronger. Furthermore, your magical and spiritual powers are in a good condition.
Daily Predictions for Gemini:
Social life seems to be good and active. There may be some stressful moments there, too, but probably nothing serious. Even if there is something that seems serious enough, things are getting clearer, easier and more in balance as the day proceeds.
Daily Predictions for Cancer:
Money is quite strong. It's mostly good, too, although some bad luck may occur, especially until about 16:20 UT. Big purchases until then are not advisable. After then are auspicious. Work in general and trade in particular receive many blessings.
Daily Predictions for Leo:
You may have a feeling people and the world are suppressing you and your desires, but this feeling is getting weaker as the day proceeds, and you most probably take things under your control. You are also receiving much support from your friends and acquaintances. Work can be quite profitable, too.
Daily Predictions for Virgo:
Magical and spiritual abilities are quite capable, today, for you. It's also a good decision making day, especially regarding work and career matters. There may be some stress – f or such decisions, even more so, but not only for that – but things are becoming calmer and clearer as the day goes on, and you are becoming more decisive, too.
Daily Predictions for Libra:
Trade seems to receive mostly good influences, but it also receives some bad luck. The latter becomes weaker as the day proceeds, though. All interactions receive support and some pleasant and auspicious influences.
Daily Predictions for Scorpio:
Work receives mostly pleasant and supportive influences. Partners, superiors and, possibly, the law can cause you some stress, but you are managing those, too, quite effectively. Money wise, this is a profitable and lucky day. There is also some gambling luck, but do remember the starts don't guarantee your winning.
Daily Predictions for Sagittarius:
Love life seems quite lucky and passionate today. This doesn't necessarily refers to bed, but it can be that, too. Also, work seems to receive "correcting" influences. Some issues may become a little too obvious, either by means of some unlucky events or by means of better understanding. Whatever the case, though, solutions are also becoming much more obvious and feasible.
Daily Predictions for Capricorn:
Love life can be a little unlucky, but it becomes much happier as the day proceeds. Couples who share similar intellectual interests will experience the pleasant influences more clearly than the rest. Work and health are also receiving supportive influences.
Daily Predictions for Aquarius:
This is quite an active day, socially, and mostly in a pleasant way. Love also receives beneficial influences, both for those in a relationship and for those seeking one. Hunting is more supported than getting hunt. Also, family can become quite supportive about whatever you need them to be.
Daily Predictions for Pisces:
Work can be quite tiresome and somewhat unlucky, but, overall, the good points are many more and much more important than the negative ones. Also, health issues in the family receive some beneficial influences. A change in prescriptions, treatments, or even dietary habits can also take place either for you, or for a family member.
Astrology and Magic:
Meditation, philtres and charms are strong during the whole waxing Moon period. Good luck and love magic are extra strong, today.
That's all. Have fun and enjoy your day!