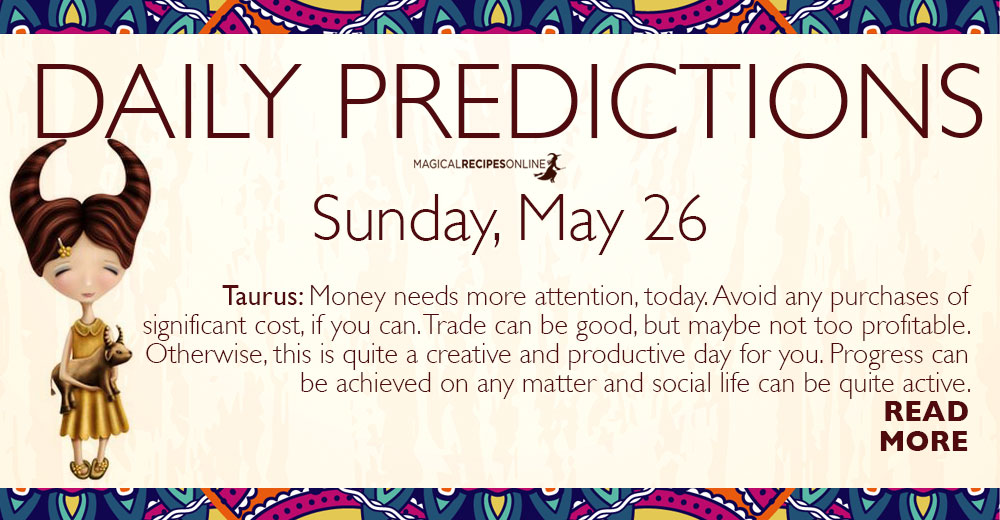 General Daily Predictions: At 06:07 UT the Moon stops being void of course and enters Pisces. From there, it forms a square with the Sun in Gemini. It also forms a hexagon with Uranus in Taurus and a triangle with Mars in Cancer.
So, this is going to be a mostly good, but not quite lucky day.
Taurus, Cancer and then, probably, Pisces will be the luckiest zodiacs of the day. Gemini will be the one receiving the most stress.
Daily Predictions for Aries:
Friends and siblings may cause you some stress. Social life, too, can be less pleasant than you'd like. On the most part of it, though, this day is a pleasant enough. Finances can encounter a pleasant change, too.
Daily Predictions for Taurus:
Money needs more attention, today. Avoid any purchases of significant cost, if you can. Trade can be good, but maybe not too profitable. Otherwise, this is quite a creative and productive day for you. Progress can be achieved on any matter and social life can be quite active.
Daily Predictions for Gemini:
Work and business can be good, money wise, but decision making needs some extra attention. Distinguishing between a good and a bad choice can be harder than it seems, at first sight. Also, your social status can become a source of stress.
Daily Predictions for Cancer:
Studies, researches and all occupations and avocations of the mind receive beneficial and supporting influences. Lawyers, teachers, preachers, and whomever needs a convincing and understandable way of speaking, will experience this influence more strongly. Actual travelling is good, but astral travelling can become troublesome.
Daily Predictions for Leo:
This is quite a satisfactory and successful day, work wise. Money wise, too, most probably. At least regarding your income. Social life, and especially extended socialisation, social media activity and party like events, can be more time and energy consuming than beneficial and pleasant.
Daily Predictions for Virgo:
Love life seems quite pleasant, today. Also most aspects of your social life receive pleasant influences. Informal discussions with your co-workers, associates and business partners can be good, too, but formal ones can be less productive. Also, law can cause you some stress.
Daily Predictions for Libra:
Work and business matters receive very good influences, today. The day can be successful, productive and profitable. Physical health also receives supporting energies. On the other hand, emotional health and travelling may need some care and support.
Daily Predictions for Scorpio:
Love life can be quite pleasant and lucky, today, although you may need to work a little for this luck to manifest. Your sexual instinct and energy are also strong, today, but they are not your best guides. Let these energies make you more seductive, instead of making haste to satisfy them.
Daily Predictions for Sagittarius:
This is a good day for taking care of your home, your family and your obligations. It's also a good day for healing and strengthening bonds. Problems with your spouse can be a little more difficult to handle, though. Furthermore, health issues of a family member can have an unexpected good development.
Daily Predictions for Capricorn:
Both love and social life receive very beneficial and supportive influences. Creativity and inspiration can also come to you from your friends, or your other half. Health, though, needs some extra attention, especially if you are having problems with it, and the same is true for work.
Daily Predictions for Aquarius:
Your income receives some favourable influences. In the same time, though you have the tendency to spend more, or more easily, than you should, so try to control this. Also, family can be supportive, financially and otherwise alike.
Daily Predictions for Pisces:
This is quite a pleasant, productive and creative day for you. Love is also mostly good and so is your social life. Family, though, may cause you some stress, or distract you from whatever you should be doing.
Astrology and Magic:
Meditation, philtres, charms, potions and healing are strong during the whole waning Moon period. Reversing bad luck and removing obstacles receive some extra boosting, today.
That's all. Have fun and enjoy your day!