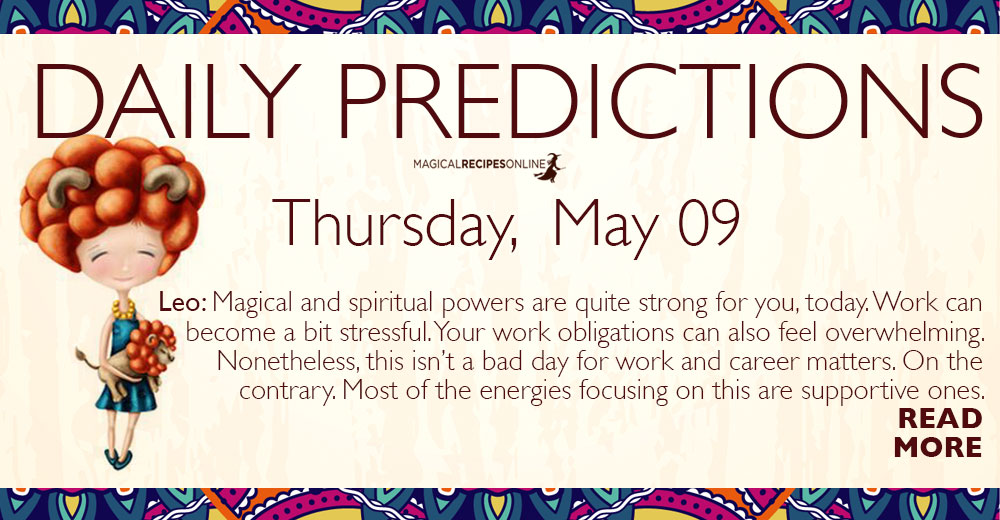 General Daily Predictions: Today, the Moon from Cancer opposes the Retrograde Saturn in Capricorn. It also forms a hexagon with the Sun in Taurus and a triangle with Neptune in Pisces.
Also today, the Sun's hexagon with Neptune becomes accurate. The same is true for Venus' trine with the Retrograde Jupiter and Venus' square with the Retrograde Pluto.
So, this is going to be a mostly good day, with some persistent difficulties.
Cancer, Taurus and Pisces will be the luckiest zodiacs of the day. Capricorn will be the one facing the most stress.
Daily Predictions for Aries:
Career matters can become a little stressful, today. Especially when you need the advice, or support of others. Money wise, though, this is a mostly beneficial day.
Daily Predictions for Taurus:
Productivity and creativity are still strong. Artistic creativity, and inspiration, though, can be a little difficult to tame. Trade receives quite good influences, and so do business deals. On the other hand, travelling and transportations need some attention.
Daily Predictions for Gemini:
Income receives beneficial influences. Pay raises, bonuses and other good news developments may happen. In the same time, though, expenses may stress you. Be mindful about them, as much as you can.
Daily Predictions for Cancer:
Your business partners and colleagues can stress you a little. Your life partner may do the same, but in a lesser degree. Other than those, though, this day is quite a good and helpful one for almost all matters.
Daily Predictions for Leo:
Magical and spiritual powers are quite strong for you, today. Work can become a bit stressful. Your work obligations can also feel overwhelming. Nonetheless, this isn't a bad day for work and career matters. On the contrary. Most of the energies focusing on this are supportive ones.
Daily Predictions for Virgo:
Love receives both supportive and stressful influences. Finding a new love, as well as relatively recently formed relationships will experience the stressful influence more intensively than the well established relationships.
Daily Predictions for Libra:
Most work and career matters receive much support and some good luck, too. Family businesses, real estate ones, and similar businesses, though, will face some stresses and challenges. Problems of the past you've neglected may be the cause for this.
Daily Predictions for Scorpio:
Love life receives very good influences, today, both for those in a relationship and for those seeking one. Good luck and a sense of joy are present. Travelling, though, and transportations can face some challenges, or otherwise produce some stress. Nonetheless, they are not inauspicious. Just difficult.
Daily Predictions for Sagittarius:
Work receives quite good influences. Success and god luck can both be present there. Money, though, can be somewhat stressful or not satisfactory. It's also an inauspicious day to open a savings account, or something similar.
Daily Predictions for Capricorn:
Those in a relationship may have to deal with some stress coming from their other half. Nonetheless, love is good for everyone, so try to be a little more patient, if you are facing this stress. Other than that, social interactions seem to be quite pleasant. Work related ones, not so, though.
Daily Predictions for Aquarius:
Physical health is in a good condition, today. Emotional health and well being, though, may need some support. Health issues of a family member can also receive some good news. Work seems good, productive and profitable, too.
Daily Predictions for Pisces:
Social life can be quite pleasant, or the opposite. Try to choose wisely with whom you'll spend your time. Love life seems somewhat lucky. Also, personal projects and goals can proceed, via your socialisation.
Astrology and Magic:
Meditation, philtres and charms are strong during the whole waxing Moon period. Today, though, meditation can be very effective, but also difficult to achieve and handle, in the same time.
That's all. Have fun and enjoy your day!