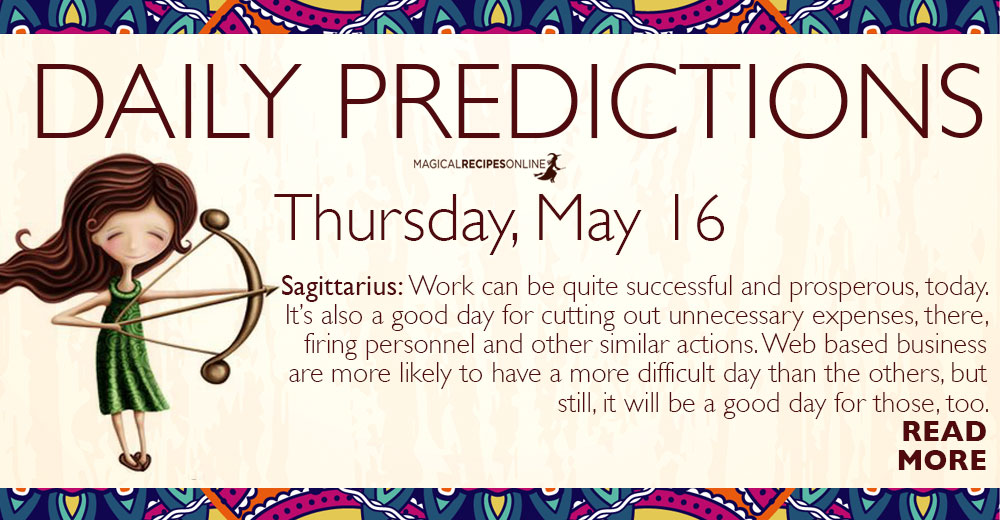 General Daily Predictions: Today, the Moon from Libra squares both the Retrograde Saturn and the Retrograde Pluto, in Capricorn. It also forms a hexagon with the Retrograde Jupiter in Sagittarius. Then, from Scorpio it forms a triangle with Mars in Cancer. Furthermore, from 09:38 to 21:26 UT the Moon will be void of course.
Also today, Mars enters Cancer, Mercury's hexagon to Neptune become accurate, and Mercury's triangle with the Retrograde Saturn also becomes accurate.
So, this will be a peculiar day, both good and difficult.
Daily Predictions for Aries:
Business meetings and similar situations can become troublesome, tiresome and stressful. On the same time, though, they can become quite productive, as well.
Daily Predictions for Taurus:
Work can become more tiresome and stressful than you'd expect, but successful, too. Work plans can get out of your schedule, at times, but you'll manage to achieve what you wanted to, or maybe more than that.
Daily Predictions for Gemini:
Love and matters of the heart are under the spotlights, today and they receive both beneficial and difficult influences. The less you indulge in to worrying, the more you'll enjoy the good ones.
Daily Predictions for Cancer:
Health issues, yours or of a family member, receive good influences, today. On the other hand, your special someone can cause you some unsettlement, or worry.
Daily Predictions for Leo:
This is quite a pleasant day for social matters and love matters. On the other hand, work can be extra tiresome, or boring. Watch out for mistakes, there, too.
Daily Predictions for Virgo:
Expenses may need some attention. Some necessary ones may stress you, probably more than necessarily so. On the same time, though, your finances receive strengthening influences.
Daily Predictions for Libra:
This can become quite a productive day, for you. It's also good for long-term planing. Home, family, people you consider as such can consume much of your time and energy, though.
Daily Predictions for Scorpio:
Money receives some beneficial influences. Gambling, too, but, as always, do remember the stars don't secure your winning. On the other hand, your thoughts may not be too supportive, or, in some cases, they can be misleading.
Daily Predictions for Sagittarius:
Computers, phones and the like is possible to need some repairs, or otherwise cause you some troubles. This isn't an auspicious day for buying such machinery. On the other hand, social life seems pleasant and promoting yourself by means of it, is also promising. This includes social media.
Daily Predictions for Capricorn:
Business and career decisions receive quite supportive influences. Although you may feel somewhat insecure about those decisions, your mind is quite clear and able to find the best for you.
Daily Predictions for Aquarius:
Studies and other quests of the mind can be stressful and tiresome, today. On the other hand, study groups, seminars, religious groups and the like can give you much help and joy, or play an interesting role in your day.
Daily Predictions for Pisces:
Work can be quite successful and prosperous, today. It's also a good day for cutting out unnecessary expenses, there, firing personnel and other similar actions. Web based business are more likely to have a more difficult day than the others, but still, it will be a good day for those, too.
Astrology and Magic:
Meditation, philtres and charms are strong during the whole waxing Moon period.
That's all. Have fun and enjoy your day!