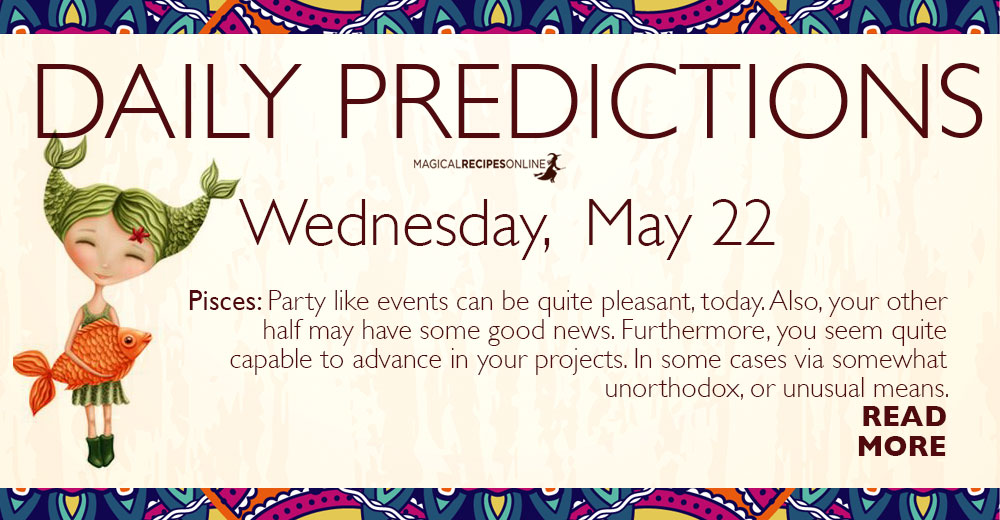 General Daily Predictions: Today, the Moon from Capricorn conjuncts the Retrograde Saturn, there, and forms a hexagon with Neptune in Pisces.
Also today, Mars' hexagon with Uranus becomes accurate.
So, this is going to be a mostly good day.
Capricorn and Pisces will be the luckiest zodiacs of the day.
Daily Predictions for Aries:
Your intuition and your decision making ability are quite strong, today. It's also a good day for work and career matters. Even better for art related careers.
Daily Predictions for Taurus:
Contrary to yesterday, travelling today seems quite auspicious. Also studies, researches and the like receive beneficial influences.
Daily Predictions for Gemini:
Work seems to be quite satisfactory. Maybe you need to push some things to have some progress, but once you do that, things will become much easier. Maybe luckier, too.
Daily Predictions for Cancer:
Love life receives beneficial and strengthening influences. Those already in a relationship and, amongst those, those in a long distance one will experience the benefits of the day clearer than the rest.
Daily Predictions for Leo:
Work seems to be good and satisfactory, today. Sometimes, a little tiresome, but not too much for you to handle. Also, health receives healing and supportive influences.
Daily Predictions for Virgo:
Love life seems to be quite good and pleasant today. Both those in a relationship and those seeking for one will experience these blessings. Serious relationships (or searching for one) will experience them stronger than plain erotic adventures.
Daily Predictions for Libra:
Work seems to proceed nicely and relatively easily, today. Also health, yours or of a family member, receives some supporting and healing influences.
Daily Predictions for Scorpio:
Social life seems quite busy and pleasant. At times, very busy and maybe tiresome, but still pleasant. Also, singles can be lucky, today.
Daily Predictions for Sagittarius:
This is a strengthening day, regarding your finances. Solving financial problems, making good financial decisions, taking care of obligations and debts and all similar activities receive at least some support.
Daily Predictions for Capricorn:
This can become a very active and very productive day, both work-wise and otherwise. Social life can also be pleasant. Finding new friends, or other people you need is also possible.
Daily Predictions for Aquarius:
This is a good day for all kinds of decision making regarding your finances. Also, there is some gambling luck, too. Nonetheless, as always, do remember the stars can't guarantee your winning.
Daily Predictions for Pisces:
Party like events can be quite pleasant, today. Also, your other half may have some good news. Furthermore, you seem quite capable to advance in your projects. In some cases via somewhat unorthodox, or unusual means.
Astrology and Magic:
Meditation, philtres, charms, potions and healing are strong during the whole waning Moon period. Healing meditative techniques, in particular, can be very effective, today.
That's all. Have fun and enjoy your day!