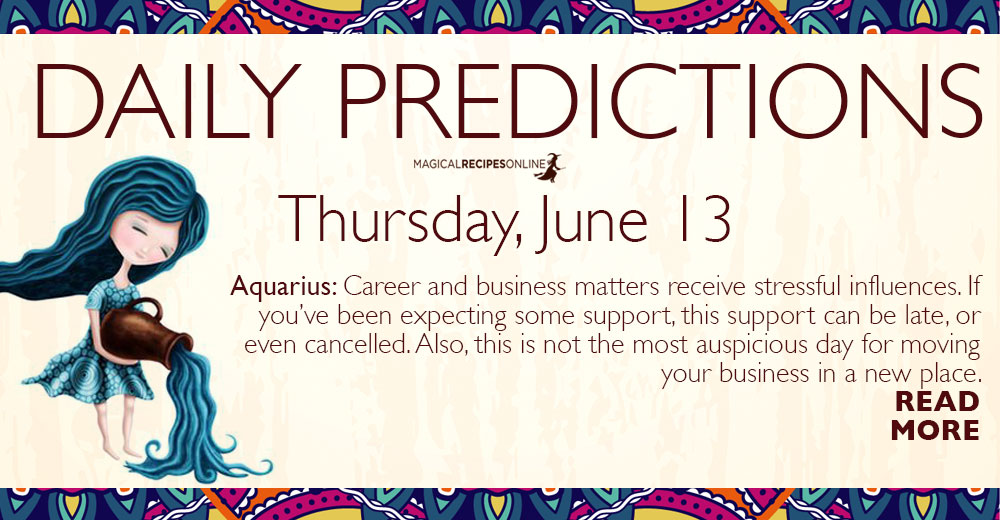 General Daily Predictions: Today, the Moon ends its void of course period at 04:03. Then, from Scorpio, it opposes Uranus, in Taurus.
So, this is going to be a mostly stressful day.
Gemini and Aries will probably be the luckiest zodiacs of the day. Scorpio and Taurus will be the ones facing the most stress.
Void of Course Moon for June 2019
The Moon has been having many long void of course periods, for some time now, and this will continue throughout June. In order to help you plan ahead whatever the void of course Moon affects, you can find all the void of course Moon periods for June here.
Calling back our powers
Also, during this month we'll try to make a few steps to help us reclaim our powers that we may have had earlier, in this life, or during an earlier one. In this section you can find the tip for the day for this adventure and experiment. And, of course, we are interested in your results, so feel free to comment about them.
For the 13th of June, let's ground and balance ourselves. Awakening is a great blessing, but if we are not grounded and balanced, it can act like a curse, too. Furthermore, the energies of the day call for such measures.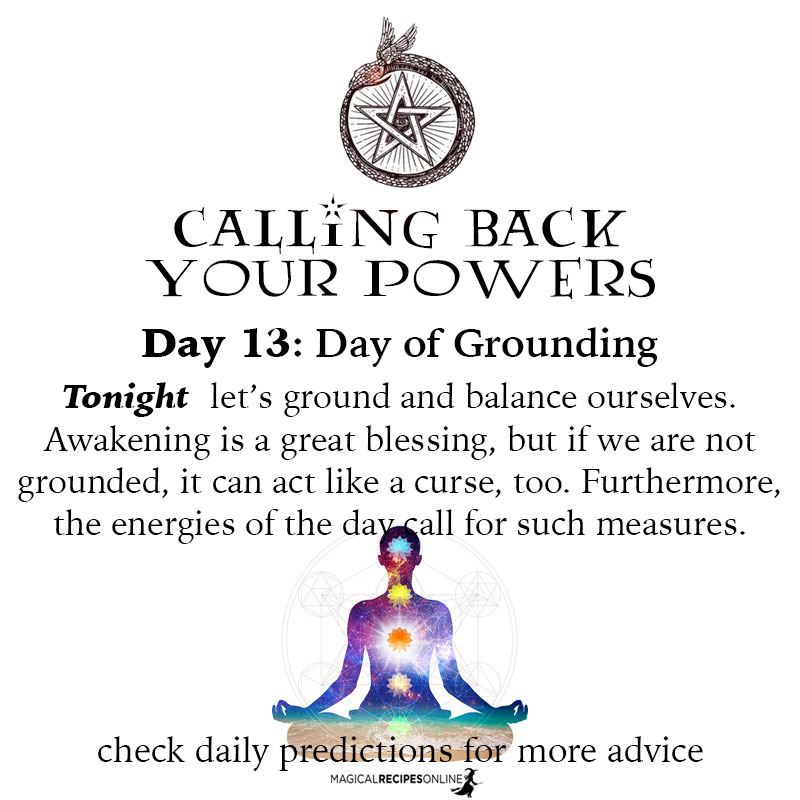 Daily Predictions for Aries:
Money receives much stress, today. Furthermore, if you are changing your saving policies, or doing something similar, some more attention would be useful.
Daily Predictions for Taurus:
Keeping a flexible mind and schedule, today, can help you a lot, as some things won't happen the way you plan them to do. Also, love partners and business partners can cause you some unsettlement.
Daily Predictions for Gemini:
Work can become somewhat stressful. Health can also challenge you, a little. In most cases, no more than just a little. Nonetheless, pay it proper attention.
Daily Predictions for Cancer:
Love and social life may face some challenges, today. Also, it's not an auspicious day for advertising, self advertising and promotion of yourself, your products and your services. Advertisement businesses as well as web based ones can be a little difficult, too.
Daily Predictions for Leo:
Thoughts about your life, what you've been doing with it and where you are standing can raise and cause you more unpleasant feelings, than pleasant ones. If that happens, try to focus on what you are glad about and grateful about, and try to think of ways to change what you don't like, instead of simply focusing on that.
Daily Predictions for Virgo:
Travelling and transportations need some attention. Travelling by aeroplane, or ship, especially, can be more problematic. Also, studies receive some stressful influences.
Daily Predictions for Libra:
Your finances can be stressful, today. Extra care is needed on deciding where and what you should spend your money on. As a general advice, avoid any risky investments.
Daily Predictions for Scorpio:
This is quite a stressful day, for you, in most aspects of it. Love life, in particular, receives even more stress. The same is true for your business partners and for your researches for new business partners.
Daily Predictions for Sagittarius:
Health can cause you some stress, today. In most cases, though, the stress will be greater than the cause. Nonetheless, take a good care of your health. Your mood can also be lacking, today.
Daily Predictions for Capricorn:
Social life seems more problematic and like a bother, today, rather than a pleasant thing. It can either be more active than you'd prefer, active in ways you don't enjoy, or less active than you'd like.
Daily Predictions for Aquarius:
Career and business matters receive stressful influences. If you've been expecting some support, this support can be late, or even cancelled. Also, this is not the most auspicious day for moving your business in a new place.
Daily Predictions for Pisces:
Studies, researches and everything alike receives some stress, today. Also travelling seems to be quite stressful. Furthermore, your mind can distract you from whatever you should be doing.
Astrology and Magic:
Grounding, balancing and cleansing are the most advisable practices for the day.
That's all. Have fun and enjoy your day!