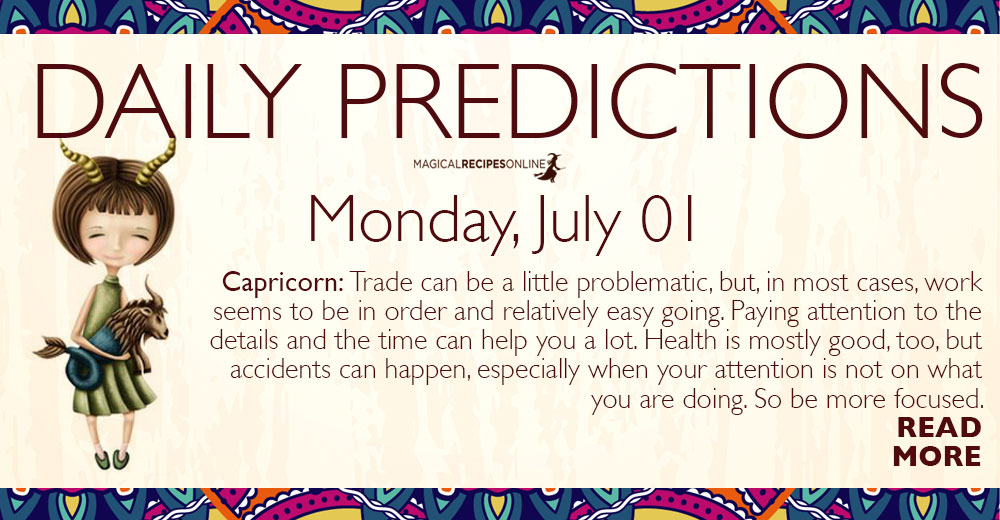 General Daily Predictions: Today, the Moon from Gemini opposes the Retrograde Jupiter, in Sagittarius, and squares the Retrograde Neptune, in Pisces. It also conjuncts Venus, in Gemini. Furthermore, from 21:48 UT until 01:24 UT of the 2nd of July, the Moon will be void of course.
Also, today, Mars enters Leo at 23:19 UT.
So, this is going to be a mostly stressful day, with some good points.
Gemini and Leo will probably be the luckiest zodiac of the day. Pisces and Sagittarius will probably be the ones receiving the most stress.
Void of Course Moon for July 2019
The Moon has been having many long void of course periods, for some time now, and this will continue throughout July, as well. In order to help you plan ahead whatever the void of course Moon affects, you can find all the void of course Moon periods for July here.
Daily Predictions for Aries:
Travelling is not auspicious, today. Even less so as we are under the direct influences of the Eclipse. Trade, and especially international trade can face some difficulties, too, although significant successes can come, too. Creativity, flexibility and communicative abilities are in a good condition, on the other hand.
Daily Predictions for Taurus:
There is much focus on your finances, today, both beneficial and a stressful one. Overall, this is a mostly good day for your income and for strengthening and stabilising your finances. Expenses, though, can go over your expectations, too.
Daily Predictions for Gemini:
Your self-esteem and self-confidence are in a good condition and, therefore, you'll be able to successfully overcome whatever challenge the day throws your way. Business matters can be the most challenging ones. Also, legal issues can cause you some unsettlement.
Daily Predictions for Cancer:
Travelling is not auspicious, today, and it needs some attention. Also, imagination can go out of control, and in most cases in a distracting, or discouraging way. Nonetheless, if you manage to tame it, it can become quite productive and even help you find options you hadn't considered until now.
Daily Predictions for Leo:
Trade, both of goods and of services, can be quite active and successful. Not necessarily money wise so much, but progress is happening. PR also receive much support. Love life and social life, thought, can have some troubles.
Daily Predictions for Virgo:
Business partners can stress you. Business deals are do not receive favourable energies, either. Some of those you have established may change, not to your liking, or get cancelled, too. Other than such things, though, this is a mostly good day for all work and business matters.
Daily Predictions for Libra:
Transportations and travelling, especially abroad, need some extra attention, today. Travelling is not really inauspicious, despite the today's influences, and the ones of the Eclipse, but it can have face more troubles than necessary, so be careful and do your best. Religious, philosophical and similar groups, as well as study groups can give you much help and inspiration.
Daily Predictions for Scorpio:
This can be a successful and satisfactory day, but, in most cases this success and satisfaction come after effort and overcoming the challenges the day presents you with. Love life also can be challenging, and, in most cases, you may feel you can do less about it than for you can do for work.
Daily Predictions for Sagittarius:
Although your other half may stress you, somehow, probably because of problems they are dealing with, love life receives mostly supportive influences, today. Similar influences affect your business partnerships, too.
Daily Predictions for Capricorn:
Trade can be a little problematic, but, in most cases, work seems to be in order and relatively easy going. Paying attention to the details and the time can help you a lot. Health is mostly good, too, but accidents can happen, especially when your attention is not on what you are doing. So be more focused.
Daily Predictions for Aquarius:
Love life is mostly – if not only – pleasant, today. Those seeking a relationship, may actually find one. This is even more possible while you are having fun and entertaining yourself. Nonetheless, social obligations can become a bit overwhelming, and money can cause you some stress.
Daily Predictions for Pisces:
Making sure you have some you time, today, can benefit you in more ways than just help you rest and relax. Therefore, even this isn't your day off, find some time to dedicate to yourself. Family can also be a mostly pleasant company, but sharing your dreams with them can bring you face to face with their discouragement. Keep in mind, though, that they, most probably, are trying to protect you.
Astrology and Magic:
Obstacle and troubles removing from love and health are potent, today.
That's all. Have fun and enjoy your day and, of course, have a very blessed month!