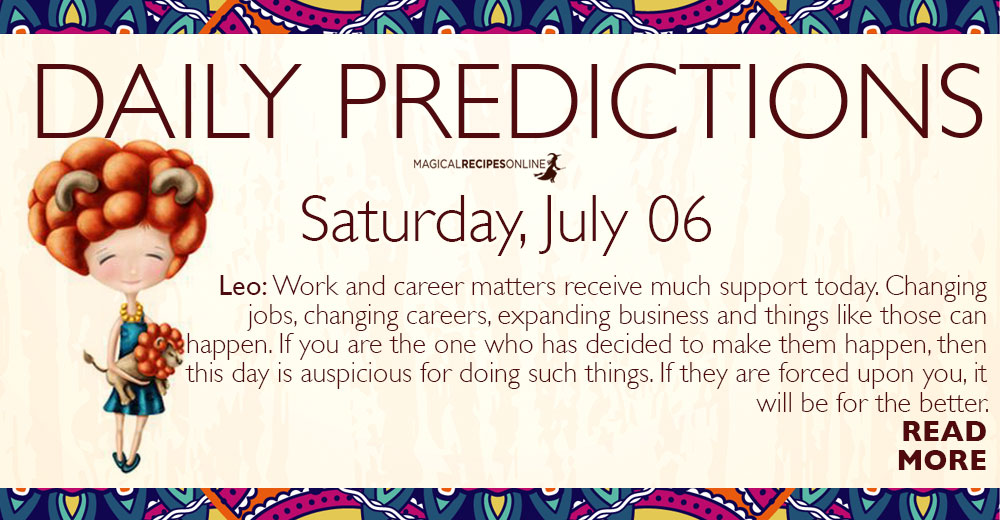 General Daily Predictions: Today, the Moon ends it's void of course period at 04:25 UT. Then, from Virgo, it forms a hexagon with Venus, in Cancer, and a triangle with Uranus, in Taurus.
So, this is going to be a mostly good day.
Virgo, Cancer and Taurus will be the luckiest zodiacs of the day.
Void of Course Moon for July 2019
The Moon has been having many long void of course periods, for some time now, and this will continue throughout July, as well. In order to help you plan ahead whatever the void of course Moon affects, you can find all the void of course Moon periods for July here.
Daily Predictions for Aries:
Work and money matters receive helpful influences, today. You may need to change and readjust your money planning, but the end result will be much better than your original plan, even if the procedure itself is annoying.
Daily Predictions for Taurus:
This is a mostly pleasant day for you. A productive and creative one, too. Inspiration can come in many ways. Some of them quite peculiar or unexpected, too. Also, love life receives pleasant influences and so does your social life, as well.
Daily Predictions for Gemini:
This is a mostly peaceful day for you, but in a pleasant day. Family can be a good and supportive company. Money matters receive some support, too. Maybe nothing too much, but it's a support, nonetheless.
Daily Predictions for Cancer:
This can be a very active and social day for you. Trade receives much support, as well. If you need to restock, or make some significant change in your advertisement, method of selling, personnel and similar things, better do it today, as tomorrow Mercury turns retrograde.
Daily Predictions for Leo:
Work and career matters receive much support today. Changing jobs, changing careers, expanding business and things like those can happen. If you are the one who has decided to make them happen, then this day is auspicious for doing such things. If they are forced upon you, it will be for the better.
Daily Predictions for Virgo:
Most aspects of your life receive, at least, some support, today. Travelling is relatively auspicious. Trade, more so. Also, all jobs of the mind receive quite good influences.
Daily Predictions for Libra:
Your magical and spiritual abilities are quite strong and capable, today. Also this is a good day for making decisions regarding your business, your career and, most probably, your finances. For the latter, some more careful thinking is necessary, though.
Daily Predictions for Scorpio:
Social interactions, and especially the ones regarding or effecting your job, receive beneficial influences. Also, your other half can have some pleasant news to share with you.
Daily Predictions for Sagittarius:
All work and business matters receive beneficial influences, today. Jobs of health, pharmaceutics, metaphysics and performing arts receive even greater support. The same can be true for those working via internet.
Daily Predictions for Capricorn:
Love life seems quite pleasant and, most probably, lucky, today. Long distance relationships receive more blessings. Relationships where the two of you share similar interests, too. Similarly, those seeking for a new relationship may have more chances in places and groups about their interests.
Daily Predictions for Aquarius:
Health receives much focus and mostly a good one, too. Even if there is some stress or unsettlement about it, it will be for your best, in the long run. Also, this is a good day for work matters and also a good day to take care of your home's needs.
Daily Predictions for Pisces:
Love life receives much help and good luck, today. Both those in a relationship and those seeking one will enjoy these influences. Your friends' love life can also play a pleasant role in your day. Furthermore, friends and people you consider important can make your day a better one.
Astrology and Magic:
Healing, beautification and love magic are quite capable, today.
That's all. Have fun and enjoy your day!