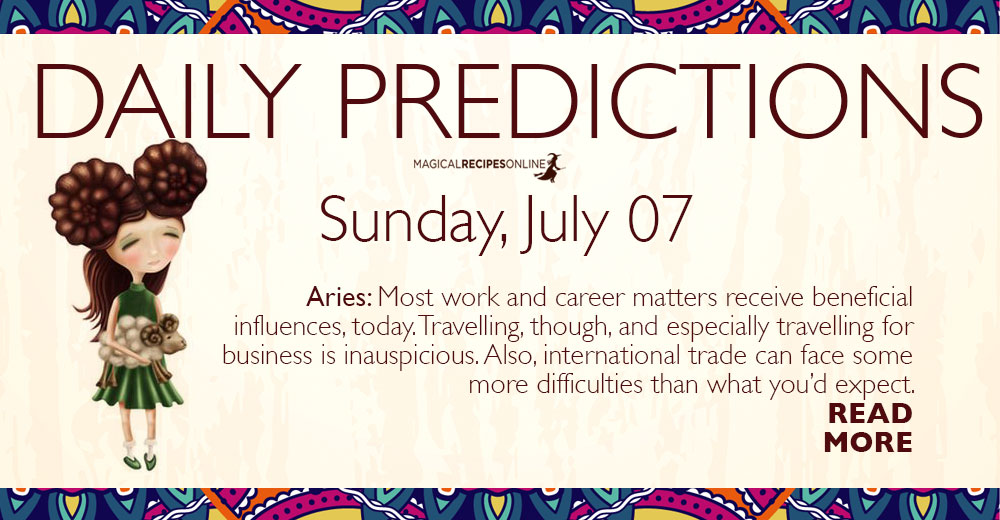 General Daily Predictions: Today, the Moon from Virgo squares the Retrograde Jupiter in Sagittarius and opposes the Retrograde Neptune in Pisces. It also forms a hexagon with the Sun, in Cancer, and a triangle with each the Retrograde Saturn and the Retrograde Pluto, both in Capricorn. Furthermore, from 16:51 UT until 06:07 UT of the 8th of the month, the Moon will be void of course.
Also today, at 23:14 UT Mercury, in Leo, turns Retrograde just a day before Chiron, in Aries, does the same. Stay tuned for more more info about these in our Weekly Predictions for this week.
So, this is going to be quite a stressful day with some good points.
Cancer and Capricorn will be the luckiest zodiacs of the day. Pisces and Sagittarius will be the ones receiving the most stress.
Void of Course Moon for July 2019
The Moon has been having many long void of course periods, for some time now, and this will continue throughout July, as well. In order to help you plan ahead whatever the void of course Moon affects, you can find all the void of course Moon periods for July here.
Daily Predictions for Aries:
Most work and career matters receive beneficial influences, today. Travelling, though, and especially travelling for business is inauspicious. Also, international trade can face some more difficulties than what you'd expect.
Daily Predictions for Taurus:
Although this day can be quite pleasant and productive it may gives you the feeling that something is not quite right. Also, being with people you consider close friends can make your day happier, while people you feel less close with can add to your stresses.
Daily Predictions for Gemini:
Work can be somewhat stressful. Business partners and business meetings, especially. Even more so if they are friends or family, as well. Nonetheless, it's neither really a bad day for money matters, nor it's really a bad day to be with friends and family.
Daily Predictions for Cancer:
Social life can be quite pleasant, today. Love life, too. Those already in a relationship will enjoy this influences better. Work, though, can become quite stressful and demanding. Trade, more than the rest, and the same is true for jobs of communications and transportations.
Daily Predictions for Leo:
Income receives some beneficial influences. In the same time, though, expenses can be greater than you've considered. Also, losing some money is possible. On the other hand, work proceeds quite nice and according to your plans.
Daily Predictions for Virgo:
This day is a mostly pleasant for you, despite the fact the stressful aspects of it affect you strongly, as well. Love life is probably a main focus of the energies of the day. The way you'll act and react to the situations can determine whether it will be for better or worse. So, be calm, think things objectively and act swiftly, but not hastily.
Daily Predictions for Libra:
Health, both emotional and physical, is sensitive, today. Resting enough, slowing down your pace, meditating, keeping a positive outlook and watching your dietary habits can help you. Also, family and people you consider as such can be quite supportive.
Daily Predictions for Scorpio:
Despite the stationary Mercury turning retrograde, today, trade, for you, receives mostly pleasant influences. Probably not everything will go smoothly, but it will be a good day regarding it. Buying things, and especially communication devices, is not advisable, though.
Daily Predictions for Sagittarius:
Work and business matters receive mostly pleasant influences and support, today. Money, too. Starting a new business, though, or changing your line of career needs some more attention and thinking. If you can postpone your decision for a few day, then do so.
Daily Predictions for Capricorn:
This is a mostly good and pleasant day. At least regarding the situations. The way you experience things, though, can be a little different, as your mind tends to focus on the negatives and the thoughts that stress you. Changing your mindset can help you, both short-term and long-term.
Daily Predictions for Aquarius:
Health is still receiving beneficial and healing influences, today. Maybe not stress-free ones, but good ones, nonetheless. Work also seems to be good. Money needs some attention, and especially the way you are spending it. Also, your other half's finances can be a bit problematic.
Daily Predictions for Pisces:
Love life receives mostly pleasant and strengthening influences, today. Healing ones, too, and this can be not so pleasant for relationships with enough problems, but it's a good thing, nonetheless. Business partnerships, on the other hand, receive mostly stressful influences and business meetings can be more stressful than productive.
Astrology and Magic:
Good luck magic and talisman charging are quite effective, today.
That's all. Have fun and enjoy your day!