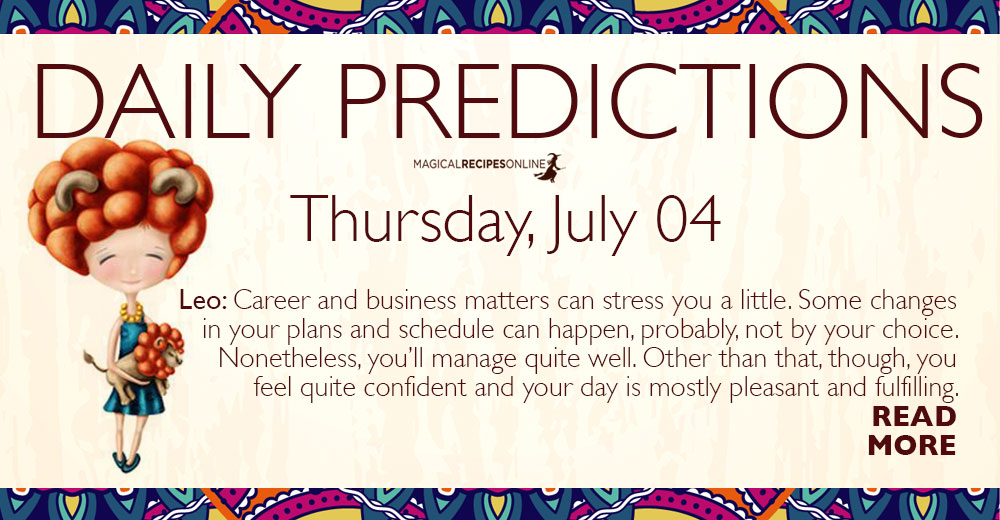 General Daily Predictions: Today, the Moon from Leo squares Uranus in Taurus. It also conjuncts Mercury and Mars.
So, this is going to be a mostly good day, with some stressful points.
Leo and, probably, Aries and Sagittarius will be the luckiest zodiacs of the day. Taurus will be the one receiving the most stress.
Void of Course Moon for July 2019
The Moon has been having many long void of course periods, for some time now, and this will continue throughout July, as well. In order to help you plan ahead whatever the void of course Moon affects, you can find all the void of course Moon periods for July here.
Daily Predictions for Aries:
This is a mostly pleasant and mostly lucky day for you. Money can be somewhat stressful, but other than that, most things are proceeding nicely. Love, especially, can be more blessed than other aspects of your day.
Daily Predictions for Taurus:
People around you, and especially the ones you are considering important can affect your mood and self-esteem easily, today. Therefore, choosing wisely with whom you should interact can greatly affect your day.
Daily Predictions for Gemini:
This can become quite a social day, and in a pleasant way. Nonetheless, friends and siblings can occasionally stress you. In some cases, because of misunderstandings. Also, creativity and productivity are in a good condition.
Daily Predictions for Cancer:
Money receives much support and some good luck, too. Trade can be profitable, although online trading can be less lucky than other forms of it. Furthermore, this isn't the best day for purchasing high-tech equipment.
Daily Predictions for Leo:
Career and business matters can stress you a little. Some changes in your plans and schedule can happen, probably, not by your choice. Nonetheless, you'll manage quite well. Other than that, though, you feel quite confident and your day is mostly pleasant and fulfilling.
Daily Predictions for Virgo:
Spiritual abilities are quite capable, today. Also, imagination and artistic talents are in a very good form and quite creative, too. Your thoughts, though, have a tendency to focus more on whatever stresses you. Think of solutions, instead of focusing on problems.
Daily Predictions for Libra:
Trade receives both stressful and supportive influences. In most cases it's good, but, most probably, not as much as you'd prefer. Also, social media interactions and web sites can benefit you a lot, but, again, maybe not as much as you'd like.
Daily Predictions for Scorpio:
Business partners can stress you a bit, today. Also, some deals may change or get cancelled. Other than those, though, most business and career matters proceed nicely and successfully. You also feel confident and quite capable, on such matters, today, and, indeed, you are.
Daily Predictions for Sagittarius:
Travelling is as auspicious as it can get in the midst of an Ecliptic period. The slowly moving, but still direct Mercury being strong enough promises a successful trip, too, for you. Health, though, and especially your emotional health, may need some attention.
Daily Predictions for Capricorn:
This is a mostly successful and satisfactory day. Most thing proceed nicely, although they may not go exactly the way you want them to go. Nonetheless, the results are good. Love life, and especially sex life can be less lucky – but not completely unlucky – though.
Daily Predictions for Aquarius:
Love life receives mostly pleasant influences. Your other half can stress you, a little. Most probably because of issues in their life, so being supportive and understanding can be the right tactic. Also, it' a good day for finding business partners and the like.
Daily Predictions for Pisces:
Work seems to be proceeding quite well. It can be a bit chaotic and stressful and mess up with your schedule. Nonetheless, you are achieving what you want to achieve, or equally good results. Better, possible. Health, although strong, needs some attention, as accidents can happen.
Astrology and Magic:
All forms of Fire Magic are quite capable, today.
That's all. Have fun and enjoy your day!