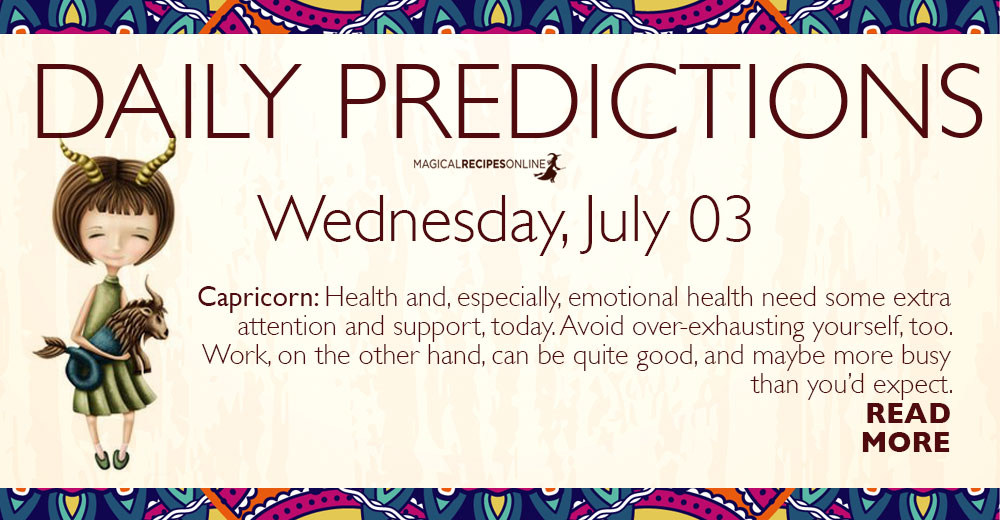 General Daily Predictions: Today, the Moon from Cancer opposes the Retrograde Saturn and the Retrograde Pluto, both in Capricorn. It also forms a triangle with the Retrograde Neptune, in Pisces. Furthermore, from 14:25 UT until 03:20UT of the 4th of July, the Moon will be void of course.
Also, today, Venus enters Cancer at 15:18 UT.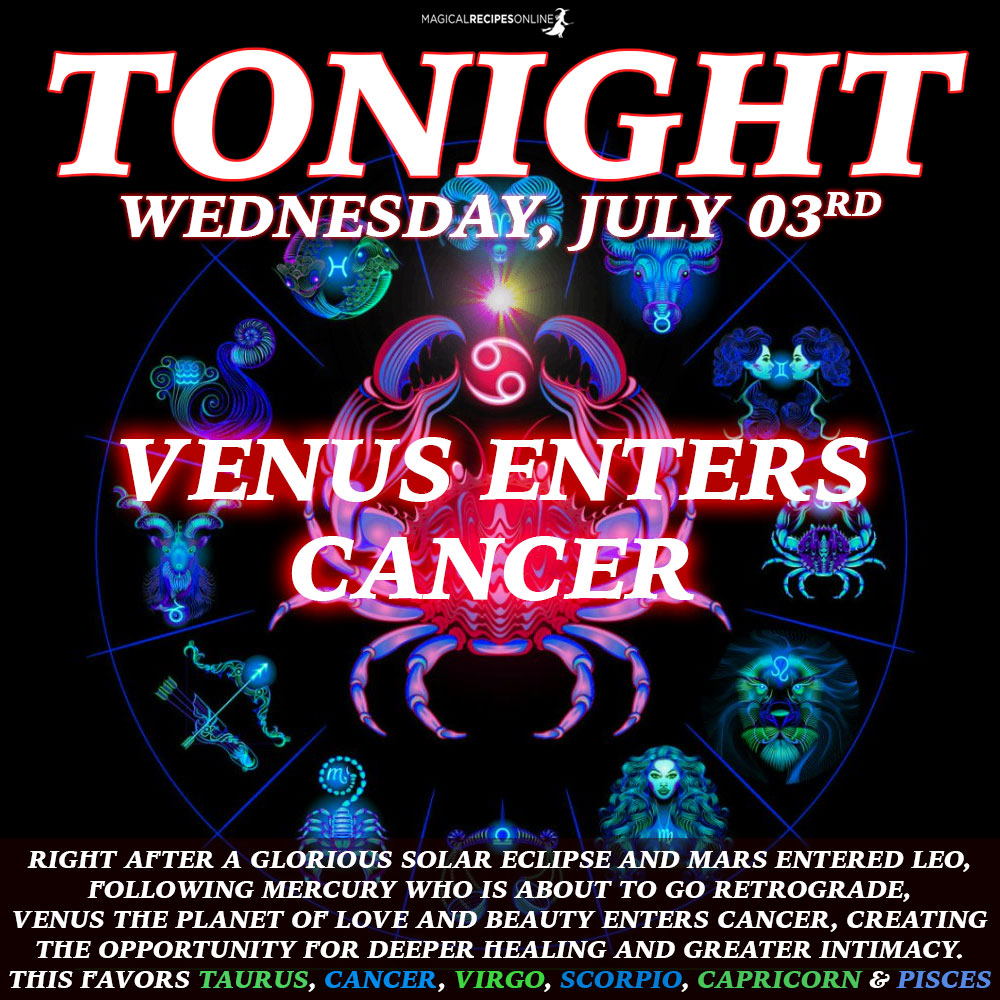 So, this is going to be a mostly stressful day, with some good points.
Pisces will probably be the luckiest zodiac of the day. Capricorn will probably be the one receiving the most stress.
Void of Course Moon for July 2019
The Moon has been having many long void of course periods, for some time now, and this will continue throughout July, as well. In order to help you plan ahead whatever the void of course Moon affects, you can find all the void of course Moon periods for July here.
Daily Predictions for Aries:
Work and business matters receive some stressful, and maybe restraining influences, so try to avoid anything extreme. Your home, your family and people you consider as such, though, can give you some nice moments.
Daily Predictions for Taurus:
Travelling, planning trips and, in a lesser degree, international trade receive some stress. Being too close to the actual moment of the Eclipse can make things a little more difficult, too. On the other hand investing on your work and on your web-sites/social media etc, wisely, is auspicious.
Daily Predictions for Gemini:
Work and business matters receive some support. Nonetheless, you may not feel very enthusiastic or confident about them. Actually, these feelings can affect other fields of your life, too.
Daily Predictions for Cancer:
Artistic creativity and spiritual abilities are in a quite good condition, today. Your other half, business partners, and other people you consider important, can stress, or upset you, on the other hand.
Daily Predictions for Leo:
Work can be tiresome, stressful, and, at times, unsettling. In most cases, though, it's not really a bad day for work matters. Internet based jobs will enjoy the supportive influences more than the rest ones will.
Daily Predictions for Virgo:
This doesn't seem to be a lucky day. Small strikes of bad luck can follow throughout the day. Business matters can become a usual target, too. Nonetheless business is mostly good and business partners are mostly helpful and cooperative.
Daily Predictions for Libra:
Travelling isn't very auspicious. Moving in to a new place of work, or residence won't be too pleasant and easy, either. On the other hand, work is mostly fulfilling. Studies, too.
Daily Predictions for Scorpio:
Love life, today, seems mostly pleasant and lucky. At times "too" lucky, so be a little more careful when meeting with new potential lovers. Friends, on the other hand, as well as clients, can stress you, somewhat.
Daily Predictions for Sagittarius:
Be more reluctant and thoughtful on signing contracts and agreements. Especially if this is happening in a hurry. Your other half may need some more of your time and attention, but they also offer you much support.
Daily Predictions for Capricorn:
Health and, especially, emotional health need some extra attention and support, today. Avoid over-exhausting yourself, too. Work, on the other hand, can be quite good, and maybe more busy than you'd expect.
Daily Predictions for Aquarius:
There may be some stressful and unpleasant thoughts, with little or no actual reason to support them. So, do take a more objective look at the events and try to keep a more positive mindset. Also, money receives mostly pleasant and supportive energies.
Daily Predictions for Pisces:
Your other half may need your attention and support. They may have to deal with a stressful situation. Other than that, though, family can be quite supportive and a cause of inspiration.
Astrology and Magic:
Balancing and healing our emotions is advisable, today.
That's all. Have fun and enjoy your day!