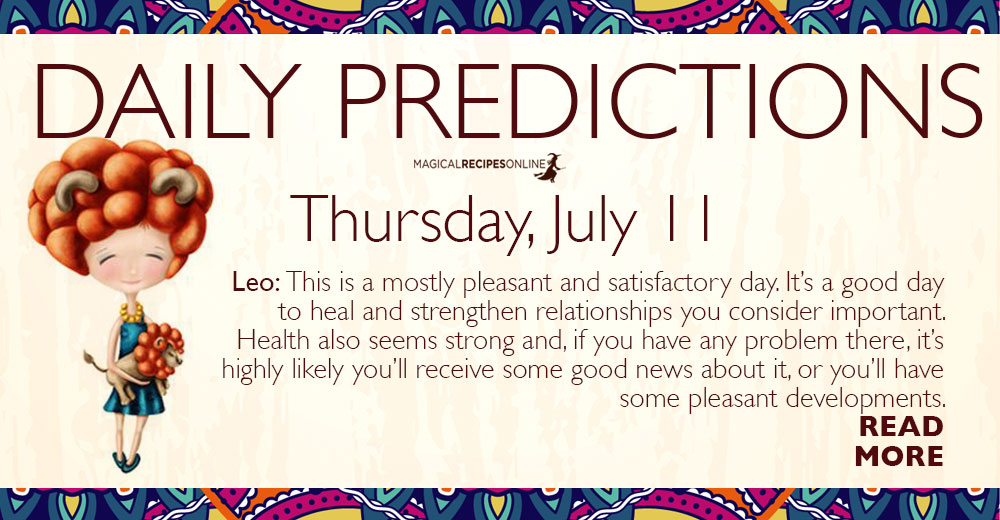 General Daily Predictions: Today, the Moon from Scorpio forms a hexagon with the Retrograde Saturn, in Capricorn. It also forms a triangle with each Venus, in Cancer, the Sun, in Cancer, and the Retrograde Neptune in Pisces.
Also today, the Sun's trine with the Retrograde Neptune becomes accurate, and Mars' square with Uranus also becomes accurate.
So, this is going to be a mostly good and pleasant day.
Scorpio, Cancer, Pisces and Capricorn will be the luckiest zodiac of the day.
Void of Course Moon for July 2019
The Moon has been having many long void of course periods, for some time now, and this will continue throughout July, as well. In order to help you plan ahead whatever the void of course Moon affects, you can find all the void of course Moon periods for July here.
Daily Predictions for Aries:
This is a mostly satisfactory and successful day. Work and career matters receive much support and can produce good results. Strengthening the bonds with the people you want, can also happen. Furthermore, your magical and spiritual abilities are quite strong.
Daily Predictions for Taurus:
This is a very good day for socialisation. People enjoy your company and you theirs. Love also receives some good luck and support. On top of that, job interviews and job applications receive favourable energies.
Daily Predictions for Gemini:
All work and money matters receive support, today. Receiving good news about a job application you didn't expect, or an invitation for a better job are possible to happen. Also, health receives very healing energies.
Daily Predictions for Cancer:
This is a mostly pleasant day, in most, if not all, matters. Love, especially, receives very favourable influences. It's also a good day to indulge in some luxuries, as long as you don't overdo it.

Daily Predictions for Leo:
This is a mostly pleasant and satisfactory day. It's a good day to heal and strengthen relationships you consider important. Health also seems strong and, if you have any problem there, it's highly likely you'll receive some good news about it, or you'll have some pleasant developments.
Daily Predictions for Virgo:
This is quite a productive day. Social life also seems happily active. There is some good luck favouring it, and you'll be enjoying more than you'd expect. Love life, too receives much support.
Daily Predictions for Libra:
Work and money matters receive beneficial influences, today. Gambling also receives some support, but as always, keep in mind that the stars can't guarantee your wining. They only raise your odds. Also, this is a good day to take care of your home needs.
Daily Predictions for Scorpio:
This is quite a good day for you, for all matters. Work, social life and love life, all receive support and good luck. Work can be quite demanding, but you are managing better than you'd expect. Also, progress in your personal goals and projects can be achieved.
Daily Predictions for Sagittarius:
Both your magical and your spiritual powers are quite capable and strong, today. Also, family can be quite supportive, financially and otherwise. Furthermore, this is a good day for making important decisions regarding your finances. Especially long-term ones.
Daily Predictions for Capricorn:
Social life receives very supportive influences, today. Both in person and online socialisation. Also the internet, your social media and your webpages can help you find the people you want, or achieve progress in whatever you want to do.
Daily Predictions for Aquarius:
Work, career and money matters receive very good influences, today. Jobs of health, both physical and emotional, receive even greater support. Also, spiritual kind of business do the same. Furthermore, this is a helping day to better your social status.
Daily Predictions for Pisces:
Travelling, today, is as lucky as it can be, under the influences of the Eclipses and the retrograde Mercury. Also, studies and actual students can have a good day. Both productive and pleasant. Trade can be a little difficult, but it's good.
Astrology and Magic:
All forms of meditation and spiritual practices are very capable, today. Love magic, healing magic and prosperity magic, too.
That's all. Have fun and enjoy your day!