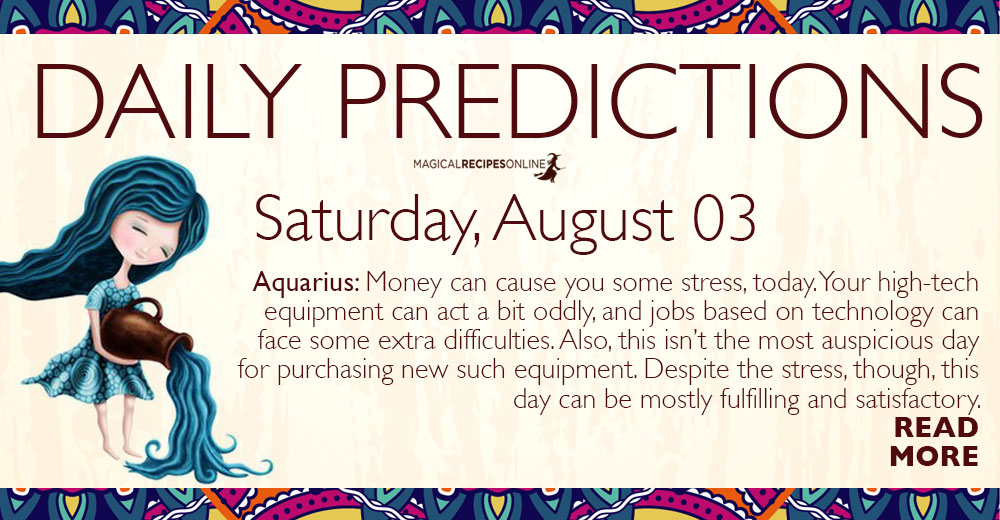 General Daily Predictions: Today, the Moon from Virgo squares the Retrograde Jupiter, in Sagittarius and opposes the Retrograde Neptune, in Pisces. It also forms a triangle with each the Retrograde Pluto and the Retrograde Saturn, both in Capricorn.
So, this will be a somewhat difficult day. Our emotional condition can easily be challenged, too, so it's worth giving ourselves as much support as possible.
Capricorn will be the luckiest zodiac of the day. Pisces and Sagittarius will be the ones facing the most stress.
Void of Course Moon for August 20l19
The Moon has been having many long void of course periods, for some time now, and this still continues throughout August, although, in a somewhat smaller scale. In order to help you plan ahead whatever the void of course Moon affects, you can find all the void of course Moon periods for August here.
Daily Predictions for Aries:
Most work and business matters receive beneficial influences, today, but expanding businesses needs some extra consideration. Also, whatever has to do with other places and travelling needs some extra attention.
Daily Predictions for Taurus:
This can become a good day, in most aspects of it. Nonetheless, it may not be as satisfactory as you'd expect. Supporting your mood and your self-discipline will help, a lot. Social life and love life also receive some stress.
Daily Predictions for Gemini:
Your other half can cause you some stress, today. Business partners may play a similar role. There may also be some difficulties on work matters. In most cases, though, they seem harder, at first glance, than they really are. Other than that, your personal life receives beneficial, strengthening and healing influences.
Daily Predictions for Cancer:
Work needs some attention and it can cause some stress. Travelling, even more so. Also, your health and your emotional health are a bit sensitive, today. On the other hand, social life and love life receive mostly auspicious energies.
Daily Predictions for Leo:
Work receives mostly good influences, today. Income and money matters, too, but expenses and obligations may stress you, a little. Also, your kids' or loved ones' may put an extra pressure on your finances.
Daily Predictions for Virgo:
Home and family can cause you some unsettlement, today. Your other half, too, although, love life receives mostly pleasant influences. Also, your personal goals and plans receive some support and good luck.
Daily Predictions for Libra:
Health, both physical and emotional, as well as your mood need some more of your care, today. Travelling, too needs some attention. On the other hand, this can be quite a beneficial day for resting, relaxing and healing. Healing and strengthening of your important relationships can also take place.
Daily Predictions for Scorpio:
Social life, for the most of it, receives good energies. It might not be as pleasant as you'd like, but it can be quite active and beneficially so. Trade also receives good energies. On the other hand, purchases need a second thought.
Daily Predictions for Sagittarius:
Work and career matters receive good energies, today. Money matters, too. Nonetheless, expanding your businesses needs more attention and a more careful thinking and approach. Your family can also challenge your career plans.
Daily Predictions for Capricorn:
Travelling receives mostly stressful influences, today. If you need to travel, do that as carefully as you can and make sure you are as well prepared as possible. On the other hand, studies and most intellectual and spiritual occupations and avocations receive mostly good influences. Enrolling in schools and seminars, too.
Daily Predictions for Aquarius:
Money can cause you some stress, today. Your high-tech equipment can act a bit oddly, and jobs based on technology can face some extra difficulties. Also, this isn't the most auspicious day for purchasing new such equipment. Despite the stress, though, this day can be mostly fulfilling and satisfactory.
Daily Predictions for Pisces:
Colleagues, bosses and business partners can cause you some stress. In some cases, your other half, too, can play this role. Discussions with them can be intense, but, in most cases, they can produce good enough results. Also, social life seems active and productive. Meeting a love interest is also possible.
Astrology and Magic:
Meditative techniques of all kinds are quite strong, today. The same is true for philtres, potions and charms.
That's all. Have fun and enjoy your day!