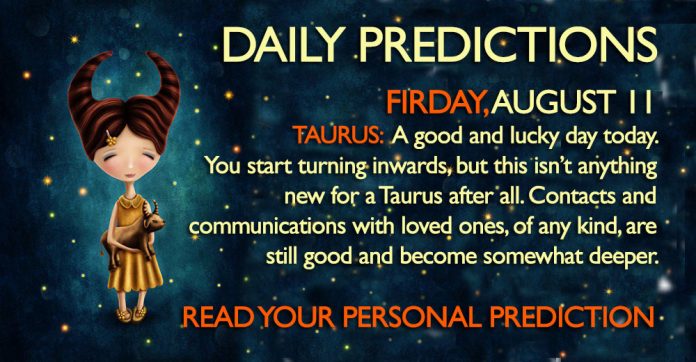 General Daily Predictions: Moon enters Aries today, but other than that it isn't very active. Mercury's and Venus' hexagon as well as Sun's and Jupiter's hexagon are still strong. So, the day will be mostly calm a calm continuation of the previous. Maybe we feel a little more dynamic and more active, but not much more of a difference.
Leo, Libra, Cancer and Virgo will be the luckiest zodiacs. Sagittarius and Capricorn will be the most stressed ones.
Daily Predictions for Aries:
Your daily routine and activities express you more today and you enjoy them more. You also feel more confident and strong. One more good day to find a love interest if you are searching for one.
Daily Predictions for Taurus:
Still a good and lucky day. You start turning inwards, but this isn't anything new for a Taurus after all. Contacts and communications with loved ones, of any kind, are still good and become somewhat deeper.
Daily Predictions for Gemini:
Things are still calm and pleasant today. Your focus is a little more on interacting with others, and this is mostly pleasant. Some good news concerning a child or sibling of your is very possible to reach you today.
Daily Predictions for Cancer:
Your focus shifts a little from your home to your job. This probably means more that you are now quite satisfied with your home and not that your job requires extra care. On the contrary, things there are going on smoothly.
Daily Predictions for Leo:
Your "autonomous" magic doesn't work as strongly today, so you'll have to try a little bit more to achieve whatever you want to achieve. Still, though, it is a good and lucky day. Studies, academic or personal, are favoured.
Daily Predictions for Virgo:
A mostly pleasant day. The possibility of some good news on your income, or your spouse's income is still valid. Interacting with friends and being with them will be invigorating, but not as easy to achieve today.
Daily Predictions for Libra:
Work is still benefited. It's a good day to deal with problems with your business partners. If such things don't exist, you may still find your interaction with them much more pleasant and constructive.
Daily Predictions for Scorpio:
The focus on your love live declines today. Nothing bad there. You just feel much more enthusiastic about your job and career and you prefer to focus there. This is good, of course. Don't neglect your loved ones and you may find them supporting your career more than you were expecting.
Daily Predictions for Sagittarius:
Less stress today. There will also be some more things that will bring you joy. Sexual interactions with a fresh or refreshed relationship are one such source of joy. Good day to enrol in a educational institution or a seminar.
Daily Predictions for Capricorn:
Yourself asks for some alone time at home. Your life invites you to be with others. Try to choose a few close friends and socialise with them and offer the rest of the day to yourself. You need both these to properly balance yourself in today's energies.
Daily Predictions for Aquarius:
Work is even better today. Especially if it has to do with interactions with the public. Money isn't the issue today. It seems to run nicely. Nothing extreme, but nicely. Even the long term money issues seem like they are en route to their solution.
Daily Predictions for Pisces:
You are more focused in present today. A happy day mostly, and you feel it better than yesterday. Some good news or developments about your financials and job are very possible too. Your personal relationships also seem happy.
Astrology and Magic:
Still a good day for luck, and love. Prefer the obstacle removing and road opening types of spells.
That's all. Have fun and enjoy your day.