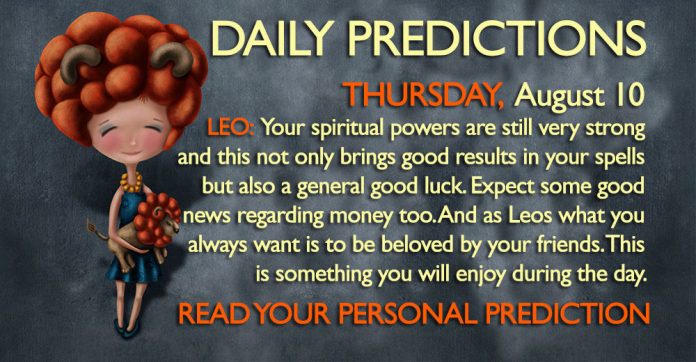 General Daily Predictions: Moon won't be very active today as it forms only two strong enough aspects. A hexagon with the retrograde Pluto from Capricorn and a square with the retrograde Saturn from Sagittarius. But there are some more good news. A hexagon between Mercury and Venus which started forming on Sunday, now it's perfect. This aspect will remain active until coming coming Sunday, when Mercury will turn retrograde. Even more, the two lucky planets, Jupiter and Sun form perfect hexagon as well. Were not the Eclipse, we would have sensed this energy since the beginning of the month, and we would keep feeling it until almost the day of the Solar Eclipse. Most of us didn't though, but today we will feel it.
So, today will be a breather in between the two Eclipses. Calmer and more pleasant communications and better luck. The only thing might which might concern us is some issues from the past knocking our doors.
Leo, Libra, Cancer and Virgo will be the luckiest zodiacs. Sagittarius and Pisces will be the most stressed ones.
Daily Predictions for Aries:
A good day to take care of your home, family and all these details that form your everyday routine. Lover or spouse also included, and, in my opinion things with them will be even better. Probably a good day to find a love interest if you are searching, and manage to overcome your tendency to avoid further socialising.
Daily Predictions for Taurus:
Much better day today. Your tendency to be with others remain, but today is more easy to achieve that. Also, if you do so, it will be a more pleasant experience. Your communication with your significant one will be also easier and more lucky. Expect some improvements in your job, especially if you are working from home.
Daily Predictions for Gemini:
Situations with family members are much improved today. Financials also seem to be in a path of improvement. Be with friends as much as you can as you seem to smile more amongst them. New friendships or love interests are possible too.
Daily Predictions for Cancer:
You probably want to invest some money on your home. This is a pleasant experience and will make your home a better place. It's not something forced on you by necessity. Avoid a tendency to overspend and all will be good. Also a good day to meet or communicate with your dearest friends.
Daily Predictions for Leo:
Your spiritual powers are still very strong and this not only brings good results in your spells but also a general good luck. Expect some good news regarding money too. And as Leos what you always want is to be beloved by your friends. This is something you will enjoy during the day.
Daily Predictions for Virgo:
This is probably a very good day. Even more so as you have some time to really enjoy a day. No serious problems, no stressful events. Mostly a pleasant day. Maybe some good news on your income, or your spouse's income. Your friends encourage the best parts of you to resurface and this gives you a very pleasant feeling.
Daily Predictions for Libra:
Work and career are the most benefited aspects of your life today. Your intuition on these subject is also strong and clear, so act upon it. You feel confident too, both in these subjects but also to all other aspects of your life. A good day to enjoy with friends too.
Daily Predictions for Scorpio:
Your love life still progress well, especially if your other half has similar ideas and spiritual interests. If you are searching for one you may meet like-minded people today, but not necessarily lovers. Joy comes from your work as well today. Expect something good to happen there.
Daily Predictions for Sagittarius:
Still a good day today. You feel stressed most of the time, without a real reason though. You may need to face some issues from your past, but this is a good opportunity to do so. They came to be solved in the best possible way. So, do not avoid them.
Daily Predictions for Capricorn:
You may meet with friends coming from afar, or you may have some pleasant conversations with them through other means. In some cases these friends may be just estranged and the distance exists only in your and their minds. This is a good opportunity to come closer with them.
Daily Predictions for Aquarius:
Today work and money issues are much clearer and your ability to take the correct decisions is better. Some improvements may also happen on these subjects. Problems with partners may be solved, or if you are searching for a partner you may find a good one today.
Daily Predictions for Pisces:
A mostly pleasant day this is for you. The problem is that you feel somewhat out of place. You also tend to think of past mistakes and unpleasant experiences. Most of the time this comes uncalled and only reduce the pleasures of today, so don't let this tendency to rule your day.
Astrology and Magic:
A good day for luck, and love. Since the moon is waning the obstacle removing and road opening type of spells are better.
That's all. Have fun and enjoy your day.