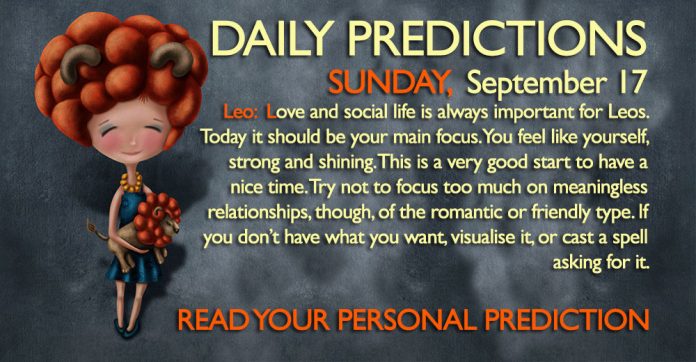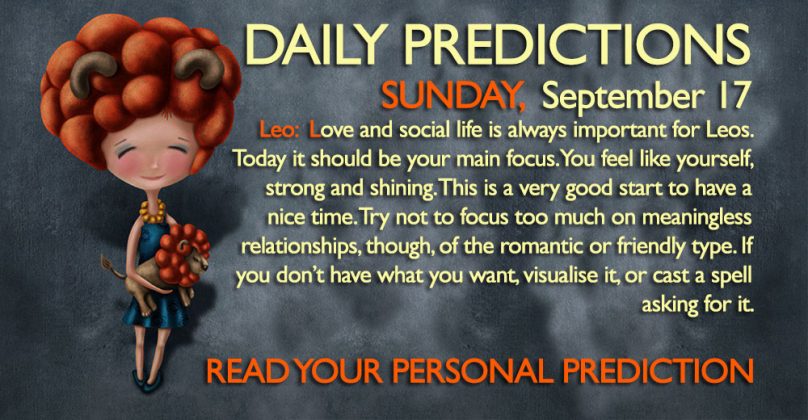 General Daily Predictions: Moon today, from Leo, will form a triangle with Saturn in Sagittarius and a hexagon with Jupiter in Libra. By doing so, obviously empowers the beneficial aspects of the hexagon between the two planets. Mercury's and Mars' conjunction is, of course, still very strong. These are even more good news. So, yes, this will be a good day. Slightly less energetic than yesterday – at least by luck's demands. But of course, make the most of it.
As I consider this a generally lucky day that can become very beneficial, I'll mostly give the areas that you should be focusing. Things can happen in a way that they will force your focus on the same things, but even if not, it would be wise to do it yourself. Work on these areas both with humanly and magical means.
Sagittarius and Libra will be the luckiest zodiacs of the day. Aquarius will be the less lucky zodiac, but still a good day for those born under this sign.
Daily Predictions for Aries:
Your focus should be on whatever has to do with your business partners, your life partner and things you are studying. This goes both for actual students and for those who study for their own pleasure and convenience. A happy feeling lurks from the inside and you probably want to enjoy the day more than work. Do enjoy the day, of course, but work, even if just a little.
Daily Predictions for Taurus:
Work, money, spirituality, magic, as well as love and sex life should be what you should put your focus on. Family and home matters tend to call for your attention, maybe a little more demandingly, but make sure you'll find time to look after what really matters.
Daily Predictions for Gemini:
Your current relationship or marriage, as well as legal matters and whatever has to do with your business partners should occupy your time today. By "occupy" I mean finding solutions, working your magic etc. Not thinking of any problems and getting depressed. Friends can give you a useful insight too.
Daily Predictions for Cancer:
Work, home, and family should be your main focus. Money may make the world go round, but it is also a form of energy. If you want something, and focus on what you can do about it with the means you have in hand, the path to achieve what you want will open.
Daily Predictions for Leo:
Love and social life is always important for Leos. Today it should be your main focus. You feel like yourself, strong and shining. This is a very good start to have a nice time. Try not to focus too much on meaningless relationships, though, of the romantic or friendly type. If you don't have what you want, visualise it, or cast a spell asking for it.
Daily Predictions for Virgo:
Financials, work, and whatever has to do with your place of living, as well as your family, should be your main focus. Your intuition is strong, and so is your visionary kind of magic. Use these abilities to find out what's your best next step and also to make it happen.
Daily Predictions for Libra:
Empowering and healing your relationship with yourself and your siblings and friends is what you should be focusing on. If you don't know what you want to achieve in your life, this is an excellent day to find out. Do that! Chatting live or online with friends and others can give you useful insights.
Daily Predictions for Scorpio:
Money and anything financial stability and security, as well as your psychic powers and abilities and your emotional well being should be your main focus. Promoting your business, or dream career, can be done too. In some cases you may need to spend money to earn more money. Think about that as well today and decide where, when and on what it would be better for you to invest your money.
Daily Predictions for Sagittarius:
Rejoining your social circle and creating, or recreating, a good image of yours there, as well as realising what kind of a social circle you want to have around you, so that you'll be happy and you'll promote your dreams are the things you should be focusing on. Studying about related subjects can be proved very useful. Travelling is also a good choice, as new ideas can come through a different way of living.
Daily Predictions for Capricorn:
Career, career promotion and, also, emotional happiness and spiritual awakening should be your main focus. Magic is strong for you today, so do use it to nurture your dreams. Magic that makes use of the sexual energy, or empowers your sexual energy, is favoured even more than all the other kinds.
Daily Predictions for Aquarius:
Studies of all kinds, socialising, building and promoting your ideals and artistic creativity are the subjects you should be focusing on today. Your spouse, lover or – in some cases – your business partners will ask for your time. Give them the attentions they need, but don't forget your own goals. If you are seeking a new partner, life or business one, casting a spell to find the ideal one today can be proved very potent and useful.
Daily Predictions for Pisces:
Sexual and financial satisfaction, not just for the day but for your life, should be your main focuses. Promoting your dream career and working on it or for preparing it, are also things you should focus on. Luck probably will be pushing you this way, as well.
Astrology and Magic:
All kinds of magic are strong today. Fire and Air based magic even more so.
That's all. Have fun and enjoy your day.