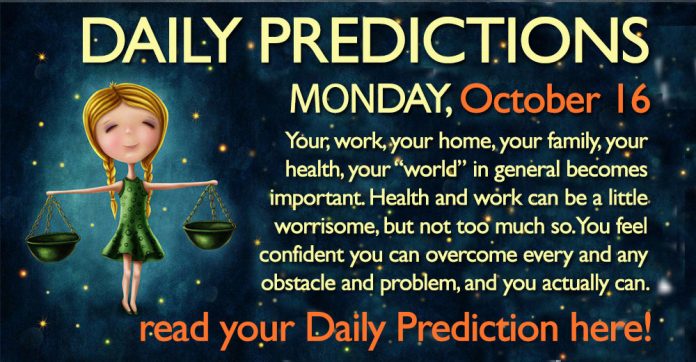 General Daily Predictions: Today, Moon from Virgo will oppose opposes the retrograde Neptune in Pisces and forms a triangle with Pluto in Capricorn. Sun from Libra forms an accurate hexagon with Saturn in Sagittarius. This helpful influence of the Sun is active for a few days, but we didn't really feel it as Saturn was stressed very much. It will be active until the 27th of the month too, but today we will feel this blessings. Tomorrow, on the 17th, Saturn will be stressed once again by the Moon, but, as we've seen, it will be the last day Venus stressfully influence Saturn.
So, this is going to be a mostly good day. There will be some stress, but the good points of the day will be more, and more important, than the negative points. Of course, Mars' opposition to Chiron and Mercury's opposition to Uranus are still active. Even worse an opposition between the Sun and Uranus is forming, so do enjoy this day to the maximum.
Capricorn, Libra and Sagittarius will be the luckiest zodiacs of the day. Pisces and Aries will receive the most stress.
Daily Predictions for Aries:
Work becomes the main focus. It receives beneficial influences, so things are good there. Positive developments can also happen, especially in careers that have to do with water and psychology. Your own psychological condition, though, is not very good today. Especially for those having a tendency in such kind of problems.
Daily Predictions for Taurus:
This will be a mostly happy day. Studies and places of study can bring a joyful feeling and joyful situations. Internet and similar forms of interaction can also become very joyful. Whether in a romantic way or not, depends on the individual case. An even better day for those in the sex industry than the rest.
Daily Predictions for Gemini:
For those in a "wavy" relationship, a calmer short period starts. Today it can actually be a very nice day too. Long term relationships, of the mentioned type or not, can also become better and healthier for a few days. Also family seems supportive to your career goals. This support can come in a financial way, but moral support is more possible and what you need the most.
Daily Predictions for Cancer:
This will be a socially active day for you, in good ways and bad ways too. Some antagonism between you and co-students, co-workers, and the like, can come to light, or become more intense. Things with your lover or partner can be very pleasant, even if you can't actually meet today.
Daily Predictions for Leo:
Money becomes the main focus. You proceed nicely in your work and so you should feel more confident about money, but you don't. In some cases, some unexpected expenses come your way, and this is the cause, but in other cases there is no actual cause. Think positively. Other than your money worries, things are mostly happy and lucky. Love life included.
Daily Predictions for Virgo:
A mostly good and mostly happy day for you. You are confident. Things go your way. Good luck bless you, in general. Financial luck also bless you, but not in games of luck any more. Love blesses the singles more than those in a relationship. The latter actually may have to deal with some problems, but not important ones. Business partnerships and advancements may have a few issues too. This something you should take care of, and not something to be afraid of.
Daily Predictions for Libra:
Your, work, your home, your family, your health, your "world" in general becomes important. Health and work can be a little worrisome, but not too much so. You feel confident you can overcome every and any obstacle and problem, and you actually can.
Daily Predictions for Scorpio:
This is a very social day for you. This goes for social media and similar means of socialising as well. Not everything follows your plans, and not everything is as pleasant as you want, but most things are. Not a very good for meeting a worthy, new love interest, so if you meet someone like this, don't hold your breath.
Daily Predictions for Sagittarius:
Career can be very lucky and prosperous today. Financial deals are favoured and benefited today. Expanding your business or investing in some business, also. Family can give you some emotional challenges. Stay calm and think how to react. Don't just react.
Daily Predictions for Capricorn:
Students of all levels can have a very important day. Higher level ones a mostly good, lower level ones a mostly stressful. Travelling can also be of dual nature. In general, travelling for pleasure and personal reasons is lucky. Travelling for business, not so. Especially if this includes travelling through or over water.
Daily Predictions for Aquarius:
This is a magically very strong day for you. You are capable of creating miracles today, so cast a spell for whatever you want. At least, meditate on it. Your intuition and prophetic abilities are also strong, so, if you now such an art, use it to receive the best advices about your future and your development. Other than that, you may feel somewhat uncertain about money issues. People may say things that even more strengthen this uncertainty. In most cases your worries are stronger than the what the circumstances call for.
Daily Predictions for Pisces:
Start your day by looking yourself in the mirror and saying to yourself "I love you, I support you and I believe in you." Repeat this "ritual" often during the day. This is actually a pleasant day, but your self-esteem, self-confidence and optimism are low. Nurture them and you'll have a pleasant and beneficial day.
Astrology and Magic:
Water magic and Earth magic are most powerful today. Fire magic is still strong, but not as much as it used to be. Fire for purification, Water for love and Earth for career plans, are the strongest aspects of magic. Love Magic is, of course, strong regardless the element. After all, it will remain strong until the 22nd of the month.
That's all. Have fun and enjoy your day.