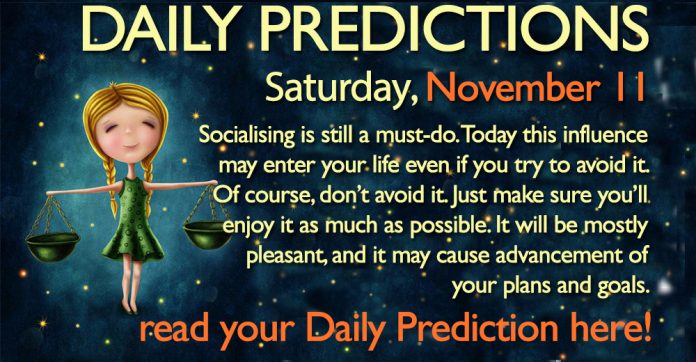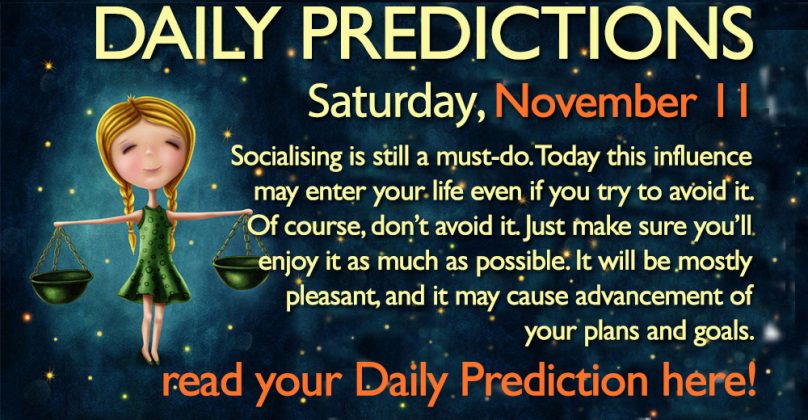 General Daily Predictions: Today, the Moon from Leo triangles Saturn in Sagittarius and Uranus in Aries. Then it enters Virgo, and starts forming a hexagon with Venus and one with Jupiter, both of them in Scorpio. These hexagons will be accurate tomorrow, but we may feel them from today, as they empower the already strong enough conjunction between Venus and Jupiter.
Venus, barely now, is also in friendly terms with Saturn until tomorrow. They won't be fighting after then, but the hexagon between them will stop acting. Today Saturn is in accurate triangle with the retrograde Uranus, too. This aspect was active some time now, and will continue being active until the 6th of January. This Venus-Saturn-Uranus collaboration is the main reason the age reversing magic is so strong during this period. From Monday on this blessing will be much weaker, so if you want to cast such a spell, make sure you'll cast it during the weekend.
So, this is a mostly good and lucky day. Both this day's aspects and the long lasting ones are mostly beneficial and auspicious. The only handicap of the day is the nearly 8 hours void of course Moon. This will happen from 8:55 to 16:41 UT. As you probably know by now, avoid starting any new project, or signing any agreement during this period, if possible.
Leo, Aries and Sagittarius will be the luckiest zodiacs of the day. Scorpio will also be very lucky, especially later on the day. Aquarius, Gemini and Libra will be the most stressed ones. But, as said, this is a globally auspicious day, so they shouldn't expect much of a bad luck.
Daily Predictions for Aries:
Love life is benefited today, although, in some cases, in a little stressful way. Long term relationships and long distance ones receive mostly auspicious energies. If there are any problems they may come to light, but for them to receive healing. Heal them. Healing, self-healing and love attraction magic is strong.
Daily Predictions for Taurus:
Both your magic and intuition are very strong today, on all matters. Meditative and hypnotic techniques are still strong, or, more accurately, extremely strong, for you today. Emotional healing will come to you, but probably in a somewhat unpleasant way. What I mean is that people, or events, will open old wounds. But they probably won't twist the knife in them.
Daily Predictions for Gemini:
This is a very social day. When interacting with your partners try not to act aggressively. This goes for business and life partners alike. The overall interaction will be a good one, if you don't lose control. Friends and acquaintances give only pleasure to you and, maybe, inspiration.
Daily Predictions for Cancer:
Stabilising, balancing, or correcting thing in your work is something that can be very effective today. Career magic is also very strong for you today. Money magic too. It's not a very promising day for starting new business, or expanding your current one, but finding a new job looks auspicious.
Daily Predictions for Leo:
Weddings, receptions and other formal, or semiformal, ways of entertainment may find their way in your schedule today. You may even be very unwilling to attend them, but do so. You'll have much more interesting time than you think. In some cases a new love, or an other important for you person may appear. But you'll have a nice time, regardless.
Daily Predictions for Virgo:
Your magic today is very promising. Even more than for anyone else. Cleaning up and tidying up your home, as well as taking care of your family obligations will probably be a major part of your day. Some challenging interactions with the family members may happen, but nothing out of the ordinary, or anything unexpected.
Daily Predictions for Libra:
Socialising is still a must-do. Today this influence may enter your life even if you try to avoid it. Of course, don't avoid it. Just make sure you'll enjoy it as much as possible. It will be mostly pleasant, and it may cause advancement of your plans and goals.
Daily Predictions for Scorpio:
Everything that has to do with work is auspicious to very auspicious today. The least auspicious of all them is money, but in no means I would call it inauspicious. Taking care of expenses, buying necessary equipment, or similar actions may make you feel money is tight, but in the long term you build more wealth. Steam baths, hydromassage and other water-based therapeutic techniques can be very effective for you today.
Daily Predictions for Sagittarius:
Love and beauty magic is strong for you today. A new love may appear in the mundane world, too. Other than that it will be a mostly happy and beneficial day. Working on yourself and taking care of yourself can be very efficient today. Work is mostly calm to slightly good. Studies, both for those studying in schools and for those studying on their own, can be very productive and satisfactory.
Daily Predictions for Capricorn:
Your intuition and divination are very strong today. Especially visionary divination, like with means of magic mirrors, or similar techniques. Sexual energy is also strong and active. This can cause some frustration, especially if you are a single, or you can't meet with your partner, but try to enjoy it.
Daily Predictions for Aquarius:
Meeting with friends to have fun, spending time with them online, on the phone, or in similar ways and things like that can happen and they will brighten your day and mood. Business meetings may also happen. These will be more tiresome, but progress will be made.
Daily Predictions for Pisces:
Work matters are still important and auspicious in every aspect of them. Money can be a little chaotic or unpredictable. Both unexpected expenses and unexpected gains are possible to happen today. Money and prosperity magic is quite strong for you.
Astrology and Magic:
All magic is strong today. We've seen, after all, in the Full Moon's article that this would be a very magical waning Moon. Love, beauty, and prosperity are, in general, more potent than the rest. Once again, age reversing will be extra strong until tomorrow. It will remain so until Jupiter exits Scorpio, but until tomorrow it will be extra strong.
That's all. Have fun and enjoy your day.