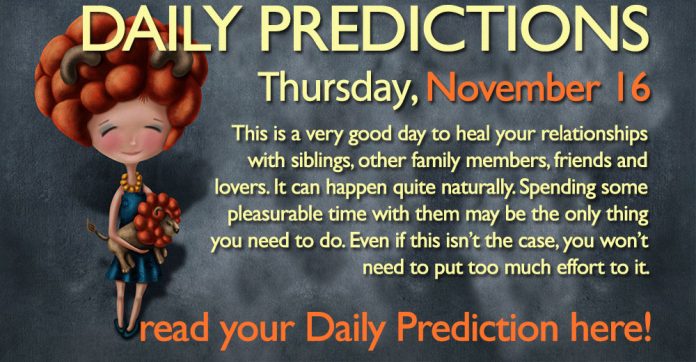 General Daily Predictions: Today, Moon from Libra forms a hexagon with Saturn in Sagittarius. Then, from Scorpio it will conjunct Jupiter. This aspect is perfectly accurate at 00:02 of the 17th of the month, but it will bless half the day today. Depending on where you are living, even the whole day may be blessed by this aspect. The Moon today doesn't form any negative aspects, but it will be void of course for almost seven and a half hours, from 00:50 to 8:19 UT.
Venus accurately triangles Neptune today. As we've seen, both Venus and Neptune are strong during this lunar month. With Sun, Jupiter and Venus supporting Neptune, amongst other blessings, magic is strong for money, happiness, business, fame, love and beauty. Both these planets, will remain strong for the coming lunar circle, as well.
In any case, this is a much better day than the previous one. Healing manifests, clarifications are coming and optimism is generated.
Libra, Sagittarius and Scorpio are the luckiest zodiacs. Aries, Gemini and Taurus are the less lucky ones.
Daily Predictions for Aries:
Everything seems to be much better today. In some cases very much so. You are reluctant to accept your good luck, and this may cause some delays and maybe you'll miss a chance or two. Stay vigilant, and be thankful for the small, or greater, improvements.
Daily Predictions for Taurus:
Things are getting calmer and better both in work and in your personal life. Balancing and prioritising your financials is in order. This is an excellent day to heal your personal relationships, as well as your relationship with your self, your sexuality and your financials. Libido is very active, and maybe extremely demanding.
Daily Predictions for Gemini:
Healing love matters, clarifying things with your partner and setting the foundations for a healthier relationship is what this day calls for. You relationships with your business parters may also receive some similar blessings. Business on health and beauty will be the ones receiving the most blessings.
Daily Predictions for Cancer:
Work seems calm. Also love seems luckier today. Family can be supportive, or it may simply bring you some happiness. If you are dealing with some health issues, these can be benefited by the energies of the day. Healing magic and procedures are very effective for you.
Daily Predictions for Leo:
This is a very good day to heal your relationships with siblings, other family members, friends and lovers. It can happen quite naturally. Spending some pleasurable time with them may be the only thing you need to do. Even if this isn't the case, you won't need to put too much effort to it.
Daily Predictions for Virgo:
The foundations of a better financial situation may be put in place today. This can either manifest as a better income, a better management of money, a better understanding of how prosperous you are, or anything like these. Spending time with friends and family are both auspicious.
Daily Predictions for Libra:
Correcting financial mistakes, if you have made any, is what you'll be doing today. Realising those may be stressful, or even shocking, but correcting them won't ask for too much effort. Freelancers and anyone who is paid according to the number of their clients can have a very profitable day.
Daily Predictions for Scorpio:
Financial scheduling is what you need to do today. Your imagination is very active, and this can either help you to this end, or the exact opposite. Finding the best and most advantageous solution is possible, under the circumstances. But also, you may evaluate thing unrealistically. Your mind gets clearer as the day proceeds though.
Daily Predictions for Sagittarius:
Your relationship with yourself becomes healthier, stronger and better today. Friends, acquaintances, books, or the internet may initiate or further the procedure. Buying new gadgets, or repairing such gadgets is auspicious. If this is your job, expect a buy and productive day.
Daily Predictions for Capricorn:
Work seems important and probably busy, but mostly in a pleasant way. You feel productive and proud of yourself. Your self-confidence is still not strong enough, and negative comments can hurt or annoy you, but it is in much better condition than yesterday. Business of the arts, as well as about technology, receive many blessings. If you are in such a competition, expect good results.
Daily Predictions for Aquarius:
Philosophical and educational professions receive many blessings today. Finding a new job in these fields is favoured. Enrolling yourself to seminars, or schools is auspicious. But also, most of the other aspects of your life receive some therapeutic blessings.
Daily Predictions for Pisces:
Sexual energy can be overwhelming, or very oppressed. In either of those cases, it puts you out of balance. But this calms down as the day proceeds and your self expression becomes healthier and bright. Also, all business and work matters receive beneficial influences. These influences, likewise, become stronger as the day proceeds.
Astrology and Magic:
Healing and therapeutic magic is very strong today. Both for actual health issues and for situations.
That's all. Have fun and enjoy your day.