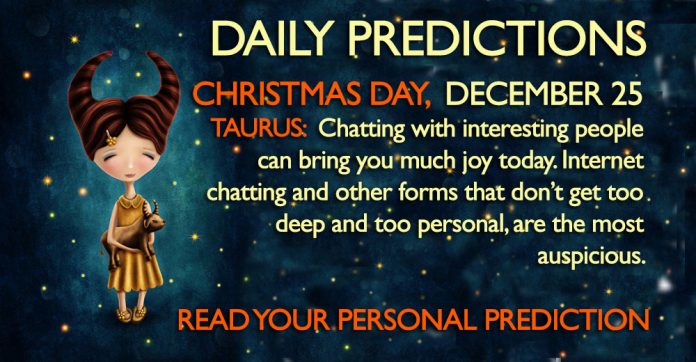 General Daily Predictions: Today, Moon from Pisces conjuncts Pluto. Then it starts a void of course period of 21 and a half hours.
Also, Venus enters Capricorn and accurately conjuncts Saturn. This conjunction will remain active until the day after the Full Moon. From now on, it will benefit mostly the existing relationships of considerable age difference, but all existing relationship will receive enough blessings.
So, this is a day that is better spent in relaxation. Avoid signing important deals, and initiating new projects. Being Christmas helps, but even if this is irrelevant to you and your area of living, the advice is the same.
The luckiest and most stressed zodiacs of the day will be the same as yesterday. The order changes, and the intensity of the good luck. Today, good luck will much subtler. Stress wasn't too much yesterday for most of us, but today it will be even less. So, Pisces, Scorpio and Cancer will be the luckiest zodiacs of the day. Virgo, Taurus and Capricorn will be the most stressed ones.
Daily Predictions for Aries:
Although your mood can be easily affected by the people around you, odds are that you'll be in good company, which will brighten your mood. If not, just don't take anything at heart.
Daily Predictions for Taurus:
Chatting with interesting people can bring you much joy today. Internet chatting and other forms that don't get too deep and too personal, are the most auspicious.
Daily Predictions for Gemini:
Being with your most important people of your life, whether they are family, friends, or a lover is what you need the most. Make sure you'll spend most of your time with them.
Daily Predictions for Cancer:
Relaxing in your bed, with your beloved one and sweet-talking, or holding an interesting conversation, is possible the best policy for the day. The bed is not mandatory, though.
Daily Predictions for Leo:
Enjoying, cautiously, sex is the most auspicious activity for the day. Taking care of your important people in any way, can also bring you enough satisfaction.
Daily Predictions for Virgo:
Those in a marriage or a relationship should spend most of their time, if all isn't possible, with their special someone. Kids and good friends can be a fairly good substitution.
Daily Predictions for Libra:
Enjoy your dinner, preferably with your family. Of course, don't overdo the eating, but do enjoy both eating and the whole event. If this isn't on schedule, try enjoying some quality time with yourself.
Daily Predictions for Scorpio:
Whatever you do, make sure you'll have fun. Close friends can help you the most in achieving this. Siblings and siblings figures, too.
Daily Predictions for Sagittarius:
Home and family are your top priorities today. Enjoy either or both of them as much as you can. If this is a working day for you, it can be more profitable than usually, but probably not very much so.
Daily Predictions for Capricorn:
Good friends can promote your self-esteem. Therefore, spend most of your time with them. Express your dreams and they will support them one way or another. Express your fears and they will dispel them. At least, to a degree.
Daily Predictions for Aquarius:
Write down ten, or more, reasons you are living in abundance,today, and give thanks for them. This will not only better your mood, but it will also summon beneficial energies in your life.
Daily Predictions for Pisces:
Enjoining yourself in groups, parties and similar events is very auspicious, and will do much good both to your mood and your self-esteem. Family, depending on your relationships with them, can or cannot play the same role.
Astrology and Magic:
Meditation, channelling and other forms of communication with spirits, including praying, are the most promising magical activities for the day.
That's all. Have fun and enjoy your day!