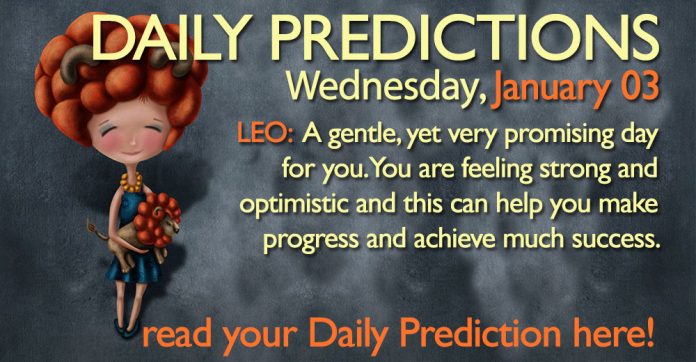 General Daily Predictions: Today, at 7:23 the Moon stops being void of course and enters Leo.
Although no lunar aspects are happening today, there are three important events happening, all of them auspicious.
Firstly, Uranus has turned into direct motion, and thus all planets are in direct motion now. Then, Venus from Capricorn accurately forms a hexagon with Neptune in Pisces. We've seen both of them in the Full Moon's article. Finally, according to Vedic Astrology, today Pushya Nakshatra happens, a very auspicious positioning of the Moon that helps us both achieve success and liberate ourselves from all problems and obstacles.
So, this is going to be a beneficially and happily calm day, with enormous magical potency.
Leo, Sagittarius and Aries will be the luckiest zodiacs of the day. If we have to name unluckiest zodiacs, then these will be Aquarius, Gemini and Libra, but this simply means they are the ones that receive less good luck. But no bad luck, at all.
Daily Predictions for Aries:
A generally pleasant day. Good to be with your friends, or lover, and to have some nice time with them. It's also a good to enjoy your kids, if you have any.
Daily Predictions for Taurus:
Relaxing at home, if this is possible, or taking care of it, can turn your day to quite a satisfying one. Family, or other very close friends can also occupy, most probably pleasantly, some of your time.
Daily Predictions for Gemini:
Friends can be both important and a source of pleasure for you, today. Try to spend some time with them, even through phone, chat, or similar means. Also, all mental workings receive some extra help and easiness.
Daily Predictions for Cancer:
There is some extra focus on money, and it is pleasant, or auspicious. This means, you spend some of your money in ways that satisfy you, or you receive more money, or you receive some good news regarding it.
Daily Predictions for Leo:
A gentle, yet very promising day for you. You are feeling strong and optimistic and this can help you make progress and achieve much success.
Daily Predictions for Virgo:
Intuition, empathy, imagination and inspiration are all stronger today. Even if for just a bit. Focus on them and make good use of them. Jobs and hobbies which need these abilities can be creative, but you have to invest some time on them.
Daily Predictions for Libra:
This can become a very social day for you. If possible, schedule it to become, for socialising will bring you joy and, possibly, luck. Internet socialising, and advertising are both auspicious.
Daily Predictions for Scorpio:
Focusing on your career and career goals is a wise choice for the day. There is a gentle breeze of good luck there, too. If you haven't done so yet, setting your goals for the year, or future, is also favoured.
Daily Predictions for Sagittarius:
This is a mostly relaxing day for you. Travelling is auspicious, both for pleasure and for work. Studying, reading and creation of literature can be pleasurable and productive. Inspiration, may come through these means.
Daily Predictions for Capricorn:
In a very magical period and a very magical day, this is a very promising day for you, as your magical abilities are quite strong. Sex appeal is also strong and sex life receives some nice energies. Not too intense, but pleasurable.
Daily Predictions for Aquarius:
Spouse or partner can play an important role in your day. Most probably a pleasurable one. If you are not in a relationship, your love life receives a bit of good luck. Business partnerships receive similar influences.
Daily Predictions for Pisces:
This is a good day to focus on work. Things there can be a little easier and more pleasurable than usually. If you have any health issues, expect good developments regarding them.
Astrology and Magic:
There is no special emphasis in magic for today, at least generated from the lunar aspects. All magic, though, is strong. Love magic, health magic, and success magic a little bit more. Water element is very strong.
That's all. Have fun and enjoy your day!