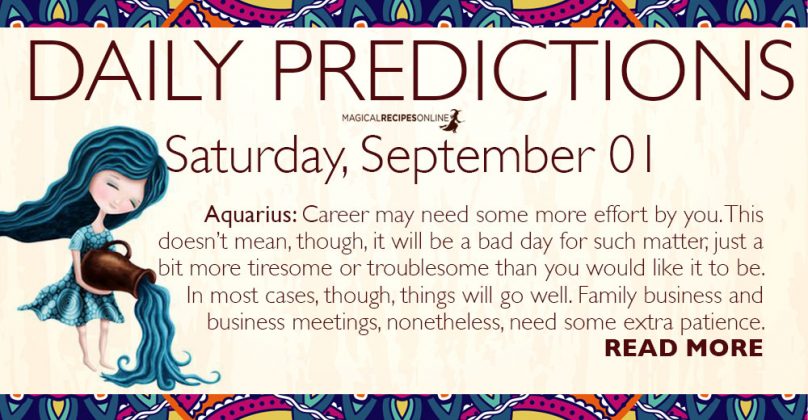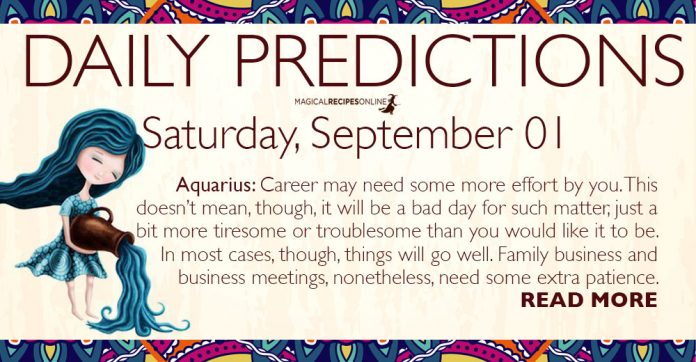 General Daily Predictions: Today, the Moon from Taurus opposes Jupiter in Scorpio and squares Mercury in Leo. It also forms a hexagon with the Retrograde Neptune in Pisces and a triangle with the Retrograde Pluto in Capricorn.
So, this is going to be a mostly good day with some difficulties. Communications, transportations and the means of those can become sources of unsettlement, so be patient and careful.
Pisces, Capricorn and probably Taurus will be the luckiest zodiacs of the day. Leo, Scorpio and probably Aquarius will be the less lucky ones.
Daily Predictions for Aries:
Career matters still receive support. Money also receive some support, and there is a strong and clear intuition regarding it. This can help you take the right decisions but it doesn't help gabling. You have a tendency to overspend, but if you control it, there won't be a problem.
Daily Predictions for Taurus:
This is a mostly good day for you. Studies and the mental kind of occupations and avocations receive support. Although profit is not the focus of the energies, advancement can happen there. Your special someone can stress you somehow, usually because of some changes happening in their lives, but they may be good ones under a calmer consideration.
Daily Predictions for Gemini:
Magical and spiritual abilities are still strong. Contact with other realms is easier, but the info you receive may not necessarily be clear and in details. Work matters receive some support, although this support may take the form of a challenge. Nonetheless, work on it and things will fall in place.
Daily Predictions for Cancer:
Meetings and discussions with your business partners and colleagues can become fruitful. It's still a good day to acquire new high-tech equipment, but today some extra attention may be necessary. Your special somebody may face some challenge, probably about work, or money, but the end results will be good.
Daily Predictions for Leo:
All work and career matters still receive support. Maybe not as bright and strong as yesterday, but it is still a good day. Preparation type of work is more supported than sales and presentations. Your sense of understanding on the matter may not be very good, so pay attention to the details. Family business may become a little more stressful.
Daily Predictions for Virgo:
Although travelling and transportations can have some difficulties, they can give you what you want, whether it's for work or enjoyment. Nonetheless, be a little more cautious, especially if you are driving. Love life can be quite enjoyable too, more for those in a relationship than for those seeking one.
Daily Predictions for Libra:
Money can become a bit challenging, but not really problematic, although it may seem so at first glance. In fact, the difficulties there can become the reason for a better financial condition in the long run. Health, and especially emotional health, receives therapeutic energies.
Daily Predictions for Scorpio:
This is not a good day for business meetings, hiring personnel, asking for a pay rise and things like those. Bosses can become quite pressing and stressful, too. Jobs based on phones, emails and the like, paradoxically, can become quite productive, although they can be tiresome, too. Finally, love life looks good and if a healing is necessary there, this day can become extra helpful.
Daily Predictions for Sagittarius:
Work proceeds nicely. Money, quite so, too. People owning you money are more likely to return it today, as well. It doesn't hurt to ask for it. In some case this will be necessary. Your mood, though, may not be on top condition. Also, studies can become quite stressful.
Daily Predictions for Capricorn:
This is a mostly happy day. Not all things are going your way, but either most of them, or the most important of them will do so. Love and sex life can be a little troublesome. Contacting your partner, or scheduling and having some nice time together can become more challenging than it should.
Daily Predictions for Aquarius:
Career may need some more effort by you. This doesn't mean, though, it will be a bad day for such matter, just a bit more tiresome or troublesome than you would like it to be. In most cases, though, things will go well. Family business and business meetings, nonetheless, need some extra patience.
Daily Predictions for Pisces:
Your schedule today can become quite hectic or chaotic. Mistakes like scheduling more than one appointments in the same time, as well as cancellations of what you intended to do can both happen. Nonetheless, doing your best with the time you have available can give you more good results than you would think.
Astrology and Magic:
Perfumes, philtres and potions for all purposes are all quite strong today. Emotional healing, too.
That's all. Have fun, enjoy your day and have a wonderful new month!