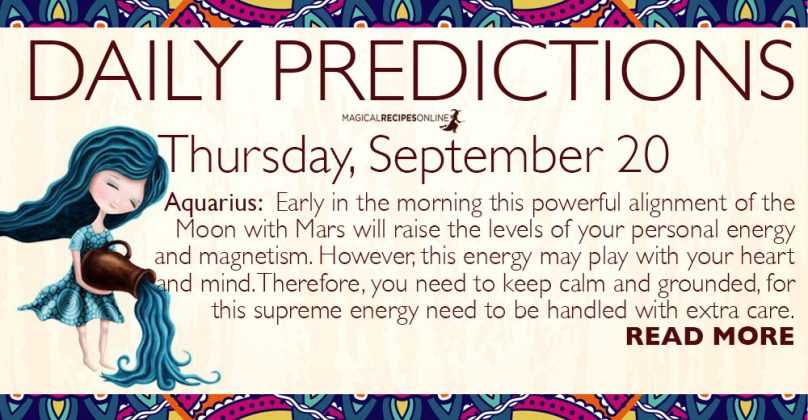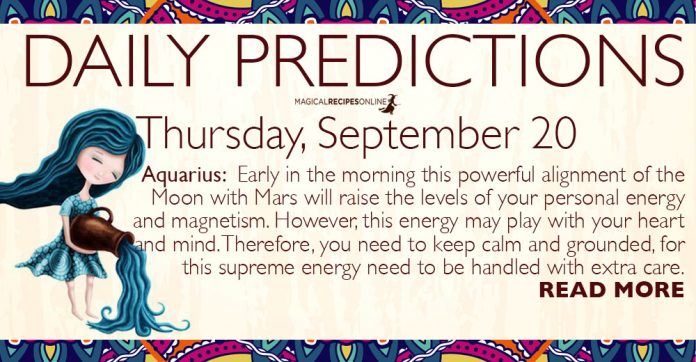 General Daily Predictions: Today, the Moon entered Aquarius altering the way we feel. The past three days we focused more on things we had to do and our increasing number of responsibilities. Thankfully now this changes and our attention is shifted towards people and our communication skills.
Moreover, the Moon early at dawn aligns with Mars in Aquarius and the Energy that is released is quite impressive. At the same time, we feel anxiety rising, as if something profound has been waken up, trying to warn us not to delay our lives.
At the same time the Sun conjuncts with Mercury in Virgo affecting all mental activities and enhancing our performance. Artists and scientists will receive a great boost today.
Moreover the combination of these two conjunctions, makes this day EXTREMELY powerful for all spiritual activities. TONIGHT we Do some serious Magic! STAY TUNED!
Gemini and Libra will be the luckiest zodiacs of the day.
Daily Predictions for Aries:
Today something inside you has been awakened and you thirst for social interaction and communication. It feels like your mind has been touched by your heart's magic. Use your enhanced mental skills today to thrive!
Daily Predictions for Taurus:
Today there are two separate – equally strong – planetary powers which can bring balance and happiness in your life or tear you apart. Everything has to do with your ability to comprehend your heart's desire and your stamina. On one hand, work becomes more important and on the other hand, you need to have some fun – finally! Balance is the key!
Daily Predictions for Gemini:
Finally, a day which can bring so much power to you and your life, providing you learn how to successfully find a way to keep calm. You can shed some light to your long-term goals while at the same time relax at home and spend enough time with the ones you love the most.
Daily Predictions for Cancer:
Your governor today is in the mood for playing with your heart. On one hand you feel energised and ready to go and reach for your dreams. While at the same time you are forced to deal with your inner fears and your old enemy – anxiety. Maybe your friends can help, as being close to them seem to clear your mind.
Daily Predictions for Leo:
Today, you need to pay more attention on how you approach others, especially the ones that mean the most to you – marriage included. Very powerful influences may mess with your relationships and collaborations but at the same time you may need this overwhelming energy to bring some feelings back to life.
Daily Predictions for Virgo:
Today, your governor aligns with the Sun in your Zodiac sign refreshing your energy and your mental skills. This unique day should be used by all of you who need some extra boost for all social or professional purposes. At the same time, intense energies may exhaust or distract, so stay hydrated and focused!
Daily Predictions for Libra:
This day may bring you extreme enlightenment as it combines the spiritual stimuli with the sensual satisfaction and emotional fulfilment. Therefore, this is clearly a very good day, which should be used for all kinds of activities, favouring new endeavours and/or completing difficult tasks.
Daily Predictions for Scorpio:
Today, your governor warns you to focus on your home and your family as you will be asked to face many important and challenging situations regarding (especially) a female person which is extremely important for you. Who is she? At the same time, satisfying stimuli may come from your social circles and your friends who seem to be closer to you.
Daily Predictions for Sagittarius:
Today is a very challenging day to meet with the ones your love. All travels especially the ones with possible commercial interest should be handled with extra care as mild turbulence might be expected. However, you should expect interesting news from your work.
Daily Predictions for Capricorn:
Your work and your financial status receive important influences today dear Capricorn. Make sure you don't rush into any decisions and you think twice before you proceed. However, today may be a wonderful day to set new goals and visualise your destiny. Education and long-distance travelling are favoured.
Daily Predictions for Aquarius:
Early in the morning this powerful alignment of the Moon with Mars will raise the levels of your personal energy and magnetism. However, this energy may play with your heart and mind. Therefore, you need to keep calm and grounded, for this supreme energy needs to be handled with extra care.
Daily Predictions for Pisces:
This that happen tonight may actually affect your life for the next weeks as the energy of this day is extremely powerful and is also empowered – even more – by the Equinox. Deep inside your heart, a war is keep on going and right now, you can feel the diverse energies fighting. You need to meditate and heal the wounds of the past.
Astrology and Magic:
All forms of philtres, potions, charms and perfumes are strong today. Good luck and money magic, too.
That's all. Have fun and enjoy your day!