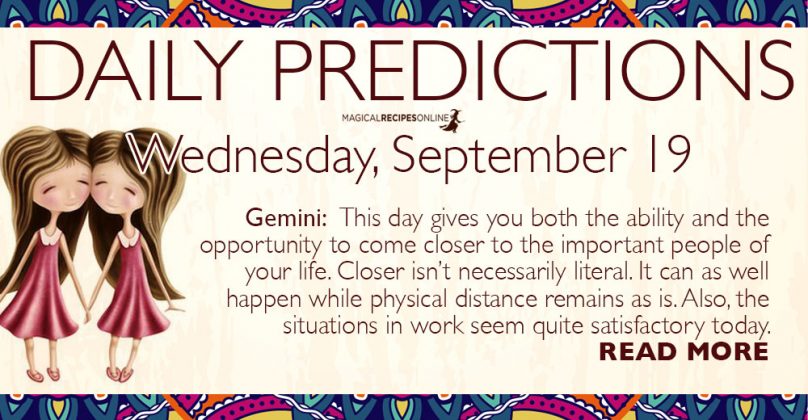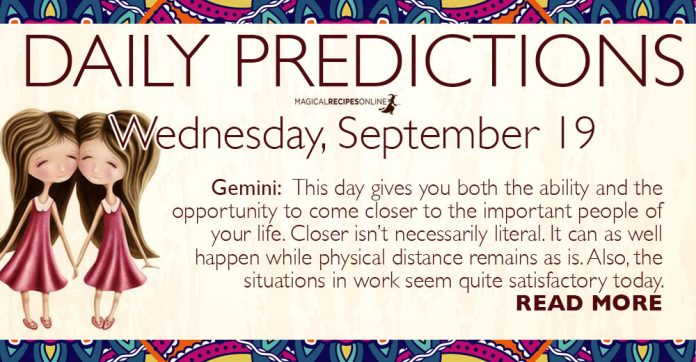 General Daily Predictions: Today, the Moon from Capricorn conjuncts the Retrograde Pluto there and forms a hexagon with Jupiter in Scorpio and a triangle with each Mercury and the Sun, both in Virgo. Then it goes void of course from 17:09 to 23:52 UT.
So, this is going to be quite a good and lucky day. Both the lucky planets – Jupiter and the Sun – are blessed by the Moon, after all. The Retrograde Pluto, though, being over-active can bring forth negative feelings and memories. This may have started since the 18th, but thankfully this influence gets weaker, and maybe unnoticeable, a couple of hours before the void of course period.
Capricorn, Scorpio and Virgo will be the luckiest zodiacs of the day.
Daily Predictions for Aries:
All work and career matters receive beneficial influences. Expanding your business today is auspicious. If you are running a health related business, this can become an even better day for you.
Daily Predictions for Taurus:
Love life receives much good luck. It's a very good day for those seeking a relationship. If so, do make yourself available in any possible way you can think of. Also, this can be quite a pleasant day for students, both in relation with your studies and not so.
Daily Predictions for Gemini:
This day gives you both the ability and the opportunity to come closer to the important people of your life. Closer isn't necessarily literal. It can as well happen while physical distance remains as is. Also, the situations in work seem quite satisfactory today.
Daily Predictions for Cancer:
Love life is quite nice today. If you are already in a relationship, though, mistakes and negative memories of the past may resurface. If that happens, don't act upon those impulsively, for you can spoil a good day. Also, this is a good day to resolve problems with your co-workers and business partners.
Daily Predictions for Leo:
This is a good day both for taking care of your home's needs and for setting in order things in work. It can also be a productive and probably profitable day, too. Jobs based on communications and transportations will be even luckier.
Daily Predictions for Virgo:
This can become quite a busy day, but also a very lucky one. There is much energy and light on your zodiac today, and this can help you with whatever you try to do. In some cases, the situations will "force" you to act upon a goal of yours. Early in the day, though, unpleasant memories may haunt you a little, but they are call for a healing rather than trying to spoil your mood.
Daily Predictions for Libra:
This is a gently lucky and pleasant day. In most cases nothing too big will happen, but maybe many small things. Also, your family and people you consider as such can be more endearing and supportive than usual.
Daily Predictions for Scorpio:
This is a good day to practice and better your skills. Especially the ones you need for your job. Enrolling in schools, attending seminars and things like those which can help you are advisable. If you have been searching for such opportunities, today you'll probably find the way. And for most other matters, this day is quiet good, but not really quiet.
Daily Predictions for Sagittarius:
This is a good day for all money matters. It's also a good day for finding a job, or a job that pays more than your current one. There is also some gambling luck. Of course, the stars only better your odds. They don't secure your victory. So, do play wisely.
Daily Predictions for Capricorn:
Studies of all kind receive very beneficial influences. Also if you are a teacher of some kind, this can become a very good day for you, workwise. It's also a good day for planning ahead for whatever needs planning. Also, your special someone may have some good news about their job.
Daily Predictions for Aquarius:
Both magical and spiritual abilities are very strong for you, today. Even keeping a positive mindset can create good luck for you. Mind that, keeping a negative one may also create bad luck, so avoid doing that. Also, this is a good day to decide whether you are going to invest money in some businesses or not.
Daily Predictions for Pisces:
Job interviews are still favoured. Even more so if you are applying for a job that you have worked to a similar one in the past. Also, it's a good day for job interviews, if you are the interviewer. It's also a good day for all jobs where your words are important part of it.
Astrology and Magic:
All forms of philtres, potions, charms and perfumes are strong today. Good luck and money magic, too.
That's all. Have fun and enjoy your day!