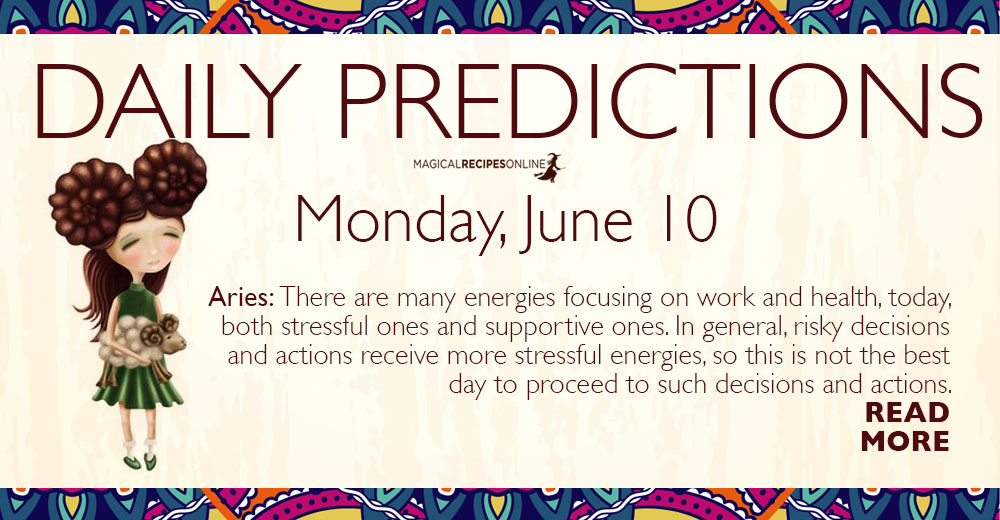 General Daily Predictions: Today, the Moon from Virgo opposes Neptune, in Pisces and squares the Sun in Gemini and the Retrograde Jupiter in Sagittarius.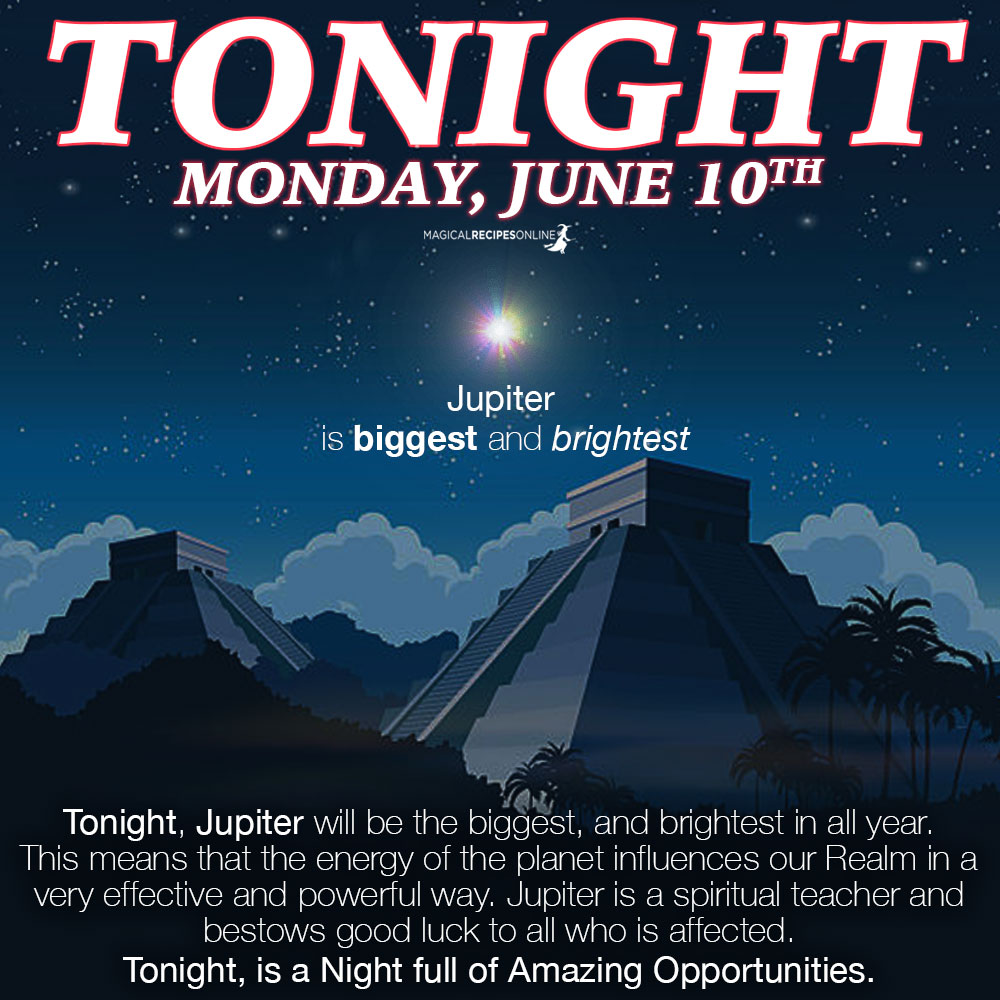 It also forms a hexagon with Mars in Cancer and a triangle with each the Retrograde Saturn and the Retrograde Pluto, both in Capricorn. Furthermore, from 12:02 UT until 00:29 UT of the 11th, the Moon will be void of course.
Also today, the Sun's opposition to the Retrograde Jupiter becomes accurate. This is partly the reason Jupiter is at his brightest. So the King of Gods is the brightest star, right now, in the midnight sky. Tonight, Jupiter will be the biggest, and brightest in all year. This means that the energy of the planet influences our Realm in a very effective and powerful way. Jupiter is a spiritual teacher and bestows good luck to all who is affected. Tonight, is a Night full of Amazing Opportunities.

So, this is going to be a chaotic and difficult day. The void of course Moon, other than the inconveniences it may produces, it's actually a good happening, under the circumstances, as it will help the chaotic energies to settle down, and mostly beneficially so, to boot. So, expect things to get better as the day proceeds.
Virgo, Capricorn and Cancer will be the luckiest zodiacs of the day. Pisces, Gemini and Sagittarius will be the ones facing the most stress.
Void of Course Moon for June 2019
The Moon has been having many long void of course periods, for some time now, and this will continue throughout June. In order to help you plan ahead whatever the void of course Moon affects, you can find all the void of course Moon periods for June here.
Calling back our powers
Also, during this month we'll try to make a few steps to help us reclaim our powers that we may have had earlier, in this life, or during an earlier one. In this section you can find the tip for the day for this adventure and experiment. And, of course, we are interested in your results, so feel free to comment about them.
For the 10th of June, we'll proceeding a little deeper. Burn some mugwort, preferably in your bedroom, and meditate a little there, asking to receive back your powers. Add a drop or two of lemon essential oil, if you want. Do that a little before going to sleep. Not only during meditation, but during sleep and dreaming, too, your subconscious powers will be awakened and guide you.
Attention: Mugwort is a magically powerful herb, but it is a very dangerous herb, too, both magically and physically so. Mugwort's fumes can cause nausea and more sever symptoms. They can also endanger a pregnancy. Avoid this step completely, if you are pregnant. For the rest, a safer way to use mugwort is to actually burn it, as an incense, leave the smoke in the room for about ten minutes, and then air the room for half an hour, or longer, and then meditate there. Magically speaking, mugwort's after-effects last for about three days. Unless you are well trained, burning it for more than two consecutive days is not recommended. It can awake your subconscious and your dreams too much for you to handle.
An even safer, although not as potent, way of using mugwort's magic is to use a magical mugwort oil, in an oil burner. Most of these oils – all the well known ones – don't contain any real mugwort, but they are trying to synthetically mimic the scent and the magical powers of the actual thing. It's mugwort's absence that makes them safe to use, but, of course, this is the very reason they are not as potent. Them, though, you can use in a daily bases.
Also, if you haven't any magic mirror, maybe you'd like to prepare one, as we'll be needing one soon.
Daily Predictions for Aries:
There are many energies focusing on work and health, today, both stressful ones and supportive ones. In general, risky decisions and actions receive more stressful energies, so this is not the best day to proceed to such decisions and actions.
Daily Predictions for Taurus:
Money can cause you much stress, today. Expenses can become quite bigger than you'd expect. High-tech equipment may need repairs, too. Social life can be pleasant and productive, when you are with people you know, or with whom you share similar interests. It can also be stressful when you are with other kind of people.
Daily Predictions for Gemini:
Although your income and your financial affairs receive mostly supportive influences, work seems to be quite stressful, today. Business partners and bosses can be more difficult to work with. Also, those whose career depends on public opinion need to be even more careful.
Daily Predictions for Cancer:
Personal projects, and whatever you personally consider important, can progress quite well. Also, love receives some support. On the other hand, health is sensitive and work, in general, is more stressful than productive.
Daily Predictions for Leo:
Money can be quite stressful, today, even if your income receives some boosting, a temporal or a permanent one. Purchasing high-tech equipment, today, is not advisable. Also, if you are offering any kind of service, and especially advertisement, PR and the like, this can be a difficult day, for you, work-wise.
Daily Predictions for Virgo:
This can become quite a chaotic day for you, as many energies are focusing on you, both pleasant and inauspicious ones. Most aspects of your life will be affected by both. Family can be more distracting and stressful, while love receives mostly pleasant energies, especially as the day proceeds.
Daily Predictions for Libra:
This is quite a stressful day for you. That's the bad news. The good news is, most of the stress is either coming from within. Situations may multiply it, of course. So, keeping a positive and optimistic outlook can help you. Health, though, needs some extra attention and care.
Daily Predictions for Scorpio:
Your finances can cause you some stress. Occasionally more than just some. Also, high-tech equipment can cause you some troubles. It's not a good day for buying new such equipment, either. Travelling, on the other hand, receives mostly beneficial influences, and the same goes for your social life.
Daily Predictions for Sagittarius:
Work and money receive mostly good energies, today. Your business partners and colleagues may stress you, and starting a new business, or finding a new job can be more difficult than you'd expect. Nonetheless, though, the positive vibes are stronger than the stressful ones, so progress is happening.
Daily Predictions for Capricorn:
Travelling and transportations need some extra attention and they can cause you some stress. A needless, but a real one, most of the times. Health also needs some attention. On the other hand, studies are proceeding nicely and love life receives some support. Long distance relationships receive more support than the others, but still, not too much.
Daily Predictions for Aquarius:
Business of health, both physical and mental, both traditional and alternative ones receive some beneficial influences. Successes and pleasant developments can happen. Money, though, doesn't receive equal support. In fact, it's mostly stressful. Sex dating and sex careers can also face some extra stress.
Daily Predictions for Pisces:
Love life seems quite good and pleasant, today. Also, your other half may have some good news to share with you. In some cases, though, this good news can stress you, too. Work, is needlessly tiresome and stressful and your superiors may nag you more than they need to do.
Astrology and Magic:
There are too many energies working together, today. Therefore, things you are more familiar with can be more effective, than things you don't have a previous experience with.
That's all. Have fun and enjoy your day!