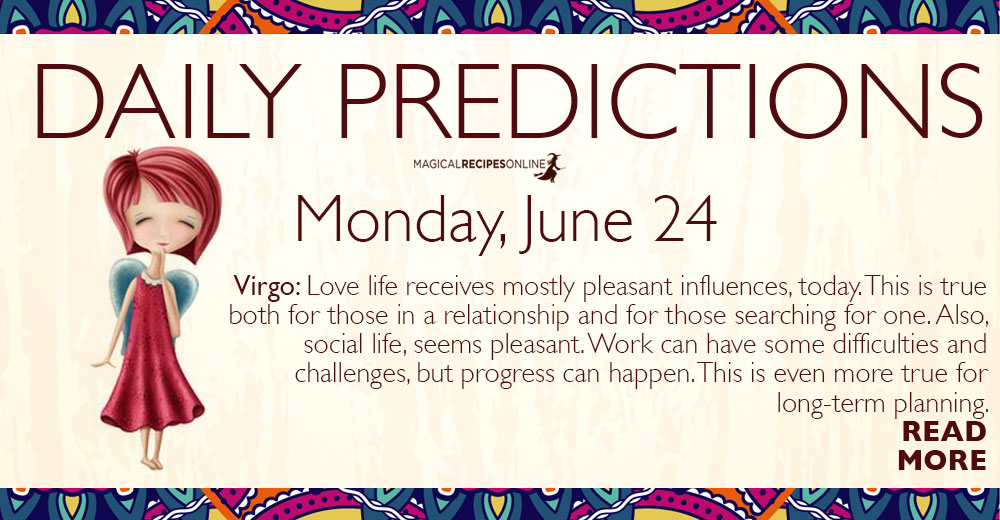 General Daily Predictions: Today, the Moon from Pisces squares the Retrograde Jupiter in Sagittarius, and Venus in Gemini. It also it forms a hexagon with each the Retrograde Saturn and the Retrograde Pluto, both in Capricorn and a triangle with Mercury, in Cancer. It conjuncts the Retrograde Neptune, in Pisces, too. Furthermore, from 23:10 UT until 02:38 UT of the 25th, the Moon will be void of course.
Also today, Venus accurately squares the Retrograde Neptune.
So, this is going to be stressful day, but with some strong good points.
Capricorn, Cancer, and, probably Pisces will be the luckiest zodiacs of the day. Sagittarius and Gemini will be the ones receiving the most stress.
Void of Course Moon for June 2019
The Moon has been having many long void of course periods, for some time now, and this will continue throughout June. In order to help you plan ahead whatever the void of course Moon affects, you can find all the void of course Moon periods for June here.
Calling back our powers
Also, during this month we'll try to make a few steps to help us reclaim our powers that we may have had earlier, in this life, or during an earlier one. In this section you can find the tip for the day for this adventure and experiment. And, of course, we are interested in your results, so feel free to comment about them.
For the 24th of June, for the third time, visualise yourself, making use of the powers you've awakened. Do this as in "now", not as in the future. Enjoy the feeling. End the visualisation by repeating 21 times, "My magical and psychic powers have now awakened and are getting stronger and stronger, day by day."
Daily Predictions for Aries:
Travelling and transportations receive stressful energies, today. Communications can also be affected. Both via phone, internet, etc and in person. Overcoming them, though, can make your relationships much warmer and intimate.
Daily Predictions for Taurus:
Money receives stressful influences, today. Be wise about your expenses. Your income can also face some challenges. On the other hand, creativity is good and progress can take place. Furthermore, expanding your social circle is possible.
Daily Predictions for Gemini:
Work and money matters receive mostly beneficial influences. Your co-workers, business partners and bosses may challenge your self-confidence and cause you some problems. Despite that, though, success can be achieved.
Daily Predictions for Cancer:
Health, both physical and emotional, needs some attention, today. Your mood, too, can be in a not so good condition. Keep lifting your spirits and you'll find out that your mind is quite capable, today. Taking clever and wise decisions is feasible. Also, love life receives some pleasant influences.
Daily Predictions for Leo:
Love life can cause you some stress, today. In most cases, though, if you don't overreact, things will be better than they look at first glance. Your high-tech equipment can also cause you some troubles. On the other hand, work seems successful, health seems good, healing even better and all spiritual and magical abilities are in top condition.
Daily Predictions for Virgo:
Love life receives mostly pleasant influences, today. This is true both for those in a relationship and for those searching for one. Also, social life, seems pleasant. Work can have some difficulties and challenges, but progress can happen. This is even more true for long-term planning.
Daily Predictions for Libra:
Work and career matters receive mostly good influences. Trade can face some problems, but overcoming them and still achieving good results is possible. Travelling and transportations need some attention, especially if you are driving.
Daily Predictions for Scorpio:
Money needs some attention today. Losing money and overspending some, unnecessarily so are both possible, too. Otherwise, this is a mostly pleasant day. Especially regarding love and social matters.
Daily Predictions for Sagittarius:
Love life can be a little stressful, today. For those already in a long-term relationship, or a marriage, this can be more obvious. Also, family can be somewhat distracting, or discouraging, regarding your personal goals. Money-wise, though it can be supportive.
Daily Predictions for Capricorn:
Health needs some attention, today. Emotional health, your mood, as well as the respiratory, the legs, the skin and the head need the most care. On the other hand, social life can become quite pleasant and active and creativity is rather good.
Daily Predictions for Aquarius:
Work, income, and profit receive mostly pleasant and supportive influences. Money, though, is not purely lucky, today. Unexpected expenses can appear. Also, love needs some care and flexible handling.
Daily Predictions for Pisces:
Business and career matters can cause you some stress. Those working in a family business can experience this influence a little more intensively. Other than that, though, this is a mostly pleasant day. Progress in your goals can be achieved. Love is also mostly lucky.
Astrology and Magic:
Philtres, potions, visualisations and meditations are quite effective, today.
That's all. Have fun and enjoy your day!