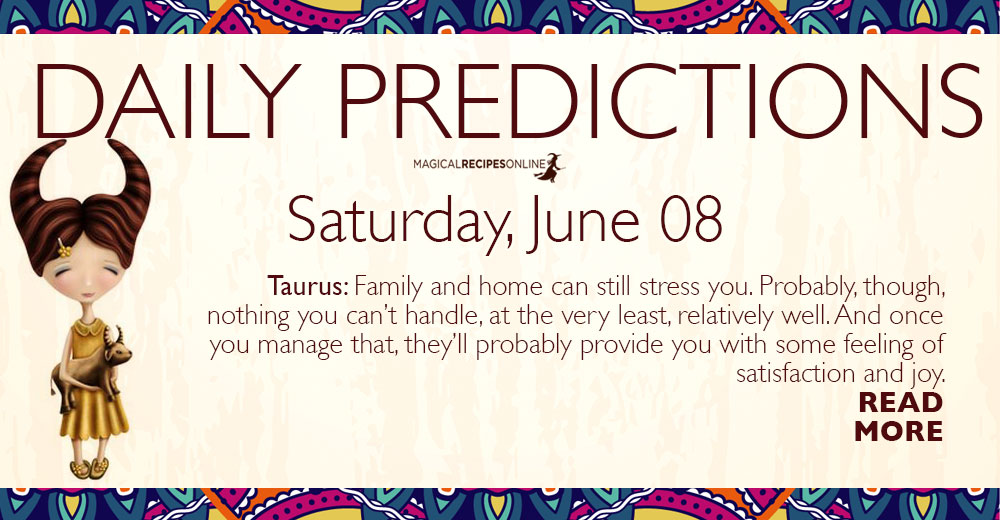 General Daily Predictions: Today, the Moon from Leo, squares Venus in Taurus. It also forms a triangle with the Retrograde Jupiter in Sagittarius.
So, this day won't be the easiest day, but it won't be bad either.
Sagittarius and probably Leo and Virgo will be the luckiest zodiacs of the day. Taurus will be the one receiving the most stress.
Void of Course Moon for June 2019
The Moon has been having many long void of course periods, for some time now, and this will continue throughout June. In order to help you plan ahead whatever the void of course Moon affects, you can find all the void of course Moon periods for June here.
Calling back our powers
Also, during this month we'll try to make a few steps to help us reclaim our powers that we may have had earlier, in this life, or during an earlier one. In this section you can find the tip for the day for this adventure and experiment. And, of course, we are interested in your results, so feel free to comment about them.
For the 8th of June, we'll start connecting with the different points of time. We are targetting the past, but, in actuality, as the present, the past and the future exist now, we can recall future abilities, and experiences, too. Keep that in mind. The 8th being a Saturday, a day under the power of the God of Time, Saturn, can work on our favour, too. What we'll be doing is connecting with Uroborus, today, with the intention to re-call our powers, and let him achieve that. So, have an image of Uroborus in front of you and meditate on that image.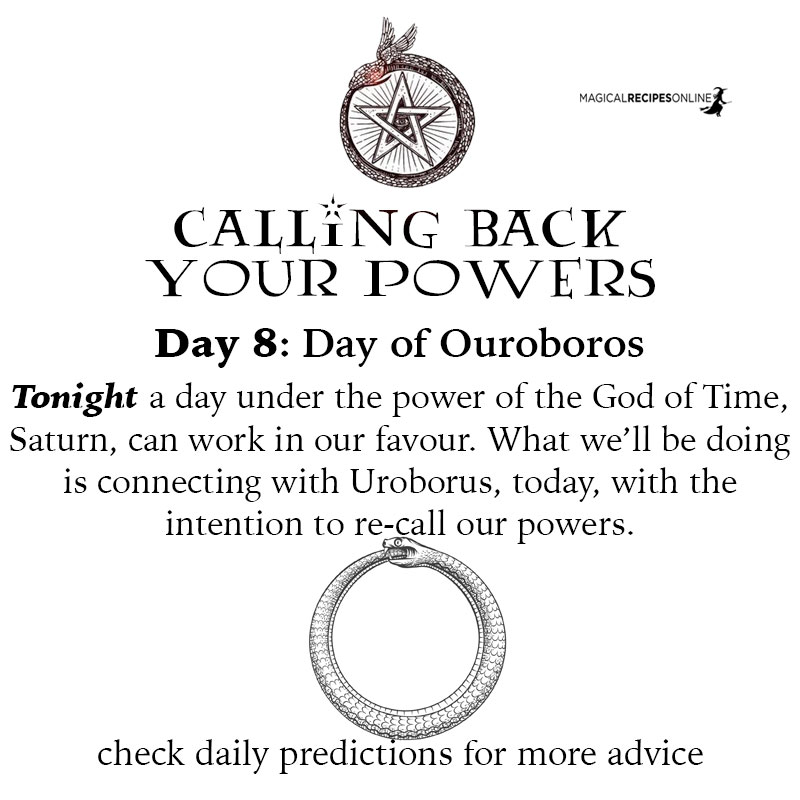 Start your meditation by stating your intention. Say something as simple and clear as "I'm calling back my psychic and magical powers from whatever time is the best for me." Relax your mind and keep repeating every few seconds the same phrase while focusing on the image of Uroborus. Maybe you'll hear some advice, maybe you'll recall some images, maybe you'll simply have a feeling that something is changing. Whatever the case, trust yourself and your success. Give this meditation as much time as you feel right, but don't make haste to finish it. Usually half an hour is a good time. If you are experienced enough, then the longer the better. Do remember to thank Uroborus for his help. Also, if you don't have an image of Uroborus, you can visualise him, instead.
Daily Predictions for Aries:
Money can still be a cause of stress and insecurity. On most, if not all, other matters, though, this day will be mediocre to good. Love receives some extra good luck, but not too much of it.
Daily Predictions for Taurus:
Family and home can still stress you. Probably, though, nothing you can't handle, at the very least, relatively well. And once you manage that, they'll probably provide you with some feeling of satisfaction and joy.
Daily Predictions for Gemini:
Your stress levels can be high, today, too, and not always because of a worthy cause. Friends and you other half can support you, or provide you with enough joy to overwhelm this stress. Also, it's a good day for meeting new people and a day you may meet with an ex, or somebody remind you of one.
Daily Predictions for Cancer:
Internet and high-tech equipment can still cause you some troubles. Also, work hunting on internet, today, needs some extra attention. Not everything is as it appears to be, at first glance. Nonetheless, it is possible to find a good job. Rather possible, actually. And for those already working, this is a good day work-wise.
Daily Predictions for Leo:
This is a mostly pleasant day, on almost every matter, and even more so when it comes to love. Those searching for a relationship and those in a relatively new one will experience this influence more clearly than the rest. Business and career matters, though can stress you. Especially for those of an artistic career.
Daily Predictions for Virgo:
There is some extra stress in the beginning of the day, but this stress is calming down, as the day proceeds. Family can also give you some good news, or make you happier in another way. Furthermore, if this is a day off for you, taking care of yourself, resting and relaxing can all have very good results.
Daily Predictions for Libra:
Social media and internet activity can become a little stressful, today. Searching for a new love, there needs some extra attention. Also, giving away much personal info should be avoided. Nonetheless jobs based on such means, and similar ones, can have a difficult but good day. Also, studies and enrolling in schools receive very auspicious energies.
Daily Predictions for Scorpio:
Business partners and superiors in work can stress you, quite a bit, today. Even more so if they happen to be your life partners as well. Nonetheless, work seems quite productive and co-operations with other businesses can be quite good. Work searching also receives some luck.
Daily Predictions for Sagittarius:
Work can become quite stressful, today. Not necessarily because of an equally strong cause. Travelling also needs some attention. On the other hand, this is a good day for booking tickets and accommodation for future trips, for enrolling in schools, especially abroad, and for international trade, whether you are the buyer or the seller.
Daily Predictions for Capricorn:
This is a mostly satisfactory day for you. Most of the things you want to achieve, today, can be achieved. At the very least, some significant progress there can happen. Love, though, receives mostly stressful influences.
Daily Predictions for Aquarius:
Family and your other half can stress you, today. Nonetheless, love receives mostly good influences. Supporting your other half, if that's what they need, or being patient and understanding can help you make your relationship a much better one.
Daily Predictions for Pisces:
Trade seems to be a little problematic, today, or more difficult than it needs to be. Nonetheless, all kind of jobs receive mostly positive and helpful energies. Also, health needs some attention. The skin and the legs are the most sensitive parts.
Astrology and Magic:
Good luck and prosperity magic can are still quite effective, today.
That's all. Have fun and enjoy your day!