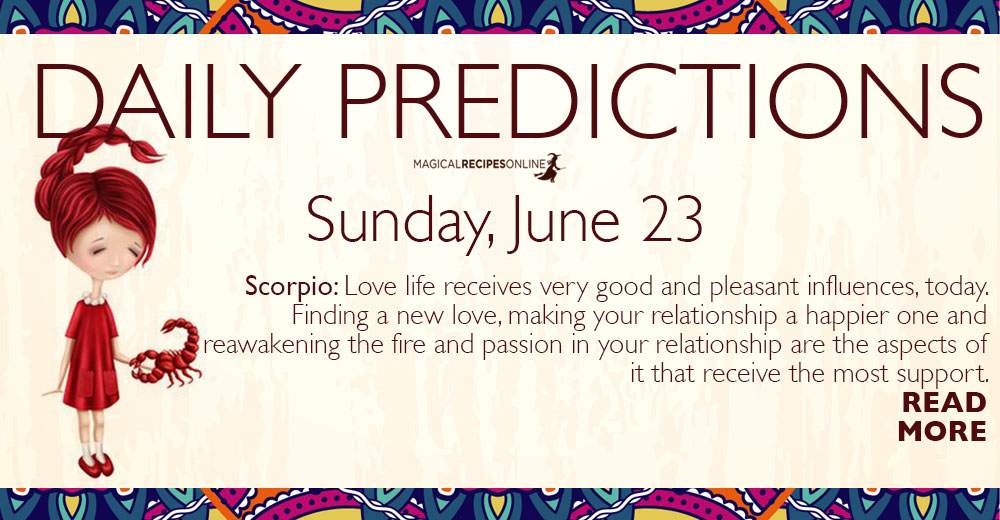 General Daily Predictions: Today, the Moon from Pisces forms a hexagon with Uranus, in Taurus.
Also today, Venus' and Jupiter's opposition becomes precise.
So, this is going to be a mostly good day.
Pisces, and Taurus will be the luckiest zodiac of the day.
Void of Course Moon for June 2019
The Moon has been having many long void of course periods, for some time now, and this will continue throughout June. In order to help you plan ahead whatever the void of course Moon affects, you can find all the void of course Moon periods for June here.
Calling back our powers
Also, during this month we'll try to make a few steps to help us reclaim our powers that we may have had earlier, in this life, or during an earlier one. In this section you can find the tip for the day for this adventure and experiment. And, of course, we are interested in your results, so feel free to comment about them.
For the 23rd of June, once again, visualise yourself, making use of the powers you've awakened. Do this as in "now", not as in the future. Enjoy the feeling. End the visualisation by repeating 21 times, "My magical and psychic powers have now awakened and are getting stronger and stronger, day by day."
Daily Predictions for Aries:
This is a beneficial day for making financial decisions. Long term planning, too. There may also be some luck regarding money, including gabling luck, but, most probably, not too much of it. Regardless, if you gamble, do remember the stars can't secure your winning.
Daily Predictions for Taurus:
This is a supportive day for most matters. Advancing in your personal projects and goals is possible. The situations can help you on this, too, but even more importantly, your efforts can pay off greatly.
Daily Predictions for Gemini:
Career and business related decision making is supported by the day. Especially if you are trying to make a significant change in your career. Also, all work and business matters receive some beneficial influences.
Daily Predictions for Cancer:
Studies receive beneficial influences, today. Researches, too. Also, it's a helpful day to overcome obstacles and problems in work matters and personal goals.
Daily Predictions for Leo:
Work and career receive quite good influences, today. Significant progress and successes can be achieved. Even unexpectedly so. Also, money and profit seem good.
Daily Predictions for Virgo:
Love life is pleasant, today. Travelling also seems as auspicious as possible, during an Ecliptic Period. Business deals and (new) co-operations receive much support.
Daily Predictions for Libra:
Work is mostly pleasant and successful, today. It's also a good day for getting rid of whatever you don't need anymore, or holds you back, both by mundane means and by metaphysical means.
Daily Predictions for Scorpio:
Love life receives very good and pleasant influences, today. Finding a new love, making your relationship a happier one and reawakening the fire and passion in your relationship are the aspects of it that receive the most support.
Daily Predictions for Sagittarius:
This is a good day for taking care of your home and its needs. Cleansing it, redecorating it, etc all receive auspicious influences. Also, health receives support. Both yours and of a family member.
Daily Predictions for Capricorn:
This is a mostly pleasant day, for you, in almost all aspects of it. Friends, and people around you, enjoy being in your company and supporting you. It's also a good day for meeting new people, including possible friends and love interests.
Daily Predictions for Aquarius:
Money receives quite supportive influences, today. Family can also support you, both financially and otherwise. Furthermore, selling or buying property seems lucky.
Daily Predictions for Pisces:
The day supports you in many ways. Your creativity is also in a very good condition. Therefore, achieving significant progress in whatever you want to achieve is very much possible.
Astrology and Magic:
Cleansing the past and changing the future are capable, today.
That's all. Have fun and enjoy your day!