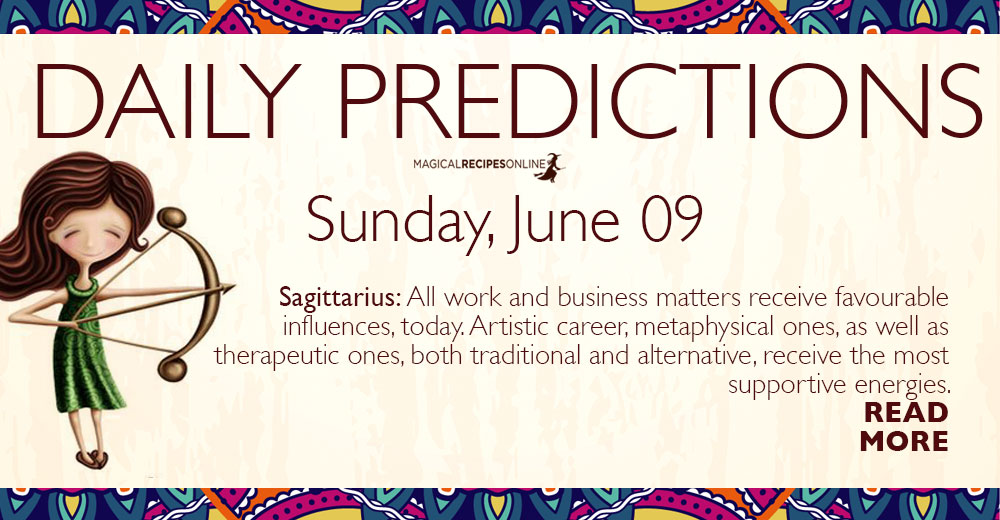 General Daily Predictions: Today, the Moon from Virgo forms a triangle with Uranus in Taurus and a hexagon with Mercury in Cancer.
Also today, the Sun's square with Neptune becomes accurate, and Venus enters Gemini.
So, this will be a mostly good day.
Virgo, Cancer and Taurus will be the luckiest zodiacs of the day.
Void of Course Moon for June 2019
The Moon has been having many long void of course periods, for some time now, and this will continue throughout June. In order to help you plan ahead whatever the void of course Moon affects, you can find all the void of course Moon periods for June here.
Calling back our powers
Also, during this month we'll try to make a few steps to help us reclaim our powers that we may have had earlier, in this life, or during an earlier one. In this section you can find the tip for the day for this adventure and experiment. And, of course, we are interested in your results, so feel free to comment about them.
For the 9th of June, we'll receive the help of an other "time-lord" the Sun. To do that, you can invoke Apollo, using his Orphic hymn, or Surya using his name-mantra "Om Suryaya Namaha", or by using the Surya Namaskara combination of mantras. Lord Apollo is more closely associated with psychic powers, while Lord Surya is more closely associated with the time. Nonetheless, they both know the past, the present and the future. Of course, if you are more familiar with another solar deity, invoke his or her help. Whomever you'll choose to invoke, first state your wish, ie "I invoke God Apollo to help me call back my psychic and magical powers", then invoke them as you see fit, and then meditate for a while, letting the God or Goddess work on you.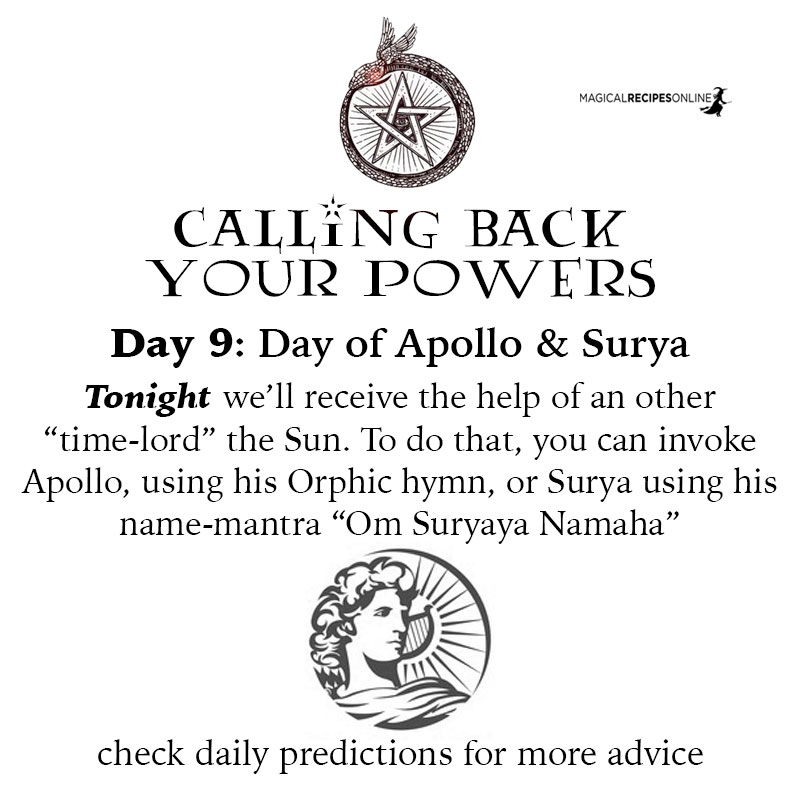 Daily Predictions for Aries:
Work and money receive favourable influences, today. Also, this is an auspicious day for renovations, redecorations and the like. For moving in to a new place of living, too. Also, health issues of a family member can have some pleasant progress.
Daily Predictions for Taurus:
This is a mostly pleasant day for you. You are feeling quite outgoing, and, also, people enjoy your company. Love also receives some pleasant influences, especially for those seeking a new love.
Daily Predictions for Gemini:
Home and family can give you some pleasant experiences, today. Also, family can be more supportive towards you, both financially and morally. Also, this can be a profitable day for those making their income from property management, selling, etc.
Daily Predictions for Cancer:
This is a mostly good day for you, on all matters. Productivity and creativity in very good shape. Work can also proceed quite well, because of that. Also, your social skills are very good and your social life is pleasantly active.
Daily Predictions for Leo:
This will be a good day for work, career and money matters. It's also a good day for long term planing when it comes to your finances. Artistic careers receive even more support than other kinds do.
Daily Predictions for Virgo:
This is a mostly good day for you, regarding all matters. Travelling seems auspicious, too. Also, web based jobs receive quite favourable influences. The same is true for trade of services and for trade of high-tech equipment. Purchasing those, is also auspicious.
Daily Predictions for Libra:
Your spiritual and magical abilities are quite strong and capable, today. Furthermore, your imagination can become quite productive. This is a good day for warming up your relationships, too. Also, work matters receive some favourable energies, although not very strong ones.
Daily Predictions for Scorpio:
Your social life receives quite good influences, today. Party like events, especially. Also, this is a good day for work-related socialisation. Love and studies receive some good energies, too.
Daily Predictions for Sagittarius:
All work and business matters receive favourable influences, today. Artistic career, metaphysical ones, as well as therapeutic ones, both traditional and alternative, receive the most supportive energies.
Daily Predictions for Capricorn:
Love life receives very good influences, today. Those already in a relationship will enjoy them more than those seeking one, but the latter, too, receive much support. Also, travelling is auspicious, studies are proceeding nicely and seminars, and the like are promising.
Daily Predictions for Aquarius:
Health receives quite good energies. Healing and self-healing are strong, so, if you are facing any problems there, today expect some good developments. Also, work seems successful enough, and family, and those you consider as such can make your day a better one.
Daily Predictions for Pisces:
Love life can be quite pleasant and lucky, today. Both those in a relationship and those seeking one will enjoy this influence. Also, your friends' and kids' love life can play a pleasant role in your day. Work is also mostly pleasant and quite productive.
Astrology and Magic:
Love and healing magic can have good results, today.
That's all. Have fun and enjoy your day!