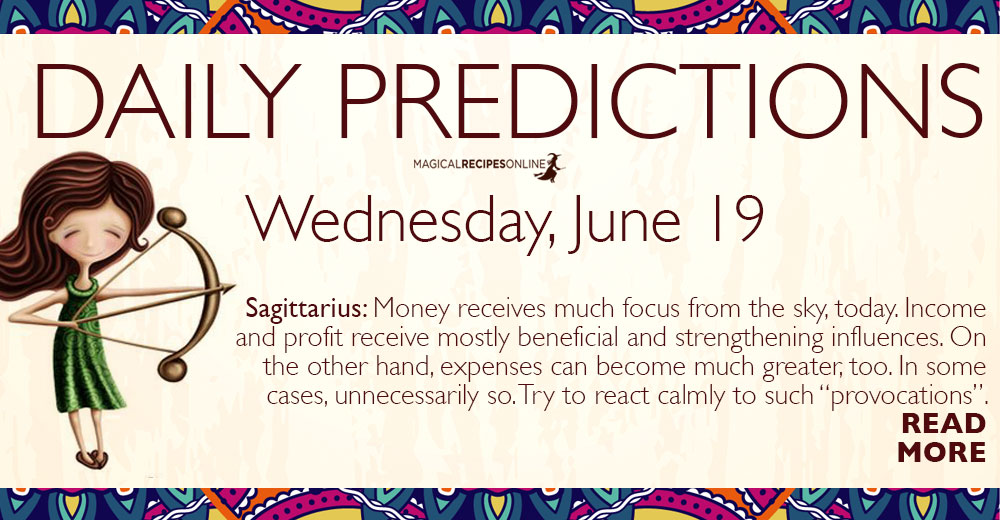 General Daily Predictions: Today, the Moon from Capricorn opposes Mars and Mercury, both in Cancer. It also conjuncts the Retrograde Saturn and the Retrograde Pluto, in Capricorn, and it forms a hexagon with Neptune, in Pisces. Furthermore, from 11:19 UT, the Moon will be void of course, until 02:00 UT of the 20th of the month.
Also today, Mercury accurately opposes the Retrograde Pluto.
So, this will be a not so easy day, but not a really bad one.
Pisces and then Capricorn will be the luckiest zodiacs of the day. Cancer will be the one receiving the most stress.
Void of Course Moon for June 2019
The Moon has been having many long void of course periods, for some time now, and this will continue throughout June. In order to help you plan ahead whatever the void of course Moon affects, you can find all the void of course Moon periods for June here.
Calling back our powers
Also, during this month we'll try to make a few steps to help us reclaim our powers that we may have had earlier, in this life, or during an earlier one. In this section you can find the tip for the day for this adventure and experiment. And, of course, we are interested in your results, so feel free to comment about them.
For the 19th of June, we'll repeat yesterday's meditation. Yes, unfortunately, repetitions are necessary to achieve maximum results. So, do a meditation where you are becoming one with the self of yours from when your powers were most active. You can use a phrase like "I am now again myself of …" (instead of the …, of course, you state the time). Keep that contact for as long as you easily can.
Daily Predictions for Aries:
Most of work and career matters keep on receiving good energies and support. Moving your place of working into a new premises isn't auspicious, though. Also, family can cause you some stress, which might interfere with your work.
Daily Predictions for Taurus:
Studies, researches and almost all occupations and avocations of the mind receive the blessings of the stars. Literature and similar arts, though, may face some difficulties. Advertisement and jobs of advertisement, also receive some good energies. Travelling, though, today is not very auspicious.
Daily Predictions for Gemini:
This can become quite a successful day, regarding work and career matters. Concerning your profit, too, but money does receive some stressful influences, too, so don't make haste spending it. Especially not if you haven't actually received it.
Daily Predictions for Cancer:
Love life receives mostly pleasant influences, today. Long distance relationships are, most probably, receiving even better energies. Work can progress, and planning and meetings can be fruitful, but they can cause you some stress, nonetheless.
Daily Predictions for Leo:
This is a mostly good day for almost all work matters. Health also receives some good and healing energies. Your mood, though, and your emotional health and well being may need some support. Also, you have a tendency to jump into conclusions hurriedly. Try to avoid that.
Daily Predictions for Virgo:
Love life seems quite pleasant and lucky, today. Finding a new relationship is also possible. Also, your close friends and other important people of your life, as well as their love life, can make your day brighter. On the other hand, excessive socialisation and internet one don't meet your expectations.
Daily Predictions for Libra:
Cleansing, purifying and beautifying your home and place of working receive favourable energies, today. Your place of work may actually demand some care and attention. Especially so if you are running your own business. Also, family can be a mostly pleasant company, and health issues in the family are progressing nicely.
Daily Predictions for Scorpio:
Travelling is not auspicious, today. Also, studies can become a bit stressful. On the other hand, love receives lucky energies and friends can become a pleasant company. Furthermore, the day can help you to expand your social circle.
Daily Predictions for Sagittarius:
Money receives much focus from the sky, today. Income and profit receive mostly beneficial and strengthening influences. On the other hand, expenses can become much greater, too. In some cases, unnecessarily so. Try to react calmly to such "provocations".
Daily Predictions for Capricorn:
Business partners and some of the people you consider important can cause you some stress, or unsettlement. Some times, because of problems they are facing. Other than that, though, the day is mostly a good one for you and it can become quite productive, creative and pleasant, too.
Daily Predictions for Aquarius:
Energy and spiritual healing can become quite effective, but quite difficult to handle, too. If you don't have enough experience on such matters, maybe you should let an expert help you. Your mood and your emotional well-being can also be in a not so good condition today. On the good side, though, you have much energy coming from within that can help you solve any problem and make any situation a better one.
Daily Predictions for Pisces:
Trade receives mostly good energies. It may not be as easy and lucky, but, depending on your efforts, it can become quite successful. Also, it's a good day for job interviews and for self-promotion. Social life can also be active and beneficial, but, most probably, not purely pleasant.
Astrology and Magic:
This is an odd day for the period as all magic receives beneficial and strengthening energies, today.
That's all. Have fun and enjoy your day!