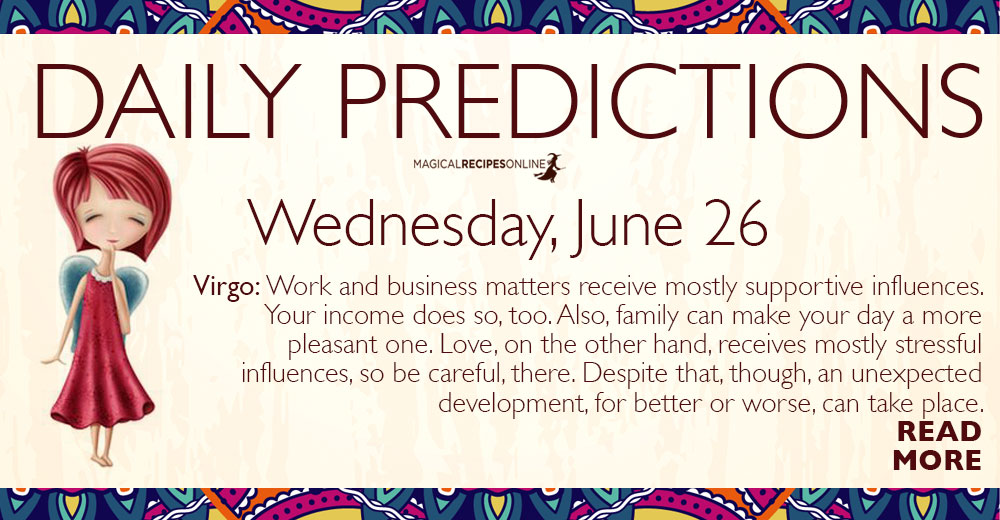 General Daily Predictions: Today, the Moon from Aries, squares the Retrograde Saturn and the Retrograde Pluto, both in Capricorn. It also forms a hexagon with Venus, in Gemini, and a triangle with the Retrograde Jupiter, in Sagittarius.
So, this day will have its difficult and its good points. The Retrograde Pluto receiving some extra stress can cause psychological issues to act up, so be on alert.
Sagittarius and Gemini will be the luckiest zodiacs of the day. Capricorn will be the one receiving the most stress.
Void of Course Moon for June 2019
The Moon has been having many long void of course periods, for some time now, and this will continue throughout June. In order to help you plan ahead whatever the void of course Moon affects, you can find all the void of course Moon periods for June here.
Calling back our powers
Also, during this month we'll try to make a few steps to help us reclaim our powers that we may have had earlier, in this life, or during an earlier one. In this section you can find the tip for the day for this adventure and experiment. And, of course, we are interested in your results, so feel free to comment about them.
For the 26th of June, you've guessed it right. We'll repeat yesterday's proceedure. So visualise yourself, just like the previous days, making use of the powers you've awakened. Do this as in "now", not as in the future. Enjoy the feeling. End the visualisation by repeating 21 times, "My awakened magical and psychic powers are strong and they are getting stronger and stronger, day by day."
Daily Predictions for Aries:
Work can be stressful, although it will remain productive. Those running their own businesses, or trying to start a new, while experience this influence more intensively. On the other hand, studies seem to proceed quite nicely, and social life seems quite pleasant.
Daily Predictions for Taurus:
Money receives some good influences. Financial planning, as well as organising your expenses, are both favoured by the stars. There is some general stress and some tendency to focus on negative thinking. Try to control these. Also Travelling can be difficult, or challenging.
Daily Predictions for Gemini:
This is not the best day to buy computers, phones and the like. Furthermore, the ones you already posses can cause you some stress. Social media and internet interactions can also be less pleasant than you'd prefer. On the other hand, work seems to be proceeding nicely and relatively easily and in-person socialisation is mostly pleasant.
Daily Predictions for Cancer:
Business partners, business meetings, as well as boss figures, the authorities and the law can cause you some stress, today. Other than those, though, work receives mostly supporting influences, so progress is happening. Even a significant one is possible.
Daily Predictions for Leo:
Work can become quite stressful and a bit chaotic, today. Your day's schedule, in general, can become hard to follow, actually. Nonetheless, if you keep a flexible mind, this can be a pleasant day. Studies, social life and love life receive mostly pleasant influences.
Daily Predictions for Virgo:
Work and business matters receive mostly supportive influences. Your income does so, too. Also, family can make your day a more pleasant one. Love, on the other hand, receives mostly stressful influences, so be careful, there. Despite that, though, an unexpected development, for better or worse, can take place.
Daily Predictions for Libra:
Your spouse, or other half, can cause you some stress. If there are some problems in your relationship, today they can become more intense. Unpleasant as this may be, it's a call for healing, and this healing receives support. Family can also play a similar role. On the other hand, searching for a new love receives mostly helpful influences.
Daily Predictions for Scorpio:
Work receives some stressful influences. It can become very tiresome and unpredictably busy, or very boring. Nonetheless, it seems to be profitable and mostly satisfactory. Health is also a bit sensitive, but healing is quite strong.
Daily Predictions for Sagittarius:
Contrary to yesterday's influences, today love actually receives very good influences. If the previous day brought some negative tension in your relationship, this tension may turn into passion, today. Finding a new love is also possible. Money, though, can cause you some unsettlement.
Daily Predictions for Capricorn:
Moving into a new place of living, or working, can be more tiresome and stressful than you'd expect. Family can also cause you some stress, or discouragement. On the same time, though, it gives you the opportunity to bond better. Also, taking care of your current place of living, is auspicious.
Daily Predictions for Aquarius:
This can become quite a stressful day, and, in many cases, without an equally strong reason to call forth this stress. So, do see the situations as they really are. On the other hand, friends and acquaintances can make your day much happier, and love is mostly pleasant.
Daily Predictions for Pisces:
Money is still stressful, but today receives some good and strengthening influences, too. Finding a sponsor, or a financial support is possible. Also, work can be more profitable than usual, or a better salary, or position may be obtained.
Astrology and Magic:
Money, love and obstacle removing from them both can have very good results, today.
That's all. Have fun and enjoy your day!