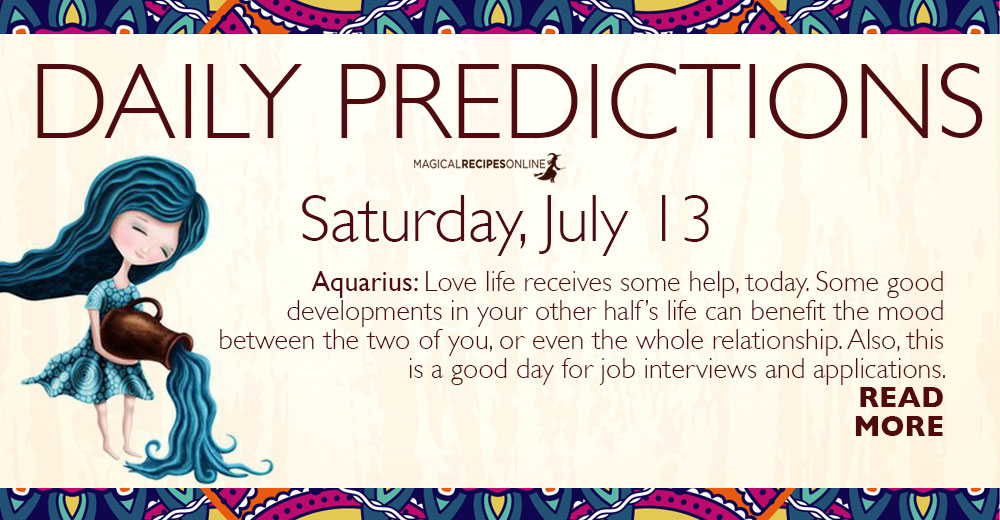 General Daily Predictions: Today, the Moon from Sagittarius conjuncts the Retrograde Jupiter, there, and forms a triangle with Mars, in Leo.
So, this will be a mostly good day.
Sagittarius, Leo and, most probably, Aries will be the luckiest zodiac of the day.
Void of Course Moon for July 2019
The Moon has been having many long void of course periods, for some time now, and this will continue throughout July, as well. In order to help you plan ahead whatever the void of course Moon affects, you can find all the void of course Moon periods for July here.
Daily Predictions for Aries:
Travelling is rather auspicious, but some extra attention while on the roads is more than advisable. Also, studies seem pleasant and actual students can have a good day.
Daily Predictions for Taurus:
This is a good day for taking care of your home. Cleansing it and getting read of whatever you don't need, especially. The same inner procedures can help your soul and spirituality, too.
Daily Predictions for Gemini:
Friends, you other half and people you consider important can be quite helpful. They can also make this day a much better one, for you. Furthermore, productivity and social skills are in form.
Daily Predictions for Cancer:
Work and money matters receive beneficial influences, today. It's also a good day for asking for money people owe you. Nonetheless, try to keep your calm, when doing that.
Daily Predictions for Leo:
Love life receives good influences, today. Both for those in a relationship and for those seeking for one. Those who prefer to hunt receive more help than those who prefer to be hunted. Also, children can make your day happier, as well as their love life.
Daily Predictions for Virgo:
Home and family can play a significant role in your day, today. There may be some tension, there, but it will be mostly a beneficial role, nonetheless. Also, it's a good day for searching for a new home.
Daily Predictions for Libra:
Trade receives some support today. International trade, even more so. Also, your social life can become quite active. In some cases, too active. Nonetheless, it can help you advancing in your goals.
Daily Predictions for Scorpio:
This is a good day for work and business matters. Carefully thought and well planned expansions of business, or investments in other businesses receive auspicious influences and can give good results in the long run.
Daily Predictions for Sagittarius:
Travelling is mostly auspicious, today, but do be extra careful when driving. Furthermore, this is a good day for more aspects and an even better day for pursuing your spiritual development and making use of your intellectual talents.
Daily Predictions for Capricorn:
Magic and spirituality are extra strong, for you, today. Also, this day can help you acquiring new such skills. Furthermore, the day can give you the opportunity to build stronger and healthier bonds with other people.
Daily Predictions for Aquarius:
Love life receives some help, today. Some good developments in your other half's life can benefit the mood between the two of you, or even the whole relationship. Also, this is a good day for job interviews and applications.
Daily Predictions for Pisces:
Business matters receive very good and supporting influences, today. Work, in general, seems to proceed nicely, although there may be some stress and tension. It's also a good day for finding a new job, or for a new job finding you.
Astrology and Magic:
Success in business and all forms of Fire Magic are quite capable, today.
That's all. Have fun and enjoy your day!