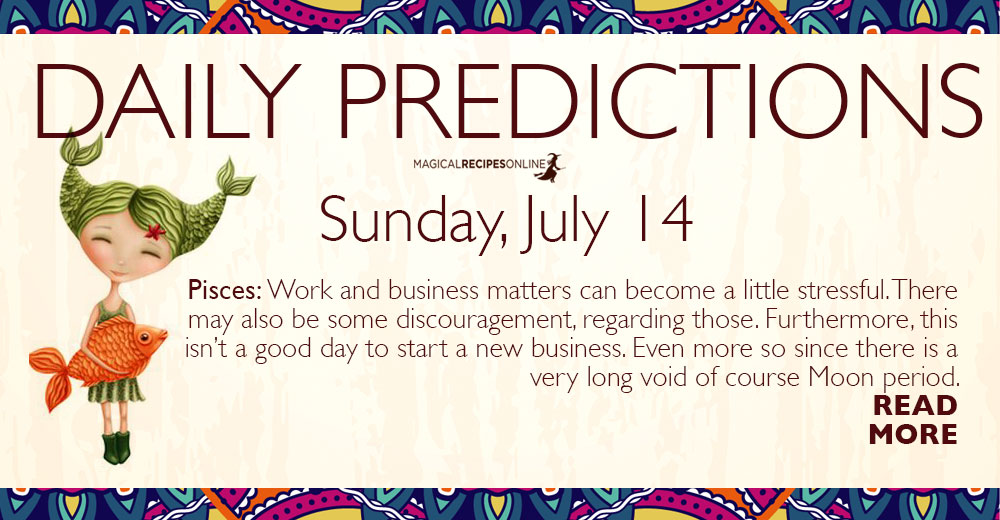 General Daily Predictions: Today, the Moon from Sagittarius squares the Retrograde Neptune, in Pisces. Also, from 01:30 UT until 23:05UT the Moon will be void of course.
Also today, the Sun's opposition to the Retrograde Pluto becomes accurate.
So, this will be a somewhat stressful day.
Leo will probably be the luckiest zodiac of the day. Sagittarius and Pisces will be the ones receiving the most stress.
Void of Course Moon for July 2019
The Moon has been having many long void of course periods, for some time now, and this will continue throughout July, as well. In order to help you plan ahead whatever the void of course Moon affects, you can find all the void of course Moon periods for July here.
Daily Predictions for Aries:
There are some stressful thoughts building up in your mind. Some times, external events feed these thoughts, but other times, they come to you on their own. Keeping a more optimistic outlook can improve your day.
Daily Predictions for Taurus:
This is not the best day for social interactions and, especially, through internet and similar means. Also, be extra careful and wise with your orders.
Daily Predictions for Gemini:
Business partners, bosses, colleagues and associates can cause you some stress, today. Try not to overreact and to avoid hasty reactions, too, as such actions can complicate things more.
Daily Predictions for Cancer:
Work receives some stressful energies today. Travelling, even more so. Also, this is not the best day to organise your schedule, as your planning can end up being unrealistic.
Daily Predictions for Leo:
Love doesn't seem to be just quite right, today. Sexual life can be less satisfactory. Those seeking a relationship or a sex partner will experience these influences more clearly.
Daily Predictions for Virgo:
Family can cause you some stress, today. Your other half, too. Those in a marriage, or a long standing relationship will feel this more than those in a relatively new relationship.
Daily Predictions for Libra:
Work can be a bit stressful and busy. Sometimes, overwhelmingly so. Also health may need some more of your care and attention.
Daily Predictions for Scorpio:
Money can cause you some stress, today. Avoid unnecessary expenses. Also, your kids can add to this financial distress.
Daily Predictions for Sagittarius:
Your home and its needs can be a little more demanding than you can easily handle, today. Also, your family can demand more of your attention, and not necessarily in a pleasant way.
Daily Predictions for Capricorn:
This can become quite a stressful day. In most cases, nothing major is happening, but probably many little things. Also, your health is somewhat more sensitive, so try to get some rest and properly care for it.
Daily Predictions for Aquarius:
Money receives stressful influences, today. Expenses can get a bit out of your control, so be on alert. Also, your computers, smartphones and the like may need some repairs.
Daily Predictions for Pisces:
Work and business matters can become a little stressful. There may also be some discouragement, regarding those. Furthermore, this isn't a good day to start a new business. Even more so since there is a very long void of course Moon period.
Astrology and Magic:
Healing and balancing are advisable, today.
That's all. Have fun and enjoy your day!