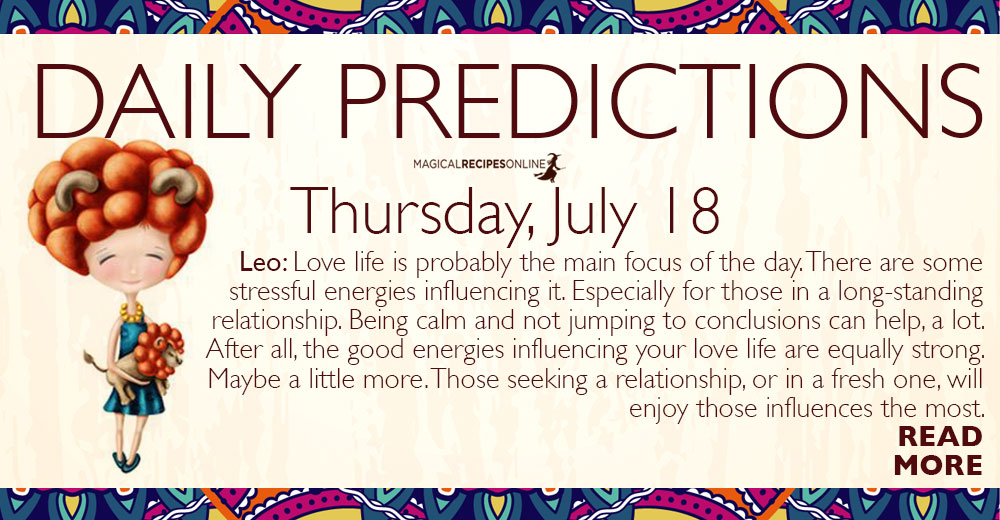 General Daily Predictions: Today, the Moon from Aquarius opposes Mars in Leo. It also forms a hexagon with the Retrograde Jupiter in Sagittarius. Furthermore, from 15:53 UT until 21:19 UT of the 19th, the Moon will be void of course.
Furthermore, today Venus is in a precise triangle with the Retrograde Neptune.
So, this day will have its good and its difficult points.
Sagittarius will be the luckiest zodiac of the day. Leo will probably be the one receiving the most stress.
Void of Course Moon for July 2019
The Moon has been having many long void of course periods, for some time now, and this will continue throughout July, as well. In order to help you plan ahead whatever the void of course Moon affects, you can find all the void of course Moon periods for July here.
Daily Predictions for Aries:
This is a good day for promoting yourself and your business. Nonetheless, avoid launching a new advertising campaign during the void of course Moon period, if this is possible. On the other hand, social life can become a bit frustrating.
Daily Predictions for Taurus:
Work and business matters receive mostly supportive influence. Business where you are handling money, as well as business of metaphysical nature receive even better energies. Real estate and similar business, though can face some challenges.
Daily Predictions for Gemini:
Studies can be a bit stressful, today. Rushed decisions should be avoided, unless you really need to make some now. Friends, colleagues and the like, as well as your other half, are quite supportive, and helpful, when you need them.
Daily Predictions for Cancer:
Work receives good influences, today. Money, though, can become a bit stressful. Also, health receives much support and healing is quite capable. Energy and spiritual healers may experience this, too, in their jobs.
Daily Predictions for Leo:
Love life is probably the main focus of the day. There are some stressful energies influencing it. Especially for those in a long-standing relationship. Being calm and not jumping to conclusions can help, a lot. After all, the good energies influencing your love life are equally strong. Maybe a little more. Those seeking a relationship, or in a fresh one, will enjoy those influences the most.
Daily Predictions for Virgo:
Work seems to be in order and to be proceeding nicely and relatively easily. At moments it can become frustrating, but, for the most of it, it's good. Health needs some attention. Psychosomatic symptoms can act up, too.
Daily Predictions for Libra:
Friends, and especially the ones you keep close to your heart, can be quite a good company, today. It's also a good day to warm up such relationships you've neglected. On the other hand, your "extended" social circle may cause you more stress than pleasure.
Daily Predictions for Scorpio:
Work and business matters receive some stressful influences. Real estate and similar business as well as family business can face some challenges and difficulties, today. In most cases, though, a calmer handling can safe you from much trouble. On the other hand, money receives good energies, so success is possible.
Daily Predictions for Sagittarius:
Productivity is in quite good condition, today. You can make some progress in your long-term projects, too. Especially if you've been having problems with them, for some time now. Travelling, though, needs some extra attention. Also, international trade can be tricky.
Daily Predictions for Capricorn:
Money can cause you some stress and unsettlement, today. Purchases need some second thought and, even then, some expenses can get out of your control. In the same time, though, this is a good day for long term financial planning.
Daily Predictions for Aquarius:
Your business partners can give you some trouble, today. Colleagues, too. Also, your other half may have some stressful situation to share with you. Try to be understanding, as misunderstandings can easily happen. On the other hand, promoting yourself, your services and advancing in your goals receive support.
Daily Predictions for Pisces:
Health, both physical and emotional, can stress you, today. High blood pressure, feverish conditions and whatever has to do with fire and the blood are the most likely causes. Work can also be a bit stressful. Nonetheless it's also successful. Business decisions, also receive the help of the stars.
Astrology and Magic:
Removing obstacles is promising, today.
That's all. Have fun and enjoy your day!