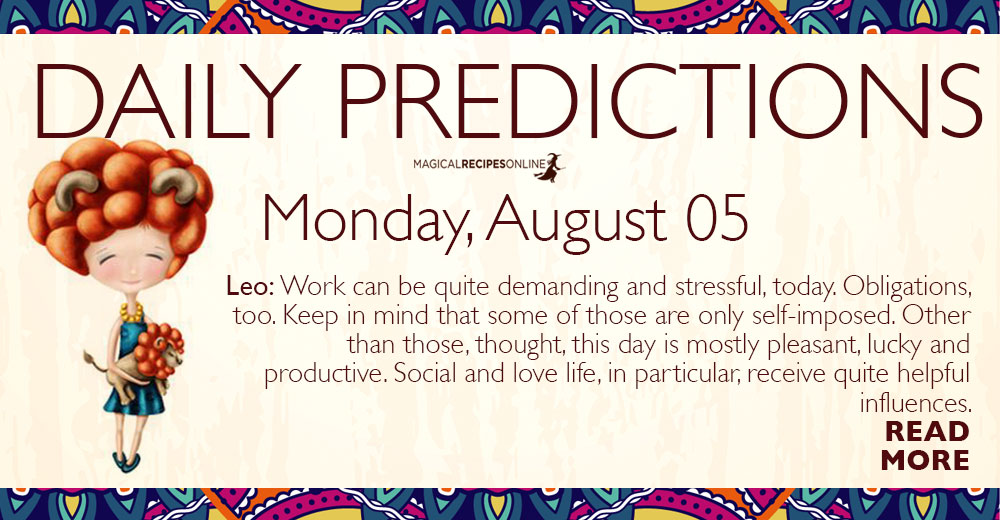 General Daily Predictions: Today, the Moon from Libra squares the Retrograde Saturn, in Capricorn. It also forms a hexagon with each the Sun, in Leo, Venus, in Leo, and the Retrograde Jupiter, in Sagittarius.
So, this will be a mostly good day.
Leo, Sagittarius and Libra will be the luckiest zodiacs of the day. Capricorn will be the one facing the most stress.
Void of Course Moon for August 20l19
The Moon has been having many long void of course periods, for some time now, and this still continues throughout August, although, in a somewhat smaller scale. In order to help you plan ahead whatever the void of course Moon affects, you can find all the void of course Moon periods for August here.
Daily Predictions for Aries:
Love life receives some pleasant and lucky influences. Planning ahead and organising your schedule, too. Business matters and business meetings, though, can be somewhat stressful.
Daily Predictions for Taurus:
Work receives much support, today. Health also seems mostly good, although there is a tendency to over-focus on the negatives. Also, travelling can cause you some stress.
Daily Predictions for Gemini:
Social life is rather active and pleasant. Love life is also quite pleasant, although, probably, not as satisfactory as you'd expect, or hoped. Your children, or children figures can also cause you some stress.
Daily Predictions for Cancer:
This is a good day for work and money matters. It's also a good day for renovating, redecorating, or otherwise making your place of living more suitable and pleasant for you. Health, both yours and of a family member, receives beneficial influences. Your relationship, though, with your other half can bring forth some stress.
Daily Predictions for Leo:
Work can be quite demanding and stressful, today. Obligations, too. Keep in mind that some of those are only self-imposed. Other than those, thought, this day is mostly pleasant, lucky and productive. Social and love life, in particular, receive quite helpful influences.
Daily Predictions for Virgo:
Your expenses and financial obligations can stress you, a bit, but the day is mostly good for money matters. Applying for loans, or finding some other kind of financial support, also receive some good luck.
Daily Predictions for Libra:
This is quite a good day for social life and all matters concerning it. Meeting new people, receiving help from your friends, bettering your relationships, and everything else, receives support. Also jobs based on your social skills can be quite successful. Family, on the other hand, can cause you some stress.
Daily Predictions for Scorpio:
Travelling needs some attention. Spiritual travelling, even more so. On the other hand, work and money receive good energies. Career decisions, too.
Daily Predictions for Sagittarius:
This is not the best day for advertising, promotion, and things like those, whether you are the client, or the one offering this kind of services. Also, online trade can be a bit problematic. On the other hand, self promotion, via your web-pages and social media can be fruitful and all forms of studies, researches, and the like receive much support.
Daily Predictions for Capricorn:
Most work and business matters receive beneficial influences, today. They may stress you, but, if you keep your mind clear, active and flexible enough, you'll find solutions. Psychics and psychotherapists can have quite a successful day, work wise, too.
Daily Predictions for Aquarius:
Travelling can cause you some stress, but it's mostly auspicious. Also, trade, and especially international trade, receives quite good energies. Social life, too. Meeting people with similar interests is both possible, and enjoyable.
Daily Predictions for Pisces:
Work and business matters receive mostly pleasant influences. Business meetings, though, can be a bit stressful. Especially so, if they are about financial planing. Also job interviews may be a little stressful, but the day isn't inauspicious for those.
Astrology and Magic:
Business, money and love magic are quite capable, today.
That's all. Have fun and enjoy your day!