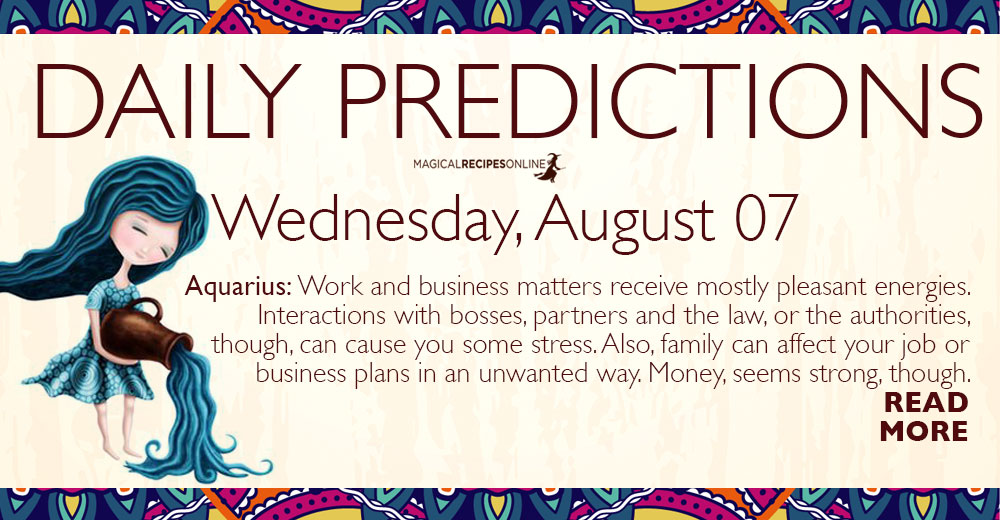 General Daily Predictions: Today, the Moon from Scorpio opposes Uranus, in Taurus, and squares each the Sun and Venus, both in Leo. It also forms a hexagon with the Retrograde Saturn, in Capricorn, and a triangle with the Retrograde Neptune, in Pisces.
Also today, the Sun's and Jupiter's triangle becomes precise.
So, this day will have its strong and difficult points.
Pisces and Capricorn will be the luckiest zodiacs of the day. Leo and Taurus will be the ones facing the most stress.
Void of Course Moon for August 20l19
The Moon has been having many long void of course periods, for some time now, and this still continues throughout August, although, in a somewhat smaller scale. In order to help you plan ahead whatever the void of course Moon affects, you can find all the void of course Moon periods for August here.
Daily Predictions for Aries:
Work and career matters receive mostly beneficial influences, today. Finding a new job, and especially if you've been searching for one for some time now, or succeeding in a long term project of yours are both possible. Money, though, van cause you some stress, and love life seems to be a bit unlucky.
Daily Predictions for Taurus:
You may be feeling a little overstressed, today. Also family and other important people of your life can add to this stress. On the other hand, travelling seems to be pleasant and the same is true for social life.
Daily Predictions for Gemini:
Work can be somewhat unpleasant and, most probably, very demanding, but, overall it's a good day for most work and business matters. Money, also, receives some help. Health though, can be a little sensitive.
Daily Predictions for Cancer:
Love life receives mostly pleasant influences, today. Both for those in a relationship and for those seeking one. It's not too lucky and easy going, but it can become quite good. Also, travelling is quite auspicious.
Daily Predictions for Leo:
Work receives both stressful and helpful energies, today. In general, your usual routines and things you know well how to do proceed nicely and successfully, while experimentations and interactions with bosses can become quite stressful. Family can also cause you some unsettlement, but health issues there can have a good development.
Daily Predictions for Virgo:
Travelling needs some attention. Spiritual travelling, too. Also, trade can be quite difficult. Friends can cause you both stress and pleasure, while your other half will make your day better. Singles seeking a new love can have a pleasant development, or a lucky encounter.
Daily Predictions for Libra:
Work receives mostly pleasant energies, today. Nonetheless, trade can become quite stressful, too. Also, job interviews need more of your focus and attention. Money can cause you some stress, today. Avoiding unnecessary and reckless expenses can be a very wise choice.
Daily Predictions for Scorpio:
Social life seems mostly pleasant, although work related socialisation and meetings can be stressful and difficult. Also, love seems to be more helpful for those seeking a new relationship than for those already in a relationship.
Daily Predictions for Sagittarius:
Health, both physical and, especially, emotional need your attention and support, today. Also, travelling can be somewhat stressful. On the other hand, this is a good day to take care of your home, your family and their needs. Receiving pleasure and support from them is also possible.
Daily Predictions for Capricorn:
Trade seems to be quite successful, today. Other jobs, too. Nonetheless, money and expenses receive some stressful energies, as well. Also, internet socialisation can be pleasant and productive. In person socialisation, though, receives both pleasant and stressful influences.
Daily Predictions for Aquarius:
Work and business matters receive mostly pleasant energies. Interactions with bosses, partners and the law, or the authorities, though, can cause you some stress. Also, family can affect your job or business plans in an unwanted way. Money, seems strong, though.
Daily Predictions for Pisces:
Travelling can be quite stressful and needs much of your attention. Travelling for work reasons, even more so. This won't affect though international trade and deals with other countries, or people from other countries. Studies receive mostly good energies, too.
Astrology and Magic:
Meditation techniques for every reason, as well as emotional healing of all kinds are quite capable, today.
That's all. Have fun and enjoy your day!