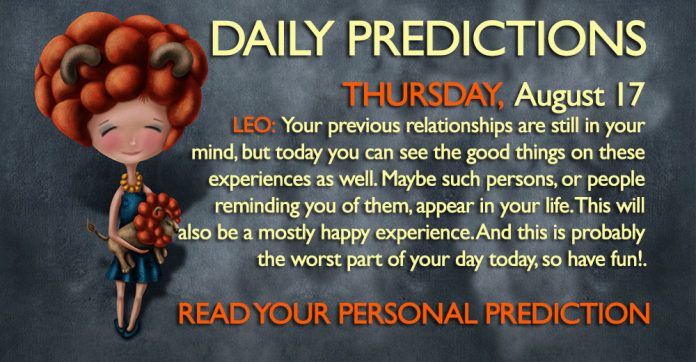 General Daily Predictions: Today Moon will oppose the retrograde Saturn and square the retrograde Chiron. It will also form a hexagon with the Sun and one with the retrograde Uranus. Later on, it will enter Cancer. Karma keeps knocking our doors. Today, is mostly focused on the past karma than the one we build for the future. Other that that, it will be a somewhat easy day.
Leo, Aries and then Cancer are the luckiest zodiacs of the day. Sagittarius and Pisces are the most stressed ones.
Daily Predictions for Aries:
This day will be mostly pleasant for you. You feel a joy awakening from inside and supported from a lot of small or greater things all around you. There are some reminders of the problems of old, but mostly hints that awake your memory and thoughts.
Daily Predictions for Taurus:
Home, family and people you consider close are still a fountain of joy for you today. Sometimes, you exaggerate in the way you feel this joy, but I wouldn't call this a bad habit. Friends you've lost contact, and ex lovers may play a role too in your day. Them or people who remind you of them may appear.
Daily Predictions for Gemini:
Your social life is very much favoured today. If you are amongst friends all day long, this will be a great day. Your social circle may also support your job. Your spouse's company isn't as pleasant though. "What if I had never married them?" kind of thoughts may occur. Think, of course, but don't act hasty.
Daily Predictions for Cancer:
You receive some satisfaction from your current status quo. You can appreciate your financial status. You also feel motivated about your career. Indulge in these feelings and don't let the thoughts about how different is your job than what you wanted it to be destroy your otherwise good mood.
Daily Predictions for Leo:
Your previous relationships are still in your mind, but today you can see the good things on these experiences as well. Maybe such persons, or people reminding you of them, appear in your life. This will also be a mostly happy experience. And this is probably the worst part of your day today, so have fun!
Daily Predictions for Virgo:
Magic, spirituality and whatever has to do with these fields are still favoured for you. If your income is related with these subjects, will be also benefited. The same goes for those working with human psychology or sexuality, in any way. Home, family and spouse, thought, may stress you a little. Do you have any legal issues you left unattended? Expect a reminder today.
Daily Predictions for Libra:
A very peculiar day for career matters. On the one hand your job seems to generate stress and so do your relationships with your coworkers. On the other hand your partnerships seem very promising and your dreams on the subject seem to evolve. If you are in show business, this may be a very promising day.
Daily Predictions for Scorpio:
Job and career are still the main focus. And today things look very auspicious there. You may even feel like you are just a step away from realising your dreams. Be happy, but don't be hasty. Plan, organise, prepare, and wait until the 5th of September before starting acting. Money don't look very happy though, but not disappointingly. Love life is probably what suffers the most today.
Daily Predictions for Sagittarius:
For the single ones this will be a better day than those in a marriage or a relationship. Love and sex life and new love interests are looking good for them. For those in a relationship there are problems there that reduce this pleasure. Still, if you can, engage in some sexual or romantic activity with your partner and you may find this to be very rejuvenating for your relationship.
Daily Predictions for Capricorn:
A mostly good day to spend with your family, your partner and those people you think of as your own. All these people bring you power and joy today. Siblings may don't seem as much, but not discouraging anyhow. Have you had a very close friend with whom you lost contact? You may reconnect today, or for some reason you may be reminded of them.
Daily Predictions for Aquarius:
Work looks nice, health seems to be good, and your spouse, lover, and important friends seem very loving and caring today. All these make foundations for a very nice day. And it will mostly be one such day. Your extended social life will cause you any problems that you have to deal with today. Other than some unpleasant expenses, these problems are not important enough to think too much about them.
Daily Predictions for Pisces:
Work still progress well. Maybe even better than yesterday. Some happy news on your salary or income are possible. Some negative news may reach your ears but don't panic. Most of them are rumours or baseless words. Your main "enemy" is your own self today. So, give yourself all the love and support you can. Don't try to enslave yourself. This never ends up pleasantly.
Astrology and Magic:
Purification, block removing and karma cleansing are the most powerful subjects today.
That's all. Have fun and enjoy your day.