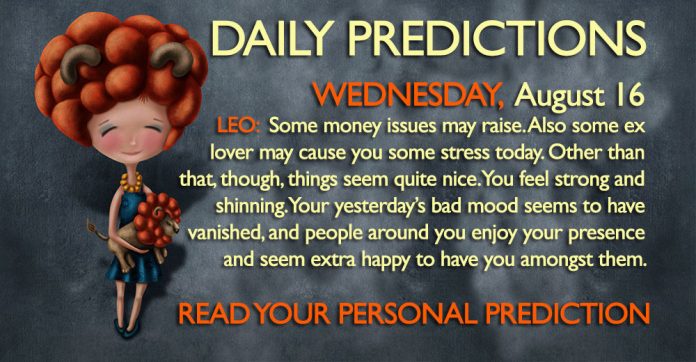 General Daily Predictions: Today Moon is rather busy. It will form a great number of aspects. The strongest ones, the ones we will actually feel are: a square with the retrograde Mercury in Virgo, a square with the retrograde Neptune in Pisces, a hexagon with Mars in Leo and a triangle with Jupiter in Libra. As these will happen in this order, expect a day that starts worse than it ends. So, yes, it will be a stressed day, but not that bad.
Leo and Libra are the luckiest zodiacs of the day. Virgo and Pisces are the unlucky ones. Gemini will have the most stress day, but not that unlucky a day.
Daily Predictions for Aries:
Some stressful interactions with co-workers or clients may happen today. Even more so if your job is internet based. Also, avoid spending much money through internet, don't believe all the rumours you read there and take extra care of your social media. On the bright side, your love life seems happy today. Sex may play important role there, too.
Daily Predictions for Taurus:
You are probably the exact opposite of Aries today. Your love life doesn't seem happy. Misunderstandings and disappointments there. Is your other half afar on a trip or on a regular bases? Then the problems may be even worse. On the other hand, things "here" are much better. A good business deal is possible, as well as an unexpected income raise. Of course, we are under the influence of the Eclipse, so be extra careful about whatever contract you are signing.
Daily Predictions for Gemini:
Home is troublesome one way or the other. Minor problems in the actual building may appear, but mostly problems with its members. You may even feel that you don't want to be there, or that your family cuts your wings. Your friends are supportive though, so depend on them. A new love interest or a new child may bless this day for you.
Daily Predictions for Cancer:
This day is emotionally very unbalanced for you, so take good care of yourself. It's not as much as that what happens is such a great thing. It is that you feel everything to the extreme. Thus, small things can make you extra happy or extra sad. This includes your own thoughts that seem somewhat uncontrollable. Avoid travelling today, especially over water. Concentrate on your home, family and job that seems to be those who bring you more happy feelings today.
Daily Predictions for Leo:
Some money issues may raise. Also some ex lover may cause you some stress today. Other than that, though, things seem quite nice. You feel strong and shinning. Your yesterday's bad mood seems to have vanished, and people around you enjoy your presence and seem extra happy to have you amongst them.
Daily Predictions for Virgo:
Your dreams about your life, don't seem very compatible with your spouse's dreams about their life. This brings some tension in between you two. In some better cases it's not so much the important dreams but everyday details. In any case be calm and don't overthink things. Your career, on the other hand, seems very promising, especially if it has to do with metaphysical and spiritual stuff. Money may come your way in great amounts today.
Daily Predictions for Libra:
Are you into spiritual path? Even more, are you actively studying, alone or in some short of school, the subject? If so, then this day may have some unpleasant surprises for you. Trust the fact that this is for the best, even if it doesn't seem so right now. Other than that, it will be mostly a pleasant day, and your self esteem and energy levels are high enough to help you overcome minor not so pleasant things easily.
Daily Predictions for Scorpio:
Magic, visualisation and everything like that regarding your career is very potent today. Make good use of those methods, but also a wise one. Skies are ready to listen to your requests, so mind what you are asking for you'll receive it. This occurs only on career matters though. Love life and social life are beyond your control and not in a happy way, but not bad enough to discourage you.
Daily Predictions for Sagittarius:
Problems with your spouse and your business partners are still the main focus. Today maybe even more. Well, these will be on the spot light until the energies of the upcoming eclipse calm down, but some days, like this one, they will be even more so. Be patient, and don't take any decisions. You'll probably regret them later. Share your problems with your friends. Especially not the ones you consider very close friends. Funny and innovating ideas can drop on the table.
Daily Predictions for Capricorn:
If your job is somehow connected with sex, beauty, health and psychological health, expect a very good day there. Maybe a life changing day. If your work has nothing to do with these subjects, do expect a good day, but not as fascinating. People you consider close friends seem distant today. It can be their having problems, or your feeling they are not there for you. Don't jump to conclusions. It's not the day to do that.
Daily Predictions for Aquarius:
Although the day doesn't seem to be very happy and fulfilling, and some money issues may appear, at the end of it you'll realise it was an altogether nice and happy day. Have you had problems with your spouse lately? Today most of those problems seem to simply have disappeared. Enjoy that today, but don't forget to deal with the problems.
Daily Predictions for Pisces:
Your relationship with your spouse doesn't seem that good today. You feel like there is no balance in this relationship, and probably you feel like you've picked the short straw. Step in your spouse's shoes, and you may find out they think the same. Try to fix this issue, if possible. Sex is a good way to start. You feel sexy today, and your spouse sees that. Work progress well. Some happy news may reach your ears.
Astrology and Magic:
Cleansing of negativity, road opening, and wish fulfilling spells are favoured. Here are a few of our spells and articles.
That's all. Have fun and enjoy your day.