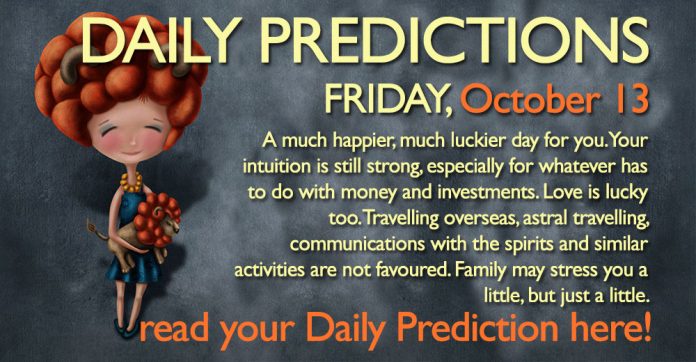 General Daily Predictions:Today Moon from Cancer will square the retrograde Uranus in Aries and form a hexagon with Venus in Virgo. Then, it will enter Leo, and from there it will square Jupiter in Scorpio. In the same time, Mercury will form a perfect hexagon with Saturn in Sagittarius today, releasing some of Saturn's stress.
So, it may me Friday the 13th, but it will be much better day than the previous two. There still is some stress, but less than it used to be, and more luck too.
Cancer, Libra and then Sagittarius and Scorpio will be the luckiest zodiacs of the day. Taurus, Leo and Aries will receive the most stress.
Daily Predictions for Aries:
Work and studies are lucky and pleasant today. They become even more pleasant as the day proceeds. Meditation for self healing can be very beneficial today. This, can come as a not so pleasant experience, but the results will be good.
Daily Predictions for Taurus:
Socialising can be very happy and lucky today. A new love or sex interest can appear for the singles. Love and sex are lucky for those already in a relationship too, but some issues can appear later on the day. Nothing too bad, but control your temper and reactions, if this comes to pass.
Daily Predictions for Gemini:
Things seem to settle down a little. Home, family and the relationship with your spouse are the first to do so. Work is better, but still stressed. Money is also a main issue. Both income and expenses. But its importance declines as the day progresses.
Daily Predictions for Cancer:
This is probably a very good day for you in almost every aspect. Love life is auspicious, although not extremely lucky. Socialising can help your love goals. Long term career goals can face some difficulties, external or internal. But this is probably the only negative aspect of the day.
Daily Predictions for Leo:
A much happier, much luckier day for you. Your intuition is still strong, especially for whatever has to do with money and investments. Love is lucky too. Travelling overseas, astral travelling, communications with the spirits and similar activities are not favoured. Family may stress you a little, but just a little.
Daily Predictions for Virgo:
Socialising is still important, and much more happier and luckier. Creating personal profiles, and self advertisement through internet and similar media is favoured. Avoid sexual chatting, though. Progress in business seems to be halted, but this is just because preparations need to happen, and they happen. Problems related with a friend can be solved today.
Daily Predictions for Libra:
This is a good day in most aspects. Lucky and happy. Nothing too great, probably, but many little good things. Investments can happen, and also other necessary expenses. These are good, but temporarily stressful.
Daily Predictions for Scorpio:
For those travelling for their job, or their job deals with people from other places and countries, this will be a productive and lucky day, if your job is about services. Trade is not as lucky. In some cases it can even be unlucky. But, even then, connecting with clients and other important people for your job can benefit you in the long run.
Daily Predictions for Sagittarius:
You are still a little oversensitive, but not too much so. Things, in general go well, so this helps too. And you feel much confident today. There are still some issues. Some of them in your mind, some in your life. But you believe you can handle them. You actually can.
Daily Predictions for Capricorn:
This day seems more pleasant. Or, at least, you have better expectations from it, and it will meet some of them. Long distance relationships receive a great amount of blessings. If you are in such a relationship, expect good things to happen. Family can be very pressing today. Your spouse or lover can have some problems of their own and this colour the way they act towards you.
Daily Predictions for Aquarius:
Work is still good. Short term goals are easier and luckier than long term ones, but this is good nonetheless. Internet based business are luckier and more prosperous. Magic and sex based business too. Be a little extra careful with your mobiles, computers and other similar devices, especially when you are near water.
Daily Predictions for Pisces:
Love is still important and very luckily so. Your attractiveness is very strong too. But as the day proceeds your focus goes from love to work and career. There are some happy developments there. Maybe nothing too certain yet, but probably more permanent than you think. Overspending in pleasures and luxuries is a trend for you today. Spend, but don't overspend.
Astrology and Magic:
Magic for long term goals, and of the Earth element is strong. Love Magic, of course, is strong. It will be so until the 22nd of the month, after all. Today is the Pushya Nakshatra. A very good day to remove all problems and open the roads of success.
That's all. Have fun and enjoy your day.