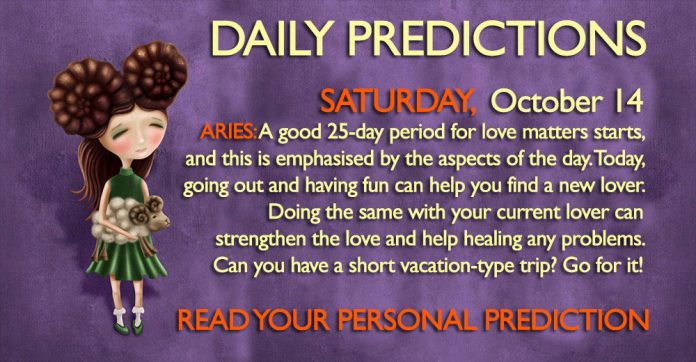 General Daily Predictions: Today the Moon from Leo will form a hexagon with the Sun in Libra and a triangle with Saturn in Sagittarius. It forms no major inauspicious aspects. So, this is a much luckier, happier, and easy going day. Saturn's stress is very much reduced as it is supported with two hexagons. One from the Moon and one from Mercury.
The major change this day brings is Venus' movement from Virgo in to Libra. This will be a generally beneficial change in our love lives. Venus rules Libra, so when it is there, it's blessings is even stronger and better. Venus' conjunction with Mars is still active too. Libra rules the meaningful relationships, and it is a much more outgoing zodiac than Virgo. So, all these are good, especially for those seeking a new relationship.
Love and beauty become now very important for Libra, Aries and Gemini. Luckier for Aries, Gemini and Libra, in this order. The same goes, of course, for those having their Ascendant in these zodiacs.
Taurus, the other zodiac ruled by Venus, will still be lucky in love matters. Maybe more lucky, in some ways, at least until the 22nd of the month. But there will be less focus on the subject. Until now there were too many planets forcing you to focus on the matter, but now this changes. Slightly. Of course, Chiron and Jupiter work on this aspect, so, less focus, not no focus at all. On November 7 this will change again. Love life will, once again become the main focus for the zodiac, and this time there will be much more luck, as Chiron's activity, by then, will have much declined.
Leo, Libra and Sagittarius will be the luckiest zodiacs of the day. Aquarius, Aries and Gemini will receive the most stress, but I believe they will also have a good day.
Daily Predictions for Aries:
A good 25-day period for love matters starts, and this is emphasised by the aspects of the day. Today, going out and having fun can help you find a new lover. Doing the same with your current lover can strengthen the love and help healing any problems. Can you have a short vacation-type trip? Go for it!
Daily Predictions for Taurus:
Work and family are both important for you today and consume most of your time. Beautification of yourself and of your home is also a trend of the day. You are trying to make your home more welcoming and comfortable. There is a demanding need for a strong bond with you loved one. If you have one in your life, give them your care and attention. You'll achieve much progress. If you don't this aspect can be somewhat unpleasant.
Daily Predictions for Gemini:
This is a happy and social day. It is lucky in this aspects too, so if you don't have it in schedule, reschedule! Today's socialisation though, it is done with people you consider close to you and important to you mostly. You want to, and can, have nice time with such people. On the other hand, you are not very much in a mood for crazy-party-type of socialisation. And also, this kind can bring you some stress. Are you in a relationship? Give most of your time to your partner then.
Daily Predictions for Cancer:
Home, and work are favoured today. This includes working from home, and doing house keeping. If you want to start a new diet, or a health supporting dietary or gymnastic program, this is a good day to do so. Making your home a little more glamorous can also be in your mind today. This also receives good influences, so, go on!
Daily Predictions for Leo:
Today it's a very good day for you. You feel good and you radiate a captivating aura. This can help you in your love hunting, of course. It can also make your current lover fall more in love with you. Your friends, co-workers and clients are also bewitched by this aura and they are more willing to help you, support you or buy what you are selling, products or services.
Daily Predictions for Virgo:
Your intuition is rather strong. Empaths will feel this influence more very much. In some cases more than they would like. A good day for games of luck, but I should remind, the stars raise your odds. They don't secure your victory. So, play wisely. Family can be a little stressful in predictable ways, and therefore you deal with it easily.
Daily Predictions for Libra:
Very nice day for going out and having fun. Meeting new people is also favoured today, both from your social circle, and from internet and similar means. Work proceeds easily, but nothing too important happens there. Phone calls and emails may take much of your time, especially if you have neglected contacting people you should have.
Daily Predictions for Scorpio:
A very good day to start new business today. Money can feel a little tight, but you feel assured in the same time that you can make it. You tend to be a little moody at times, but most of the time your mood is good. Your intuition is also strong. Especially regarding career decisions.
Daily Predictions for Sagittarius:
Students will have a very good and productive day. This will influence those who are studying on their own too. Spiritual studies also receive blessings. Enrolling yourself in such a seminar today will be lucky. Authors, of all genres can have a very lucky and advantageous day too, both in promoting themselves and in their writing. The rest will have a quite, yet mostly happy day.
Daily Predictions for Capricorn:
There is great magical energy in you today. Intuition is also strong. You are most promising in work and career spells, but you are strong in any kind of magic. Other than that, arts and all careers involving imagination are very much favoured. All other careers also receive good luck and blessings, just not as many as the previously mentioned ones.
Daily Predictions for Aquarius:
There is much focus in your partners, business and life alike. There may be some stress in their lives which affect you to a degree. Other than that, though, nothing too much. Long distance relationships can become warmer today. Are you seeking for love? Try places where you can find like minded people. Intellectuality can become the sparkle of love.
Daily Predictions for Pisces:
Work and career take the spotlights today. They are progressing well, and in some cases you can expect some beneficial developments in the area. Sexuality and sexual magnetism are strong, so you can be lucky in your hunt, but are you in mood to hunt? Sexual health also receives many energies. If you want to enhance it in any way, this is a good day to start doing so.
Astrology and Magic:
Fire magic of all subjects is very strong. Sun's magic more than Mars', if you are working with the planetary energies and rather than the elemental ones. Love Magic is strong and will be so until the 22nd of the month. I'm sure you know it by now, but I remind you of this nevertheless.
That's all. Have fun and enjoy your day.