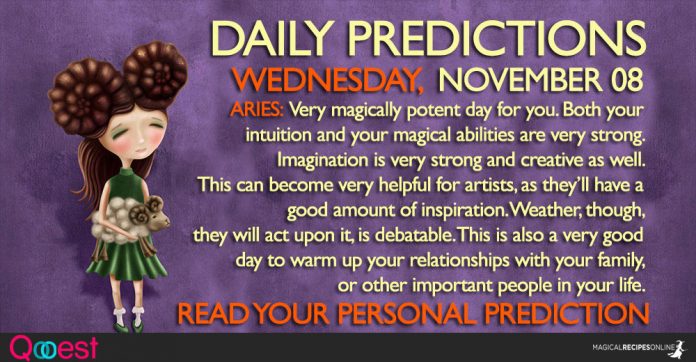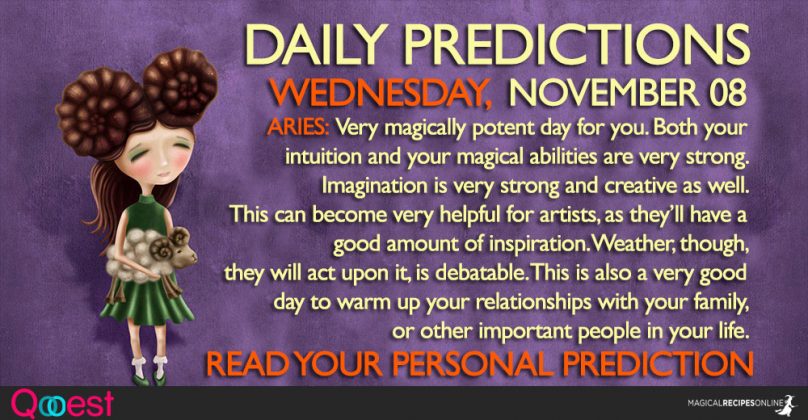 General Daily Predictions: Today the Moon from Cancer squares Mars in Libra and opposes Pluto in Capricorn. It also forms a triangle with Neptune in Pisces and one more with Sun in Scorpio. From the negative aspects, Mars' square is the one we'll feel the most. Pluto, after all, is supported by the Sun. Sun also supports Neptune, and so does Jupiter. Therefore, the auspicious aspects are very strong and will overpower the inauspicious ones. Magic is very strong during the whole waning moon, but today even more so.
So, this day will be mostly good. We may feel some stress and an annoying restlessness, or we may feel unmotivated to work or do what we need to do. Some depressing thoughts may come in mind as well. But these will be the only negative things, probably. Other than that, mostly pleasant things.
Some groups of people, though, may have it a little more difficult. Those with existing mental disorders, may see them acting up a little today. If this is your case, do what you need to do to control your condition. Those with addictions on alcohol, drugs and the like may feel this addictions becoming very strong today, or very important, one way or another.
Scorpio, Pisces and Cancer will be the luckiest zodiacs of the day. Libra and Capricorn and Aries the ones facing more stress.
Daily Predictions for Aries:
Very magically potent day for you. Both your intuition and your magical abilities are very strong. Imagination is very strong and creative as well. This can become very helpful for artists, as they'll have a good amount of inspiration. Weather, though, they will act upon it, is debatable. This is also a very good day to warm up your relationships with your family, or other important people in your life.
Daily Predictions for Taurus:
Universe tries to send you something new. A new job, a new partnership, or even a new relationship. If you are searching for any of these, at the very least cast a spell for it. Internet promotion is very auspicious. Re-establishing contact with people is auspicious too. Your health may need a little attention.
Daily Predictions for Gemini:
All work and money matters are auspicious today. Depending on the individual case, great progress can be achieved with just a little effort. Even, though, if "just a little" isn't accurate, you'll probably need less effort than you thought you would. Your mood may have its ups and downs.
Daily Predictions for Cancer:
Ritual magic is particular strong for you today. Meditation, yoga and similar schools or seminars can become important. Starting lessons on spiritual subjects today is auspicious. Love life is also lucky today. Finding a new love, too.
Daily Predictions for Leo:
Your intuition and magic are strong. Especially so for enhancing your appearance and seductiveness. Family can give you some joy today. They demand your attention, but they don't intend to stress you. Siblings, though, or close friends, may actually give you some temporary stress.
Daily Predictions for Virgo:
Spending time, in person, on telephone, or in other ways with friends, partners and co-workers is probably what you'll do most of the day. And for the most of it, it will be a pleasant experience. Buying new computers, phones or tablets is auspicious.
Daily Predictions for Libra:
Career and money matters receive many blessings today. Existing physical health issues, calm down or cease to exist today. Your energy levels, though, may be very low. In some cases you may feel super energetic one moment and lifeless the next. Therefore, it would be wise to keep your schedule flexible.
Daily Predictions for Scorpio:
Love life seems much better today. Artistic and philosophical groups can become a source of a new love. Finding such a group to join, with or without love in mind, is auspicious. Your intuition is a little untrustworthy today, though.
Daily Predictions for Sagittarius:
Be a little careful with the people you are chatting with on the internet, or something similar, and you don't know them in person. Think twice before revealing any personal information to them. Phone, or mail scams are also something you may encounter today. Other than these, though, your day is mostly good and pleasant.
Daily Predictions for Capricorn:
A very social day. This socialising may happen because of your work and, theoretically, for your work, but you probably feel like you are losing valuable time. If work isn't involved, though, this will be a mostly pleasant experience, and day.
Daily Predictions for Aquarius:
Today both money and work receive many blessing. You may choose to invest some money on your good health. If you choose to do this, do it, but do not spent "promised" money. Only money you already have. Students, and especially those on schools about health and beauty, may have a stressful, boring or tiresome day.
Daily Predictions for Pisces:
Your mood is still a little sensitive. It is basically in a good condition, but other people's words and actions can influence it strongly, either for better or worse. Sex and love life, today, are inauspicious. Problems there may occur, or get intensified.
Astrology and Magic:
All magic is strong today. Love, beauty and money, even more so. Also, all meditative and hypnotic techniques are very potent and will remain so until the Third Quarter.
That's all. Have fun and enjoy your day