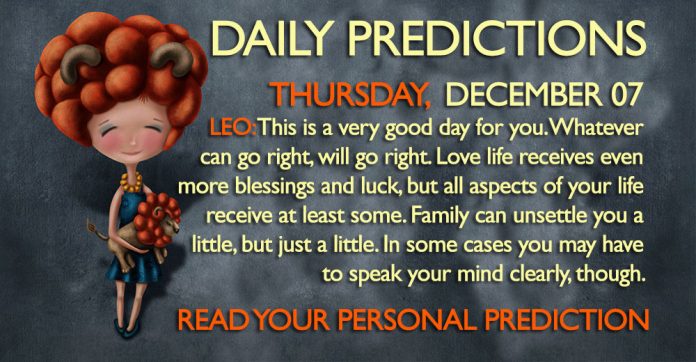 General Daily Predictions: Today the Moon from Leo forms a triangle with Venus in Sagittarius, and one with Sun in the same sign. It also forms a square with Jupiter in Scorpio. So, this is going to be a good day. At the very least, for the most of it.
Sagittarius, Leo, and probably Aries, will be the luckiest zodiacs for today. Gemini, Aquarius and Libra will be the ones with the less luck.
Daily Predictions for Aries:
This will be a mostly happy day for you. Both love and money receive some blessings. Artistic creations and studies too. But there is also a joyful feeling in almost every aspect of your life. Your most important and intimate relationships though, can trouble you a little, but only if there are already some problems there. Otherwise, they'll also give you joy.
Daily Predictions for Taurus:
Home can become a good place to be, today. If you are working from home, your day will be satisfactory and probably fruitful. Also, your family, or even room-mates, will enjoy your company and you theirs. Beautifying your home is also auspicious. Things between you and your spouse or partner can occasionally become a little tense, but this tension can be a good one, too, depending on your individual case.
Daily Predictions for Gemini:
Work can be a little stressful, but not bad. Probably very busy, and maybe more than it needs to be. But it will be productive, regardless. Socialising is auspicious. If you are in a relationship, spend time with your special someone, and it will be a pleasant one. If not, spend time with your friends.
Daily Predictions for Cancer:
Your health today improves, if you have had problems there. Work, also goes smoothly. Jobs about health and beauty will be more profitable than the rest. Also, activities, or purchasing of products, that will help you enhance your health and beauty are auspicious. But don't overdo it. You have a general tendency to overspend today. Try to control it.
Daily Predictions for Leo:
This is a very good day for you. Whatever can go right, will go right. Love life receives even more blessings and luck, but all aspects of your life receive at least some. Family can unsettle you a little, but just a little. In some cases you may have to speak your mind clearly, though.
Daily Predictions for Virgo:
Your mood is easily influenced by what the people of your life feel about you, say to you, etc. It seems that today you are receiving, at least, mostly positive vibes. This can brighten your day and you mood. Other than that it will be a generally harmonious day.
Daily Predictions for Libra:
This is quite a good day for trade-based business, despite the retrograde Mercury. Also, if you want to buy something, this is probably a good day to do it. You may feel unsure about your financials. Some expected money may have been delayed, too, but good developments will happen there, today, as well.
Daily Predictions for Scorpio:
From time to time your self confidence can be a little challenged. But things are progressing nicely, nevertheless. Work and money matters receive the most luck, but almost all aspects of your life are lucky today.
Daily Predictions for Sagittarius:
This is a very powerful and much promising day for you. You feel confident and capable and compel the universe to "obey" your will. So, things will proceed nicely and much luck will come your way. Mental abilities are strong, but psychic ones can also be strong but difficult to activate.
Daily Predictions for Capricorn:
Your magical abilities, and your intuition are very strong today. Imagination is very strong and creative too. Your important people of your life seem to support, encourage and inspire you, even without them realising it. Some of your less important people though, may "force" you face some of your weak points. Them, too, may do it without their knowledge or intention.
Daily Predictions for Aquarius:
Love life for those in a relationship seems nice and happy today. Those seeking one have neither negative nor positive influences on the subject. Meetings with your business partners, or similar procedures can become fruitful in unpredictable ways, as you may come up with unusual but good ideas.
Daily Predictions for Pisces:
As it happens with all the waters today, work matters proceed very nicely and auspiciously. Are you trying to make a name for your professional self, or your company? This is a day that can help you set the foundations. A difficulty in concentration may appear, especially in studying. On the other hand, energy or mental healing is quite effective.
Astrology and Magic:
Love and money magic are very strong today. Health magic is also remarkably promising.
That's all. Have fun and enjoy your day.
Q&A – so to say:
And let me say a few things, replying to some recent comments.
Whether the Daily Predictions are auspicious, or inauspicious depends on the aspects of the planets. It's not of my choice. Personally, I prefer writing the predictions of the auspicious days. As one said, "auspicious" is one of my favourite words, after all.
Also, the aspects analysed in the daily predictions are short-acting lunar aspects. Therefore, they may, or may not, manage to manifest what they are trying to. This depends, mostly, on what each of us has already created in our lives, and, of course, on our natal chart.
If you want to know about the stronger, long lasting aspects that influence us the most, then please refer to the New Moon's and Full Moon's articles, as well as to articles like Jupiter in Scorpio which analyse these aspects. Also, as these articles are much lengthier, there are more advices and suggestions whenever is possible.
Finally, about the retrograde Mercury and how to make the most out of it, we have several articles in our site and you can find them by searching there, or by following the links in the "Astrology and Magic" part of the Daily Predictions. In this Full Moon's article you can find most of these articles about the retrograde Mercury.
So, now indeed, that's all! Have fun and enjoy your day!