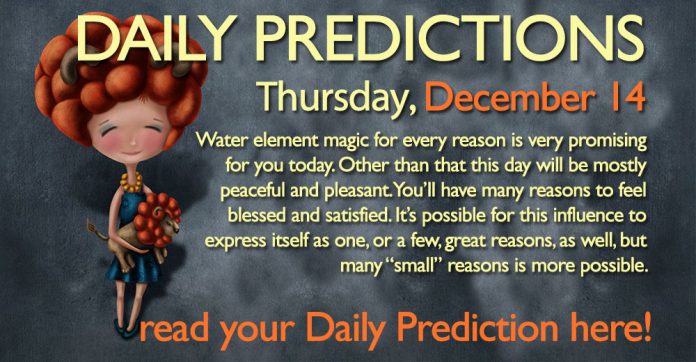 General Daily Predictions: Today, the Moon from Scorpio triangles Neptune in Pisces and conjuncts Jupiter in Scorpio. This has the makings of a brilliant and magical day.
Scorpio, Pisces and Cancer will be the luckiest zodiacs. Aries, Taurus, Virgo and Capricorn will be the less lucky ones. Less lucky, though. Not unlucky.
Daily Predictions for Aries:
Today can be a very magical day for you. Both magical powers and intuition are very potent today. Sexual energy and sexual magnetism are also very strong. Jobs that require empathy, understanding, or imagination will be very productive.
Daily Predictions for Taurus:
Love life can be benefited quite a lot today. Existing problems can find a solution, singles can be lucky, and those in a relationship without problems can come closer. Work matters also receive some blessings. Especially web-based business.
Daily Predictions for Gemini:
This day can be brilliant for all work matters. Finding a job, progressing in the one you have, or making satisfactory profit out of it, are some of the ways these blessings can manifest in your day. Paths to your dream career may open, even if just a little bit. Supporting spiritually your work and career dreams can also be a very promising strategy.
Daily Predictions for Cancer:
A very happy day for most, if not all, matters this is for you. Love life receives much luck and many blessings. Finding a new love in places of studying is very possible. Also, travelling for pleasure is very auspicious.
Daily Predictions for Leo:
Water element magic for every reason is very promising for you today. Other than that this day will be mostly peaceful and pleasant. You'll have many reasons to feel blessed and satisfied. It's possible for this influence to express itself as one, or a few, great reasons, as well, but many "small" reasons is more possible.
Daily Predictions for Virgo:
Jobs which are contacted through internet, phone, or similar means receive much help today. Social life is also supported. Being with friends can be very pleasant. Being with your special someone can be even more so.
Daily Predictions for Libra:
All money and work matters receive blessings today. Much luck too, but not the gambling type of luck, regarding money. It's not an inauspicious day for gambling, though. It's just that gambling isn't influenced. Also, beautification, magical and non magical seems very promising.
Daily Predictions for Scorpio:
This is a very good and probably a very joyous day for you. You generate good luck and, thus, you attract pleasant and beneficial events and situations towards yourself. Your ability to entice people is also stronger than usual, so single may get lucky.
Daily Predictions for Sagittarius:
This will be a mostly peaceful, quite, and harmonious day for you. It's an important day as things settle down and the roads of success, for whatever you wish to accomplice, open. If they are already open, they can get wider, and the path much easier. But, for those engaging with spirituality, this can be a very productive, or otherwise beneficial, day.
Daily Predictions for Capricorn:
Trade and even more so, international trade, receives very beneficial influences. Also, if you need to start an advertising campaign during the retrograde Mercury, this is probably the best day to do so. Socialising, both person to person and through internet, can also be a very happy and lucky thing to do.
Daily Predictions for Aquarius:
Work and money are very auspicious today. If you intended to change your job, you career, or your course of studies, this day will make things clearer and much easier. If you didn't intend to so something like that, and today this thought occurs to you, or an opportunity presents itself, keep it in mind, but avoid hasty decisions.
Daily Predictions for Pisces:
Yourself has a lot to tell you today. So, listen. Also try to express yourself during the day, even if just a little more than you usually do. Don't force this to happen. Encourage yourself to do it. Good things can happen if you do so. Other than that, studies receive many blessings today.
Astrology and Magic:
Wish manifestation, and magical empowerment are the strongest points of the day, magic-wise.
That's all. Have fun and enjoy your day.