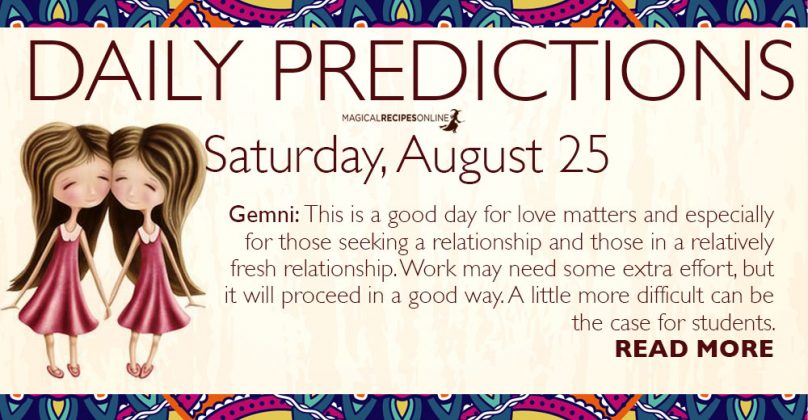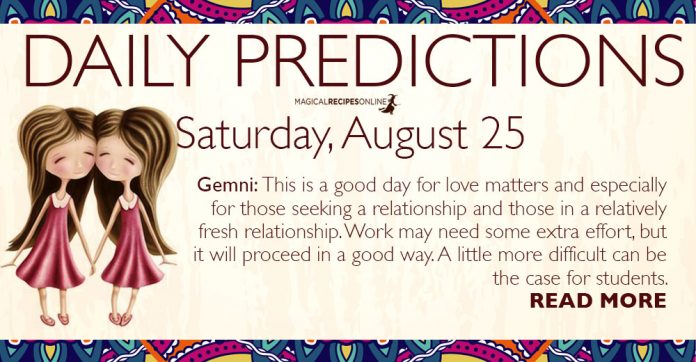 General Daily Predictions: Today, the Moon from Aquarius squares Jupiter in Scorpio. It also forms a triangle with Venus in Libra. Then it goes void of course for 25 hours, starting at 04:38 UT and ending on the day of August's Full Moon at 05:32 UT.
Also, today the Sun from Virgo forms an accurate triangle with each the Retrograde Uranus in Taurus and the Retrograde Saturn in Capricorn. This powerful and beneficial Great Trine of the Earth is analysed in the Full Moon's predictions.
So, this is going to be a good day with a few difficulties. The stress upon Jupiter is nothing to worry about now that the Lucky Star is back in direct motion. It makes Jupiter's blessings more difficult to receive, but it's unlikely to create problems. So, the greatest challenge, in my opinion, is the void of course Moon. Avoid new beginnings of all kinds, and signing important contracts and deals during this an-hour-longer-than-a-day period.
Aquarius, Libra and probably Taurus will be the luckiest zodiacs of the day. Scorpio and probably Cancer and Pisces will be the less lucky ones.
Daily Predictions for Aries:
Be a little reluctant on spending too much money on phones, computers and the like, today. This doesn't mean you should avoid buying such equipment, but simply avoid spending more than you need to. Business meetings and discussions with colleagues and partners can become quite fruitful.
Daily Predictions for Taurus:
This is a very good day for all work and career matters, especially so when they have to do with beauty, or the arts. Bosses and partners can be a little difficult to approach to deal with, but even with them you can have some desired results. Just keep your cool.
Daily Predictions for Gemini:
This is a good day for love matters and especially for those seeking a relationship and those in a relatively fresh relationship. Work may need some extra effort, but it will proceed in a good way. A little more difficult can be the case for students.
Daily Predictions for Cancer:
This is a pleasurable day in many ways. Sex is one of those, this may not be as pleasurable as you would like it to be. In some cases this will happen just because you libido is too strong to be easily satisfied. Taking care of your surroundings and beautifying them can lift your spirits. It can also bring other forms of good luck.
Daily Predictions for Leo:
This day is likely to bring some good news or developments regarding your love life, or the one of siblings and sibling figures. Your schedule can become a little too tight, but the outcome will be of your liking. Those in a marriage or a long standing relationship may face some stress there, but nothing too serious, most probably.
Daily Predictions for Virgo:
This is a good day for all work matters. It can become quite profitable, too, especially for those whose income depends on each day's results. But even more, this day can affect, positively your work and income. On the downside, it can become a little too tiresome and busy. If you are presenting ideas to colleagues and superiors, this can also be a little difficult for you.
Daily Predictions for Libra:
This is a mostly happy and lucky day for you. There is some danger to overspend in luxuries, but if you control the "over", there is no reason to avoid the "spend" part. In any case, though, other than some unnecessary, or undesirable expenses, the day will be good in all the other aspects of it.
Daily Predictions for Scorpio:
Home and family seem quite important for you, today. It's also a good day to either heal or better relations there. In some cases some wrong, or miscomprehended words may initiate the procedure. If something like this happens in your case, try not to focus on the negative feelings, but rather on the opportunity to make things better that accompanies them.
Daily Predictions for Sagittarius:
All kinds of trade of goods and services receives beneficial influences. Products and services of beauty, health and technology even more. It's also a very good day for all social activities. This, of course, includes internet socialisation. But, people who are important to you may hurt your fillings a little, probably unintentionally so.
Daily Predictions for Capricorn:
Today money matters seem good and lucky. There is some luck for gabling, too. As always, keep in mind that the stars don't guarantee your victory. They only rise your chances. Work and career also seem good. Trade, though, may have some obstacles, but not too many.
Daily Predictions for Aquarius:
Career matters can pose some difficulties, especially if you are expanding your business, or trying to better your work position. Nonetheless, if what you are doing doesn't fall under the restrictions of the void of course Moon, proceed determinately. If it falls under them, try your best. Other than that, the day can help you come some steps closer to your dreams.
Daily Predictions for Pisces:
All magic is strong for everyone, today, but for you even more so. Both your magical and your spiritual powers are in top condition, so do make the best use of them. Also, the more positive your outlook is, the better this day will be for you. Rational thinking may not be your strong point though.
Astrology and Magic:
All magic is strong. Love and beauty magic even more.
That's all. Have fun and enjoy your day!