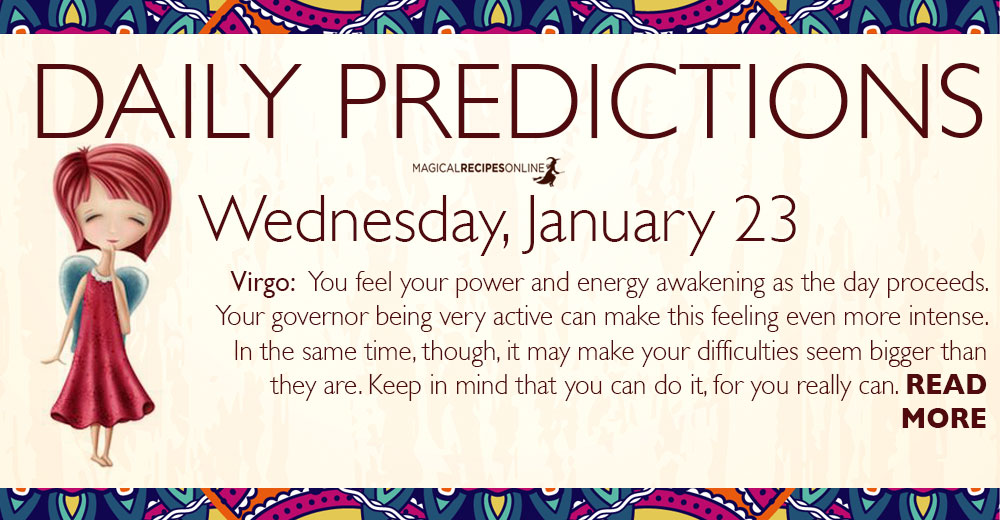 General Daily Predictions: Today, the Moon from Leo forms a triangle with Uranus in Aries. Then it rests in Virgo.
Also today, Mercury from Capricorn accurately squares Uranus in Aries and it forms an accurate hexagon with Chiron in Pisces.
So, this is going to be a somewhat calm day. A good day for resting, recharging our batteries and scheduling for the days ahead.
Leo, Aries and Virgo will be the luckiest zodiacs of the day. Capricorn will be the less lucky one.
Daily Predictions for Aries:
This is quite a pleasant day for you. It can also help you to take proper care of your health, home, or place of working.
Daily Predictions for Taurus:
Spiritual abilities are still quite strong. Maybe less strong than yesterday, but they can help you more when it comes to changing yourself. Some joy may come in your day, probably mostly from within, or from your own actions.
Daily Predictions for Gemini:
Friends and acquaintances may play a pleasant role in your day. Family, too. It's also a good day to take care of your home needs, as well as for resting and relaxing. In fact, make sure you'll do some of that.
Daily Predictions for Cancer:
Money and work are somewhat lucky, today. Wherever some manoeuvring is necessary, this is a good day to act upon it. It's also a good day to be with friends and have some fun with them.
Daily Predictions for Leo:
This is quite a pleasant day for you. It gets somewhat calmer as it goes on, but in a pleasant way, nonetheless. It can also be somewhat helpful regarding your finances.
Daily Predictions for Virgo:
You feel your power and energy awakening as the day proceeds. Your governor being very active can make this feeling even more intense. In the same time, though, it may make your difficulties seem bigger than they are. Keep in mind that you can do it, for you really can.
Daily Predictions for Libra:
This is a good day to day to dedicate to your own thoughts and feelings. Other people and especially those close to your heart can become pleasant distractions, or supportive allies. If they become the former, enjoy your time with them, but do some work with yourself, too.
Daily Predictions for Scorpio:
Work and career still receive beneficial influences. Maybe not as strongly as yesterday, but they are much calmer and much easier for you to make the best out of them. Also trade can be somewhat luckier. Social life, too.
Daily Predictions for Sagittarius:
All kinds of jobs and careers receive some pleasant influences, today. Maybe not something huge, but it is a good thing, nonetheless. Those seeking a new job, or trying to achieve some change in their career, can experience this influences even better.
Daily Predictions for Capricorn:
The day can help you redefine your priorities and, maybe, even your goals. It can also help you think of better ways to achieve what you need to achieve. Help and support can also appear.
Daily Predictions for Aquarius:
Discussions, unpleasant as they can occasionally be at times, can help you make things better with the important people of your life. It can also help you make your relationship with them more fulfilling.
Daily Predictions for Pisces:
Work receives some pleasant energies. It's a good day for creating small changes there. It's also a somewhat helpful day if you need to achieve some agreement with your partners, or prospective partners.
Astrology and Magic:
Changing of luck can be very effective, today.
That's all. Have fun and enjoy your day!