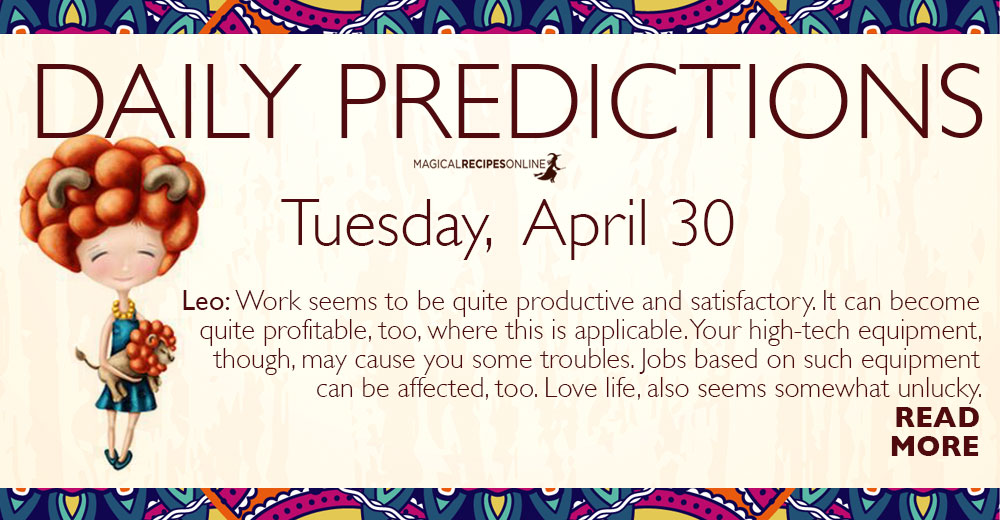 General Daily Predictions: Today, the Moon from Pisces squares Mars in Gemini and Jupiter in Sagittarius. It also conjuncts Neptune in Pisces, and forms a hexagon with each the Retrograde Pluto and the Retrograde Saturn, both in Capricorn. Furthermore, from 21:57 UT until 10:23 UT of the 1st of May, the Moon will be void of course.
Also today, Saturn turns into retrograde motion.
So, this is somewhat a stressful day, but it has some very positive vibes, too.
Pisces and Capricorn will be the luckiest zodiacs of the day. Gemini and Sagittarius will be the ones receiving the most stress.
Daily Predictions for Aries:
Your intuition, empathy and your spiritual and psychic powers, overall are quite strong, today. Also, career receives quite positive, strengthening and stabilising influences. Studies and travelling, though, seem to be a little stressful.
Daily Predictions for Taurus:
Artistic creativity seems strong. Your communicative abilities are also in a very good condition. Money, though, can be stressful and its handling needs more attention, to avoid future problems.
Daily Predictions for Gemini:
Career matters receive both supporting and stressful influences. New beginnings and business meetings receive mostly the stressful ones, while productivity, creativity and income receive mostly the beneficial ones.
Daily Predictions for Cancer:
This is a good day for being with those you consider important. Both giving and receiving support and inspiration are possible. On the other hand, travelling can be a little stressful and health, too, especially your emotional health and well being.
Daily Predictions for Leo:
Work seems to be quite productive and satisfactory. It can become quite profitable, too, where this is applicable. Your high-tech equipment, though, may cause you some troubles. Jobs based on such equipment can be affected, too. Love life, also seems somewhat unlucky.
Daily Predictions for Virgo:
Love life receives very beneficial influences, both for those in a relationship and for those seeking one. Relationships with a significant difference in age receive even better influences. On the other hand, family matters, business matters and your relationship with your business partners can cause you some stress.
Daily Predictions for Libra:
Travelling, transportation and all forms of travelling receive some stress. On the other hand, this is a good day for taking care of your home, health, and for organising your life.
Daily Predictions for Scorpio:
Reawakening playfulness and joy in your life can rejuvenate you. Doing the same in your relationship can both rejuvenate it and strengthen it. Singles can also have a lucky day, love-wise. Money, though seems to be a little stressful, and the way you spend it and invest it needs some extra thought.
Daily Predictions for Sagittarius:
Money is supported, today. Healing your finances receives even better influences. It's also a good day for buying or renting property, but do that before the void of course Moon period, if possible. Your spouse or current love, on the other hand, may stress you, and your family may be somewhat discouraging, or unsettling.
Daily Predictions for Capricorn:
Your mood and your health, both physical and emotional need some attention. Accidents can also happen, so be on the alert. On the other hand, your creativity and productivity are quite strong and you can do more, easier and satisfactorily.
Daily Predictions for Aquarius:
Money needs some extra attention. Spending it unwisely can cause you some extra troubles, too. Some expenses, though, may not be avoidable. In the same time, though, long term financial decisions receive support and you can so so long term procedures of healing your finances.
Daily Predictions for Pisces:
Moving to a new place of living, or working, purchasing one and similar things are receiving more stressful influences than beneficial ones. If you need to do it today, try to do it before the void of course Moon period. On the other hand, social life seems quite pleasant. Expanding your social circle, receives some good luck, too.
Astrology and Magic:
The stars reinforce all magical and spiritual techniques in this already powerful magical day. We are under Beltain's influences, after all.
That's all. Have fun and enjoy your day!