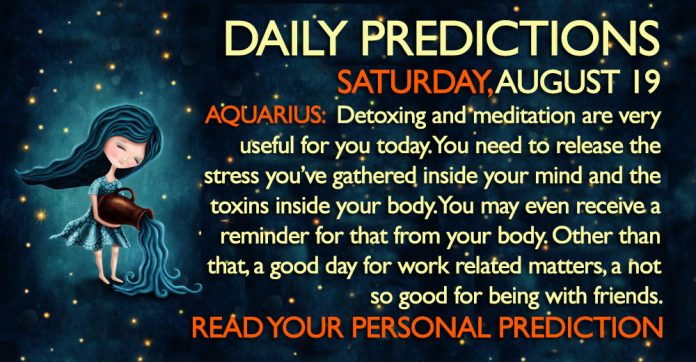 General Daily Predictions: Today Moon from Cancer will complete the square with Jupiter in Libra, conjunct Venus in Cancer, and square retrograde Uranus in Aries. In the meantime it will have highlight the retrograde Chiron in Pisces. Although the latter will be through a triangle, I wouldn't under the circumstances, call it any easy an aspect. Then, the Moon will enter Leo. I don't usually refer to the void of course Moon, but since this is a day we need to be extra careful, since both the most major aspects are difficult and the ecliptic influence is major, I'll say point it out. So, the Moon is void of course from 15:17 to 17:55 UT.
Leo will be probably the luckiest zodiac today, and Cancer will be quite lucky. Libra, Aries and then Capricorn should be more careful than the others.
Daily Predictions for Aries:
There is some emphasis in the home and in the relationship with the spouse. The latter will be more stressed but not altogether unpleasant. Take control of your emotions and imagination today, as they both run a little wild and lead you to experience everything and interact to everything in an irrationally extreme way.
Daily Predictions for Taurus:
Still a very social day, and, in that account, even more pleasurably than yesterday. Whatever kind of problems may occurred yesterday in your enjoying your social life, today seems to not exist. Your health and especially the circulatory system and the brain, may give you some stress today, but it's probably nothing serious. Of course, do take proper care of it!
Daily Predictions for Gemini:
Work keeps progressing nicely and a problem regarding work or money that has troubled you for sometime, today is possible to find its solution. Love life is stressed though, and even more social life. You may have to spend some money there (very) unwillingly.
Daily Predictions for Cancer:
Your career and then your home and family may cause you some stress today, but other than that it's a mostly happy day. You feel good, you feel attractive, and the world sees you as so. On philosophical or spiritual matters you may find a new mentor, or an old one you admire may return. Also you may find a way to study a subject you wanted to study for some time now, or other events of similar nature.
Daily Predictions for Leo:
Your spiritual powers are still very strong today, but so is your connection with the other planes and especially the plane of the dead. Be a little more careful whatever you are doing. You may encounter some small problems with some friends, but altogether this day will be a lucky and pleasant one.
Daily Predictions for Virgo:
Social life is good and so is your relationship with your spouse. With them you may come to discuss some problems you have between the two of you, but, unpleasant as it may be, it will be a mostly calm conversation and a beneficial one. Money are important too. Neither purely positively, but nor purely in a negative way either.
Daily Predictions for Libra:
Work still goes well, and offers you satisfaction. And in most aspects, your everyday life now seems more satisfactory than yesterday, and even more so than a few days ago. There may be some problems with your spouse, but ask yourself if you actually see things realistically. In most cases today, you don't.
Daily Predictions for Scorpio:
If you are a single looking for a relationship, then this is a very good to send the message to the Universe. The Key of Love is one of the most compatible spells for this purpose taking on regard the energies of the day. In any case this will be a mostly happy day. You have an unreasonable tendency to depression, so try to avoid that. Things around you are better than inside your imagination.
Daily Predictions for Sagittarius:
Your family today seems important. You are trying to connect better with them and they also try to connect deeper with you. This procedure may not be purely pleasant but it is a good thing to happen. Sexual activity may not be as satisfactory as you've imagined it to be today. So, don't make big plans on that subject.
Daily Predictions for Capricorn:
Social life is still good. Maybe a little pressing, as more friends want to meet you than you can fit in your schedule. Receive that in a good way. After all, it means you are beloved by many. Family, home and your spouse may stress you in one way or the other. Career is also highlighted today in a stressed but beneficial way. Especially for those in politics or show business.
Daily Predictions for Aquarius:
Detoxing and meditation are very useful for you today. You need to release the stress you've gathered inside your mind and the toxins inside your body. You may even receive a reminder for that from your body. Other than that, a good day for work related matters, a not so good for being with friends.
Daily Predictions for Pisces:
One more good day in most aspects. Some care may be needed in your financials, but in most cases reducing unnecessary expenses is the only thing you need to do. Set your priorities calmly and wisely. Love life is supported by today's energies, but sexual activities need some more attention.
Astrology and Magic:
Magic regarding health, karma cleansing, and obstacle removing is benefited today. Here are a few spells and articles that can help you make the most of the day.
That's all. Have fun and enjoy your day.