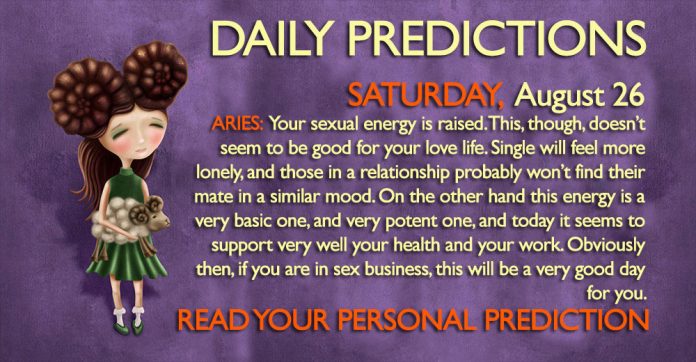 General Daily Predictions: Today Saturn, in Sagittarius, starts again its direct motion. Although, always, Saturn's influence is a difficult one, being in direct motion makes them a little easier. Also, they don't bring us across past problems and mistakes. Also, by Saturn's turn now the whole balance of the planetary influences starts changing. Just a little, but it does. We will feel it more clearly after the 5th of September, when Mercury will also turn direct. By then Saturn will have gained its full speed as well, and the influences of the eclipse will have stopped.
Venus today enters Leo. This will compel us to enjoy our lives. Both love and sex become important, but the satisfaction we receive from them is even more so. In some cases this may cause problems in relationships where pleasure and satisfaction are absent. Good financials also become important, both for us to use them as means to provide ourselves with pleasure, but also as means to feel strong and important. Venus from Leo also ignites an interest in art and beauty. Those who have artistic talents will feel this influence more strongly as their talents will "demand" to be expressed.
Remember that Venus also forms a triangle with the retrograde Chiron and a square with the retrograde Uranus. These influences are still very present for good or evil.
Moon enters Scorpio today. Before doing so it will oppose the retrograde Uranus in Aries. After changing its sign, it will form a square with Venus in Leo, a hexagon with Sun in Virgo, and a hexagon with the retrograde Mercury in Virgo again. Sun will conjunct Mercury, supporting even more its beneficial aspects.
This is obviously a Virgo day. Taurus and Capricorn will be lucky too. We can also say that this is a very good day for Sagittarius as for those born under the sign the change of Saturn's direction of course will be felt more intensively. On the other hand, Leo and Aries won't have it that easy.
Daily Predictions for Aries:
Your sexual energy is raised. This, though, doesn't seem to be good for your love life. Single will feel more lonely, and those in a relationship probably won't find their mate in a similar mood. On the other hand this energy is a very basic one, and very potent one, and today it seems to support very well your health and your work. Obviously then, if you are in sex business, this will be a very good day for you.
Daily Predictions for Taurus:
For some time now love life is very important for you, but, overall, not so happy. This starts to change now, and today you are going to have a good taste of this change. Enjoy the day! It is going to be a very pleasant day in more ways than that though. The only problems will come from family, and in some cases, unfortunately, this means your spouse too.
Daily Predictions for Gemini:
Putting things in to their proper place is what you'll find yourself doing today. This tread will affect your home, your job and your health. By saying "things", of course I'm not talking about objects, but yes, tiding objects may also be a way to do that.
Daily Predictions for Cancer:
A mostly pleasant day and much more social than the previous ones. This may happen even if you don't intend to make it one such day. Take a good look to new people you are introduced to or meet on line. One or some of them may become more important to you than you think right away. Money seem a little stressful right now, but don't deny yourself all the luxuries you want.
Daily Predictions for Leo:
Your family seems supportive to your job and financial needs and dreams. Or maybe, acts supportive but feels otherwise. You don't seem to get along with them today, although this is mostly a feeling than actual words or events. In some cases these may also happen, but still, the feeling is much stronger. Don't ignore this feeling. It is there for a reason. It wants to teach you something.
Daily Predictions for Virgo:
A very pleasant day in most aspects this will be for you. You feel happy, and strong, and optimistic. Your friends and surroundings show their love, care and admiration for you. Internet activity may be very beneficial for your business or self promotion. At the very least it will be very pleasant. There is a sense, or feeling, of "ending" which isn't so pleasant, but this is probably the only bad thing of the day.
Daily Predictions for Libra:
This is a somewhat pleasant day. Nothing very impressive but you feel satisfied and secure. Your intuition is very strong too, and especially on subjects regarding your job and financials. You may dream a little too big about these subjects too, but I consider it a good thing to do. Avoid money transactions through the web today.
Daily Predictions for Scorpio:
You have the foundations for a very good day, but things won't be so easy. You feel self confident and optimistic. Your interactions with others brings you joy and helps you dream even more. All these are good. On the other hand you may come face to face with problems regarding you work or business, present or future.
Daily Predictions for Sagittarius:
You probably feel overstressed but you are starting to relax. For no apparent reason in most cases. There are some good things happening in your job, You also have great magical potential there. This can support your optimistic feeling and help you relax a little more, but probably will ignite your will to act. Fears and hopes about the future are coming in your mind often today, in no particular order.
Daily Predictions for Capricorn:
You feel a very strong need to express yourself and your ideas and dreams. Internet can be a mean to that end, but you prefer live contacts more. If you are in show business this can be a very good day for a change in your image or plans. Your sexual real-life dreams bring you some sense of disappointment. During sleep though you may have very pleasant such dreams.
Daily Predictions for Aquarius:
Some problems may occur between you and your spouse, but also, some may find their solution. It may not be the one you wanted, but the good thing is that the problem has ended. Career seems pleasant and optimistic though. Magic regarding such subjects is also very strong for you today.
Daily Predictions for Pisces:
You need to feel free. You need to be yourself, express yourself and follow your heart and dreams. For those in a relationship this, surprisingly, is something supported by your other half. For the single ones, doing that may actually bring you the other half you are looking for. Not right away in most cases, but it sets the foundations. Health needs some attention.
Astrology and Magic:
Love magic is very strong today. Money magic too.
That's all. Have fun and enjoy your day.