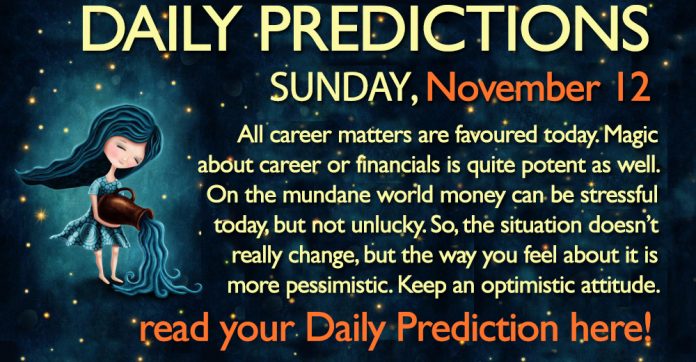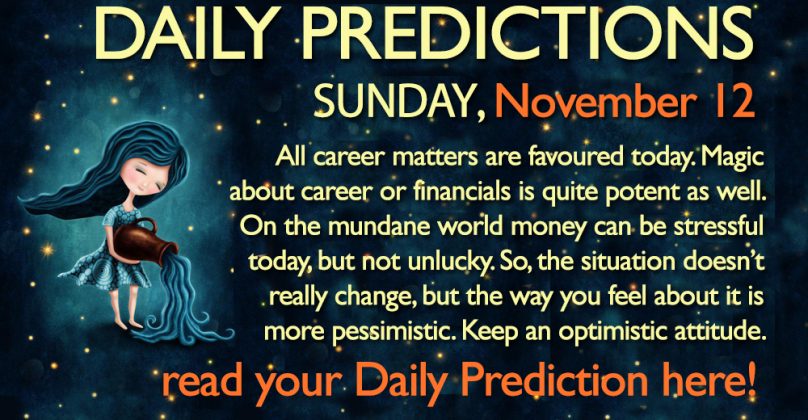 General Daily Predictions: Today, Moon from Virgo forms a hexagon with Venus and one with Jupiter, both of them in Scorpio. As we said yesterday, these hexagons will empower the conjunction between Venus and Jupiter.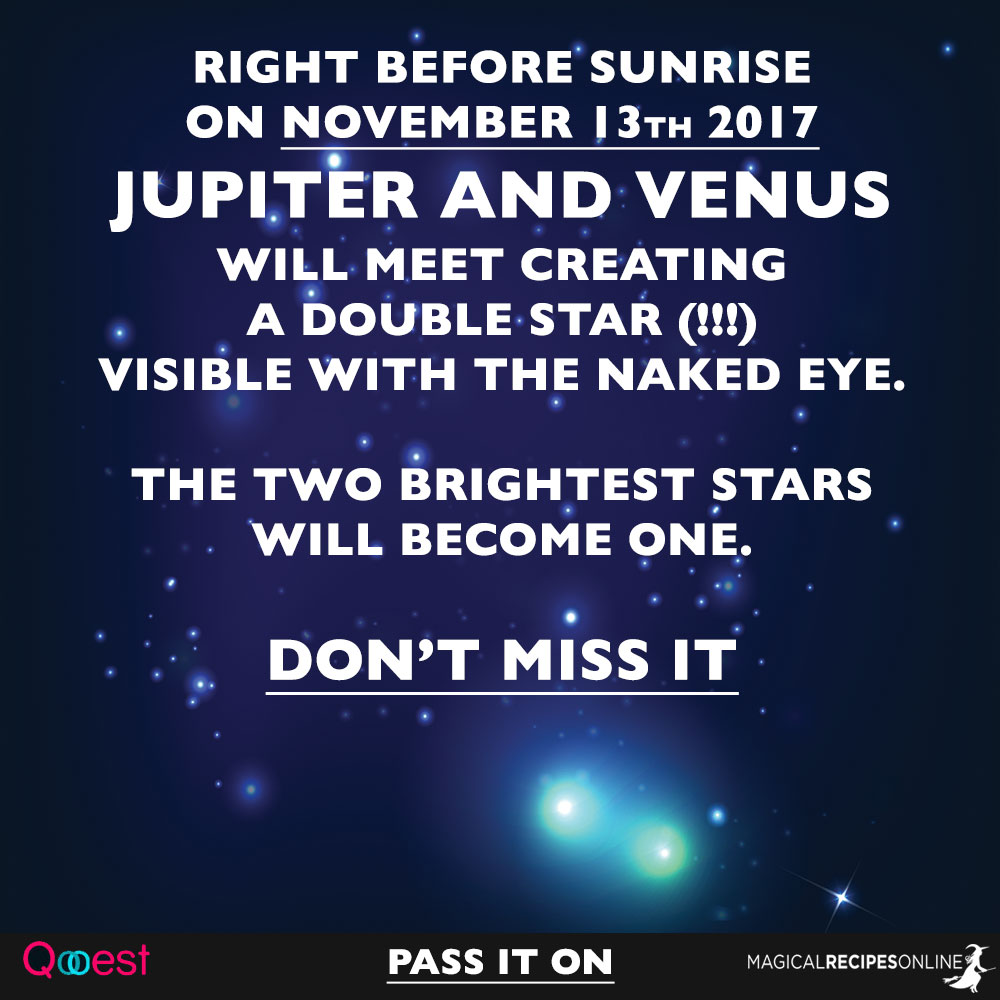 Then the Moon will form a square with Mercury in Sagittarius and an opposition with the retrograde Neptune in Pisces. Fortunately, Sun's triangle on Neptune is still active. Jupiter's triangle on Neptune is also strong enough by now. So, we won't feel Moon's opposition on Neptune strongly.
So, this will be a mostly neutral day. Better for Australia and most of Asia, as for them the influences of the beneficial aspects will be strong most of the day. Magic will be extra strong, as there is a great emphasis in it, but mistakes are easy to happen. Therefore, if you engage in magic, be extra careful and extra concentrated.
Scorpio, Cancer and then Virgo will be the luckiest zodiacs of the day. Sagittarius and Pisces will be the ones facing the most stress.
Daily Predictions for Aries:
Sexual energy is very strong today for you. This makes you confident and seductive. Taking care of your body and appearance is very auspicious. Magic for the same reasons is also. Some stressful or pessimistic thoughts may pop from time to time in your mind, though. Drive them away!
Daily Predictions for Taurus:
Love life receives many blessings today, and much luck, both for those already in a relationship and for those seeking one. Financials feel peculiar, though. You are, probably, more concerned about them that you need to. Nevertheless, give them a more objective look and prioritise what you need and want the most.
Daily Predictions for Gemini:
Family and home can take most of your time today, both for good and … not so good. Taking care of the home, redecorating, tidying up and things like those are auspicious. Health issues of family members improve. Discussions with your spouse can become stressful. If the discussions are about work, yours or theirs, it doesn't need to be your spouse for the discussion to become unpleasant.
Daily Predictions for Cancer:
Overseas travelling is inauspicious today. Legs can be a little sensitive. Minor headaches, also are possible. Other than those, though, your day will be mostly happy and enjoyable. Love life is also happy and lucky today. Spending time with your friends is very auspicious.
Daily Predictions for Leo:
Your family, or other people you may support your financial and money matters today. Maybe these people are acquaintances of your family more than of yours. Love life and sex life don't look too good today, though. If you are in a relationship, try to avoid fighting.
Daily Predictions for Virgo:
This is a mostly good day for you. You feel strong and capable, and things go mostly well. Spending time with your friends gives you joy. Family members may look for a fight. Try to avoid it. Spouse can easily throw you off balance.
Daily Predictions for Libra:
Money scheduling is very auspicious today. This both means to organise your expenses, but also to plan your financial strategies, as well. Health seems a little sensitive. Psychological health too.
Daily Predictions for Scorpio:
Most of the aspects of your life are favoured by this day. Business and internet activities, the most. If your business is based on the internet, as you can guess, you've struck a vein of gold. Love life, though, needs some attention. And also transportation related fines or other unexpected expenses are possible. Be legal and careful!
Daily Predictions for Sagittarius:
Advancing your career, or planning this for the immediate future, is very auspicious. If you are looking for a new job, searching adds and sending CVs is what you must be doing today. Family can be a little of a burden, even if they have the best intentions. Your self-confidence may lacking a little today. Encourage yourself.
Daily Predictions for Capricorn:
This is a mildly good day. Nothing too great, nothing really bad. If you are studying abroad, then you'll have an even better day. If you are in a long distance relationship, this day will benefit the relationship. On the other hand, if you have a kid studying abroad, this day may cause you some stress.
Daily Predictions for Aquarius:
All career matters are favoured today. Magic about career or financials is quite potent as well. On the mundane world money can be stressful today, but not unlucky. So, the situation doesn't really change, but the way you feel about it is more pessimistic. Keep an optimistic attitude.
Daily Predictions for Pisces:
Studying is auspicious today. Law studies receive the most benefits. I know it's Sunday, but do your best! Long distance relationships are favoured, but this influence only the existing relationships, and not finding one such relationship. Meeting, or having fun with like minded people is very auspicious today.
Astrology and Magic:
Once again, all magic is strong today. Love and beauty is strong but prosperity is even more so. Also, this is the last extra strong day of this period for age reversing spells.
That's all. Have fun and enjoy your day.