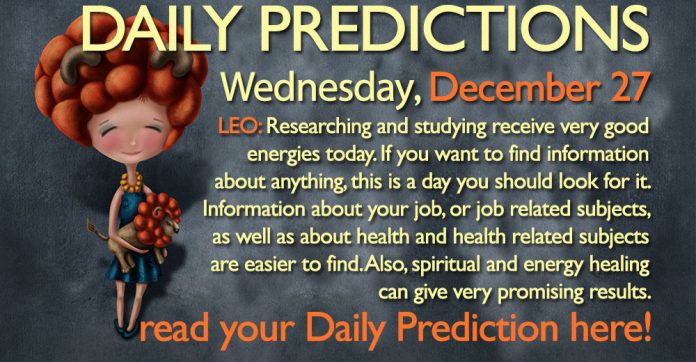 General Daily Predictions: Today, the Moon from Aries squares Pluto in Capricorn and conjuncts the retrograde Uranus. Then it enters a void of course period which will last for a total of nine and a half hours. This will be from 20:54 to 06:23 of the 28th of the month. The times, as always are given in UT.
So, this will be a more pleasant day than yesterday, astrologically speaking, of course. So, being this a working day while yesterday wasn't – for many – should not discourage you. The already powerful Pluto receiving more energy, and a stressful one, can cause some problems, though. These will be mostly inner problems. Negative thinking, and raising of fears can happen. Don't let them overwhelm you.
Scorpio, Taurus and then Aries will be the luckiest zodiacs of the day. Capricorn, Cancer and probably Libra will be the most stressed ones.
Daily Predictions for Aries:
Although some fears about your career and social status can bother you, an inner power awakens to support you. This can be a boosting of your self-confidence and self-esteem, and also a boosting in your magical abilities. So, make good use of them.
Daily Predictions for Taurus:
Your mind is probably not absolutely clear, but it gets clearer. Your intuition is getting stronger, too. Actually, your intuition, and the way you feel about things, is what invites clarity in your thoughts. So listen to it. If yesterday decided on your dreams, today is a good day to start working on them. If not, find them out today.
Daily Predictions for Gemini:
Social life today is mostly pleasant. Avoid engaging in deep and very personal conversations, though, if you want to keep this pleasant feeling. On the other hand, if you want to heal and better problematic relationships, this is also a good day to do so. It won't be pleasant, but it will be fruitful.
Daily Predictions for Cancer:
Career become much easier and much more promising today. Partnerships may still be a little problematic, but probably, nothing too serious. For those searching for a new job, this is a good day to search for adds, or however you can imagine, and also, to send CVs. Magic for the same purpose is quite capable.
Daily Predictions for Leo:
Researching and studying receive very good energies today. If you want to find information about anything, this is a day you should look for it. Information about your job, or job related subjects, as well as about health and health related subjects are easier to find. Also, spiritual and energy healing can give very promising results.
Daily Predictions for Virgo:
Magic to empower seductiveness is very promising for you, today. If you are looking for a new relationship, go out, have fun and be as bright and seductive as you can. This is a good day for that, in a way. It's not easy, but it's still a good day. If you are in a relationship, then there may be some difficulties in enjoying your time with your special someone today.
Daily Predictions for Libra:
Family can still be a little challenging, but the situations between you and your spouse are getting better. In some cases more than just better. Both these will be stronger in cases where the family disapproves of your spouse or partner, or theirs family of you.
Daily Predictions for Scorpio:
Although health today receives mostly beneficial energies, and therefore better and faster healing can happen, legs and the respiratory system receive a little problematic energies. Problems there may occur. In most cases, though, nothing too serious. But, if you already have such problems, or these parts of your body are sensitive, then pay a little extra attention.
Daily Predictions for Sagittarius:
Love life can receive some unexpected help today. If you are looking for a new relationship, this can be a lucky day for you. You may meet this new potential lover in unexpected places or through unexpected ways. If you are in a relationship, expect some good luck. Especially if you are having some problems, but even if there is nothing of the kind.
Daily Predictions for Capricorn:
Today, family, relatives and close friends, still play an important role in your journey of self-discovering. However, today, through them, you can realise better your good and strong points, as well. In most cases, the focus will be on the positive aspects of yours, but the method can be occasionally a little harsh.
Daily Predictions for Aquarius:
Today the greatest challenge you have to face is your own negative thoughts and feelings. Friends and other important people may be the root of them, or the ones who unwillingly caused these thoughts and feelings. But also, today they will be there to support you and encourage you. If you don't feel happy, don't seclude yourself. On the contrary, ask for a friend's help.
Daily Predictions for Pisces:
Keep being cautious, enquiring and picky when ordering things online. If you really want something, search more, and you may find a better offer. If it isn't the perfect thing for you, search more and you may find something that suits you better or the best. Today though, financials receive some beneficial influences. Commerce can be difficult, but profitable.
Astrology and Magic:
Other than channelling and other kinds of interaction with the spiritual, the astral and the ethereal planes, all other forms of magic are capable. Changing luck, destiny and self, are the most promising ones.
That's all. Have fun and enjoy your day!